This season, we've pooled our (self-proclaimed) collective genius together to form 'Team TSZ', a fearsome squad of fantasy point machines who will gun for glory in our very own FPL mini-league.

Decisions will be made collectively after polite discussion. 'Team TSZ' consists of:
Rob Esteva – Managing Director
Trystan Pugh – Sports Content Manager
Tim Blackwell – Chief Sports Data Scientist
So how did we get on in Gameweek 5?
Last Gameweek's Points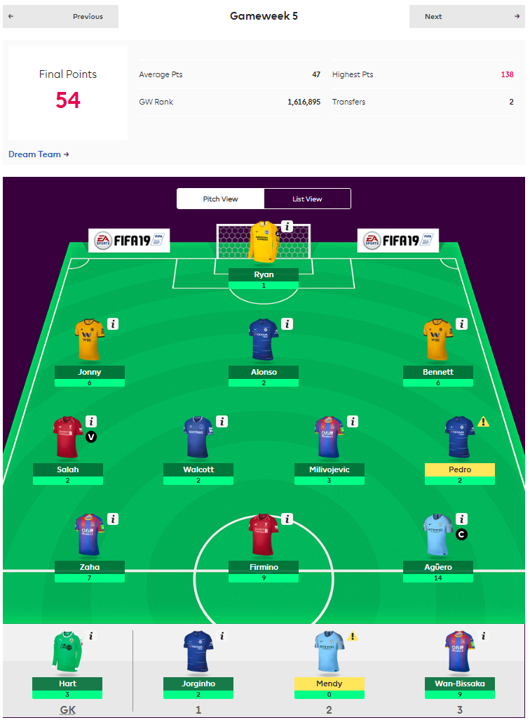 GW points: 54
GW average: 47
GW rank: 1,616,895
Overall rank: 1,017,901
Let's firstly address the two big decisions we made last week, which we arrived at following much deliberation...
Choosing NOT to buy Eden Hazard
Choosing to SELL Ryan Fraser
With those two masterstrokes seeing us lose out on a combined 38 points, the only logical conclusion is that one head is better than three given that our individual FPL teams are outperforming our collective team. Except Rob.
However, we signed up for this 'site team' malarkey and we will see it through to the bitter end. We will not abandon ship, and we are prepared to go down with it if we must, even if it means destroying the good TSZ name in the process.
Bit dramatic maybe, and in fact, we actually secured ourselves a green arrow in GW5, albeit a minor one. We can thank our double Wolves defence for that, along with some decent returns from our strikers.
Back to the doom and gloom, and here's a fun fact: we have not received a single attacking return from our four-man midfield for the past two gameweeks:

Lol.
To rub salt in the wound, the benched Wan-Bissaka's points - not for the first time this season - go to complete waste. Somebody help us.
Gameweek 6 Team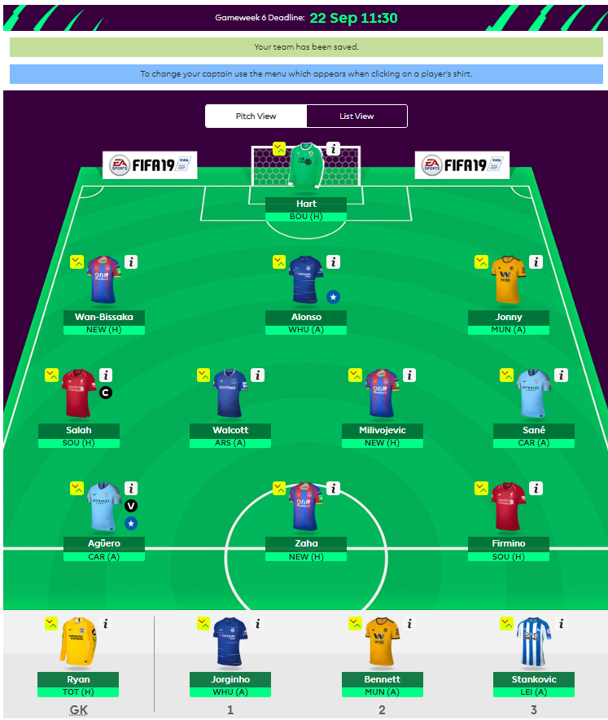 Formation: 3-4-3
Captain: Salah
Vice-captain: Aguero
Transfers made: 2 (Mendy > Stankovic, Pedro > Sane)
Transfer cost: -4
Substitutions made: 1 (Ryan > Hart)
After the colossal failure of last week's transfers, our first move ahead of GW6 - Mendy > Stankovic - does seem a little odd at first glance, but there is method to our madness. As you're probably aware by now, Mendy is injured for GW6, and so bench-warmer Stankovic is nothing but an enabler to fund our Pedro > Sane move, with the caveat that we will be hitting the wildcard button next week. Sane's performance in the Champions League was enough to convince us that he could be a decent one-week punt, or possibly even a long-term prospect if he rewards us tomorrow.
Pedro lasted all of one week in 'Team TSZ', which doesn't exactly speak volumes for our transfer strategy, but it's all a bit of fun, isn't it?
Salah gets the armband, but he'll be the first to get the chop in our GW7 wildcard should he frustrate against the Saints tomorrow. £13.0m is simply too much investment for an under-performing player.
Can we break into the top 1 million? Will ANY of our midfielders perform? Will Milivojevic make it into our wildcard team next week? Okay, I'll spare you the suspense on that last one - NO - but come back next week to see how we fared!
For the rest of our Gameweek 6 content, visit the links below:

Captain Picks - https://www.thestatszone.com/f...

Projections - https://www.thestatszone.com/f...
Fixtures - https://www.thestatszone.com/f...
Predicted Line-ups - https://www.thestatszone.com/f...