This season, we've pooled our (self-proclaimed) collective genius together to form 'Team TSZ', a fearsome squad of fantasy point machines who will gun for glory in our very own FPL mini-league.

Decisions will be made collectively after polite discussion. 'Team TSZ' consists of:
Rob Esteva – Managing Director
Trystan Pugh – Sports Content Manager
Tim Blackwell – Chief Sports Data Scientist
So how did we get on in Gameweek 4?
Last Gameweek's Points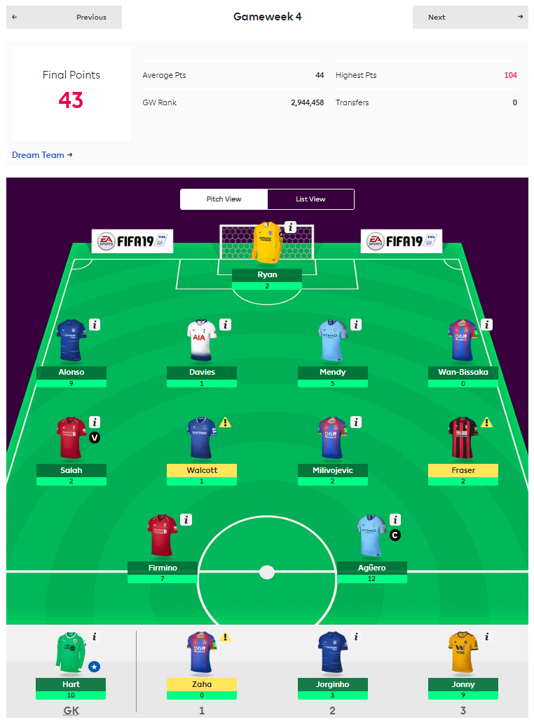 GW points: 43
GW average: 44
GW rank: 2,944,458
Overall rank: 1,104,304
The key takeaway from our GW4 performance was the rather depressing reality that our bench scored over half as many points as our starting XI, with Joe Hart and Jonny both punishing us for our collective lack of faith in them. To add insult to injury, Rob had jokingly commented in the run-up to GW4 that Jonny could be our "secret weapon", but as with anything Rob says, we tend to refer to his season history as reason to turn a blind eye to his ideas. Maybe we should start listening...
A quick review of our sorry bunch, then. In defence, Alonso and Mendy are still very much the teacher's pets as they came through with yet more attacking returns, while Davies is proving to be an expensive flop at the minute; the Spurs full-back has amassed an almighty six points from his first four gameweeks. We'd be 26 points better off had we chosen the identically-priced (at the time) Robertson prior to GW1. Rounding off the backline is Wan-Bissaka, who came in automatically for Zaha and scored us precisely zero points. Whose decision was it to have him as first sub?!

*reads GW4 article*

Swiftly moving on, we can see that our midfield resembles a scene from some kind of FPL nightmare - no attacking returns and now a couple of injuries to deal with. Rubbish.
Our forwards offered us a crumb of comfort, at least. Firmino's goal was satisfying given that we had kept faith whilst others had lost patience, and captain Aguero's six-points - whilst a tad underwhelming - was welcome nonetheless.
Gameweek 5 Team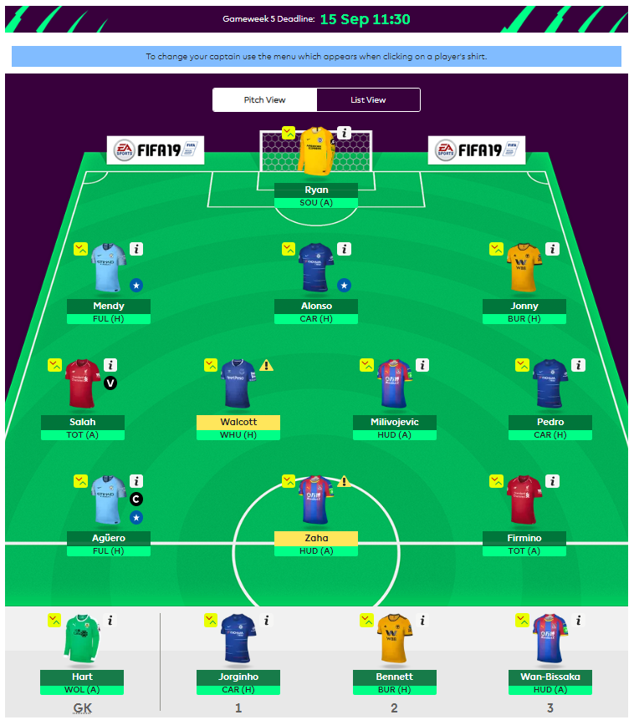 Formation: 3-4-3
Captain: Aguero
Vice-captain: Salah
Transfers made: 2 (Davies > Bennett, Fraser > Pedro)
Transfer cost: 0
Substitutions made: 1 (Jonny > Davies/Bennett)
Well, we spent 45 minutes discussing various options before deciding on bringing in budget defender Bennett, who went straight to our bench, and Pedro, who may warm Chelsea's...
Yeah.
Those transfers were more out of exasperation than anything. We were not particularly enthused with any other combinations we tried, to be honest. Something about having a collective team seems to make decisions more difficult rather than easier.
We toyed with the idea of deploying the wildcard, but resisted the urge as we think it might be better used in the coming weeks when a certain Harry Kane has some favourable fixtures and we need to shoehorn him in somehow.

Oh, and we're also banking on the crocked Walcott and Zaha starting in GW5, but we know we're not alone in that given the high ownership of both players. The captaincy goes to Aguero, which was a no-brainer this week.
In other news, Milivojevic somehow survives another week in Team TSZ. Maybe we'll just keep him all season for the last-minute penalty he'll score in GW38.
For the rest of our Gameweek 5 content, visit the links below:

Dream Team - https://www.thestatszone.com/f...

Captain Picks - https://www.thestatszone.com/f...

Projections - https://www.thestatszone.com/f...
Fixtures - https://www.thestatszone.com/f...
Predicted Line-ups - https://www.thestatszone.com/f...