This season, we've pooled our (self-proclaimed) collective genius together to form 'Team TSZ', a fearsome squad of fantasy point machines who will gun for glory in our very own FPL mini-league.

Decisions will be made collectively after polite discussion. 'Team TSZ' consists of:
Rob Esteva – Managing Director
Trystan Pugh – Sports Content Manager
Tim Blackwell – Chief Sports Data Scientist
So how did we get on in Gameweek 3?
Last Gameweek's Points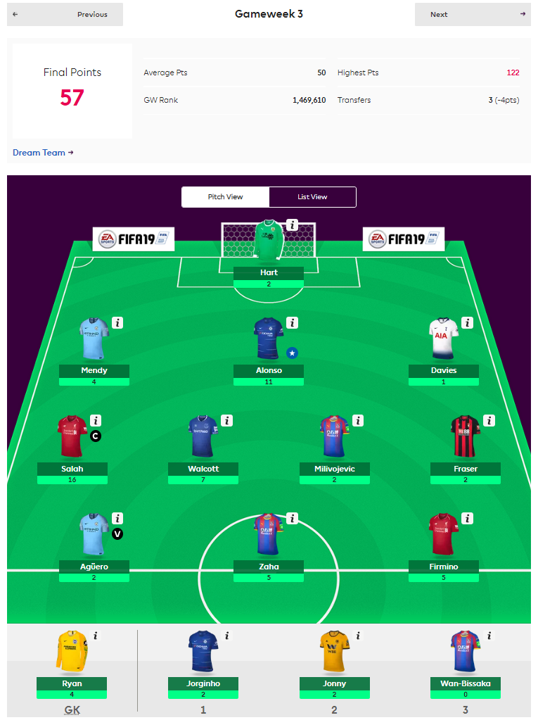 GW points: 57
GW average: 50
GW rank: 1,469,610
Overall rank: 1,006,298

Gameweek 3 was a tad underwhelming if truth be told, after the high-scoring affairs (for some people anyway!) that were GW's 1 & 2. However, we are quietly satisfied with our 57-point haul which gave us a minor green arrow and edged us closer to the top million in the global rankings. We have higher aspirations of course, but at this early stage we are not too disheartened with that rank. Minor gains were also made in our own mini-league, where we now sit 50th out of 100 teams. Top half here we come!
A quick glance at our GW3 team shows that premium defenders Mendy and Alonso have firmly cemented their places in our team for the time being as they continue to bring home the points.
In midfield, captain Salah satisfied while Walcott made an impressive debut for Team TSZ. We appear to have brought Theo in at the right time considering he has been this week's bandwagon. Thank god we couldn't afford Richarilison last week!
Five-point returns from Firmino and Zaha just about keep them in our good books for the time being, but we have some repeat offenders when it comes to the underperforming department. We're looking at you, Milivojevic.

Gameweek 4 Team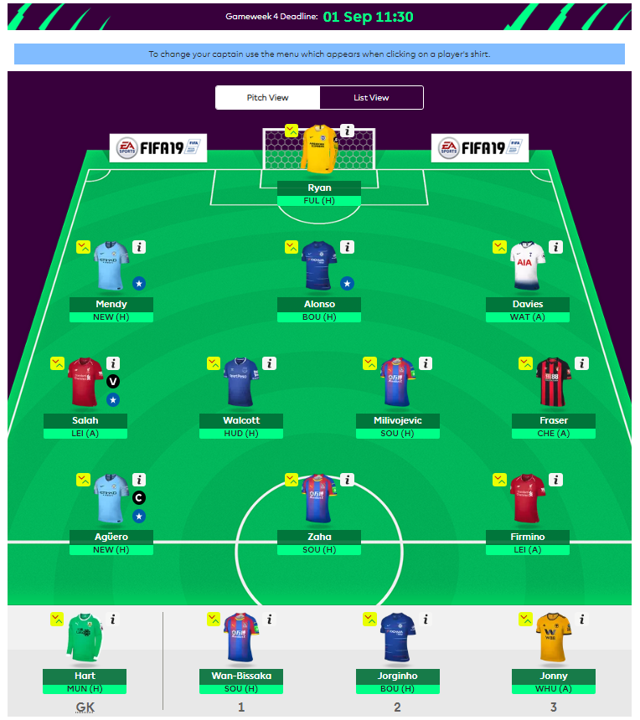 Formation: 3-4-3
Captain: Aguero
Vice-captain: Salah
Transfers made: 0
Transfer cost: 0
Substitutions made: 1 (Ryan for Hart)
After last week's triple transfer swoop, we've taken the opposite approach this time around and taken stock. It's highly likely we'll re-enter the market before GW5, but we wanted to have two free transfers to work with and an extra week of information, not to mention the fact that the international break can throw a spanner in the works.
Joe Hart warms the bench for us this week after a couple of shaky performances coupled with the fact he faces Man Utd this week. In comes Mat Ryan, who made six saves last week against Liverpool so we're banking on that as a source of points, although a clean sheet would be nice!
Elsewhere, we switched the armband to Aguero who has an enticing home fixture against Newcastle.