This season, we've pooled our (self-proclaimed) collective genius together to form 'Team TSZ', a fearsome squad of fantasy point machines who will gun for glory in our very own FPL mini-league.

Decisions will be made collectively after polite discussion. 'Team TSZ' consists of:
Rob Esteva – Managing Director
Trystan Pugh – Sports Content Manager
Tim Blackwell – Chief Sports Data Scientist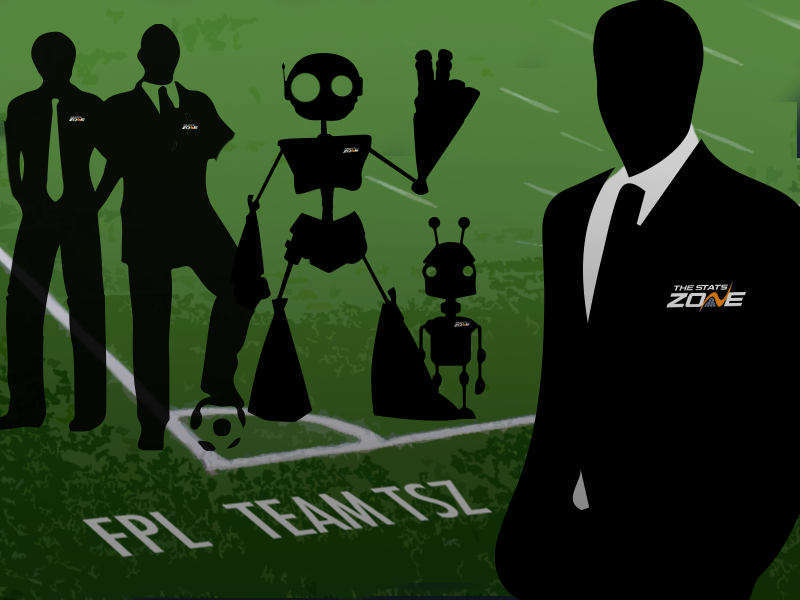 So how did we get on in Gameweek 37?
Last Gameweek's Points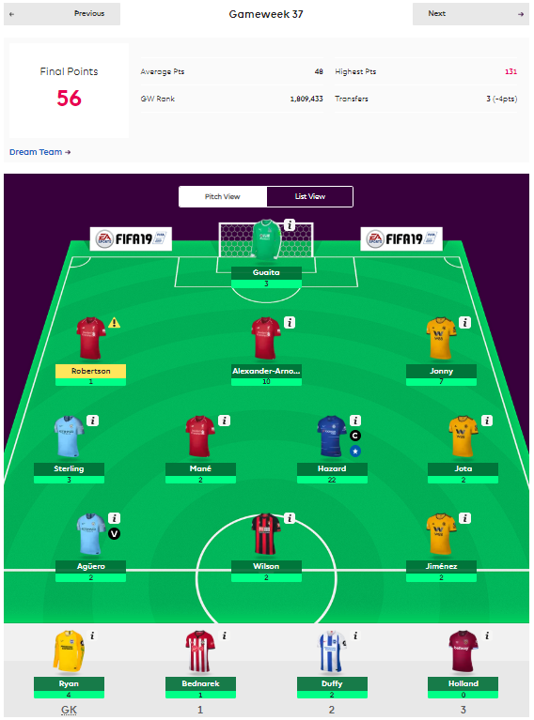 GW points: 56
GW average: 48
GW rank: 1,809,433
Overall rank: 1,401 (▲)

Gameweek 37 was a strange affair, as United and Arsenal limply contested for Thursday night away trips to Azerbaijan next season and Cardiff finally fell by the wayside in a weekend sandwiched between two blistering games on Friday and Monday. On Friday, Divock Origi scored yet another match-winner in what was to be his most important Liverpool goal for approximately three days, 22 hours and 26 minutes, while Monday night saw Vincent Kompany score with his first shot on target from outside the box in six years to seal a 1-0 win and likely the Premier League title. Which by the way, Liverpool totally don't care about now. Football existed before 1992 you know.
While the petition grows by the day for a bigger, golden version of the Premier League trophy created for and winnable only by Liverpool coming second in the league, roughly six million FPL managers are gearing up for their own final day of the season. Or, likely about four million FPL managers. Two million FPL teams lay to waste in the doldrums of apathy: line-ups of Cech; Mendy, Monreal, Bailly, Bellerin; Sanchez (C), De Bruyne, Yarmolenko, Sessegnon; Welbeck, Lukaku, Quaner etc. battle at the bottom for the glory of the 'Most Forgetful Manager', or the coveted 'Team Made for Disinterested Partner' shield.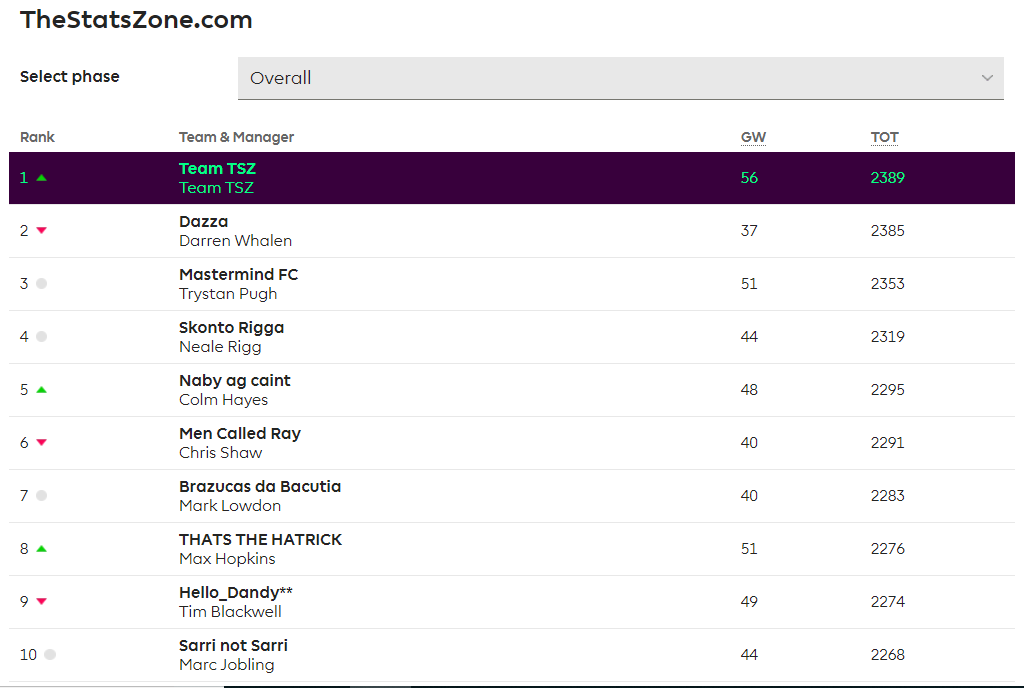 Team TSZ scored a respectable 56 (-4) points in Gameweek 37 as those at the very top suffered at the hands of Man City's continuing nerves in front of goal. The differential decision to captain Hazard paid off, as we pipped Darren Whalen back into first place where we intend now to stay and make camp in preparation for next season. Aside from our collective team topping the pile, there are currently four TSZ staffers - all of them in some way involved with the creation of all our FPL content - whose individual teams crack the top 10; Trystan, Colm, Tim and Marc. Ex-colleague Neale aka Skonto Rigga, who now plies his trade with Fantasy Football Scout, has put up a staunch defence of the TSZ mini-league title he won last year. The lowest ranked member of thestatszone.com in our league is Managing Director Rob, which is exactly how it should be. How so? I hear you say. It shows that while Rob is terrible at FPL (76th), even behind myself (66th), and I make on average four transfers a week, he has excellent judgement in finding the right talent to bring you quality advice.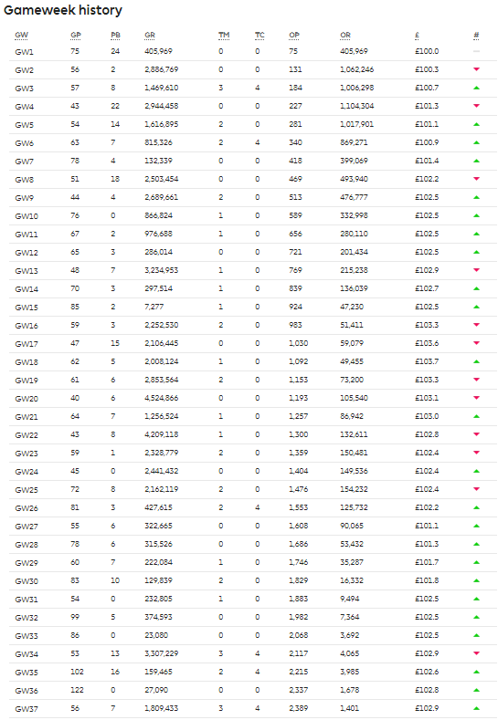 Since the birth of our podcast, which you can find at the top of this article, we've quite simply been one of the form teams in the world. Not a bad feat considering TSZ is made up of three quite contrasting play-styles. If you'd like to hear the guys all sort-of praise each other whilst suggesting the success is largely down to themselves, I recommend you give the pod a listen.
Perhaps an even greater feat than topping our mini-league will be a top 1k overall finish. We currently sit on 1401 heading into the climactic gameweek, so it's not out of the realms of possibility. Just one final push, lads.
Now on to business, but with the extra day to wait for news and prepare accordingly, the team have not made a decisive move as yet.

Gameweek 38 Team
Here's how our team currently looks: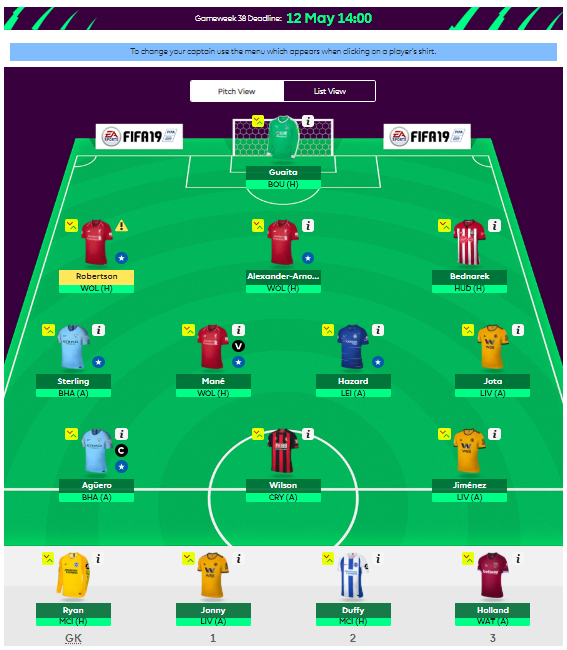 Scenario A: planned transfer if Robertson is definitively ruled out: Robertson > Laporte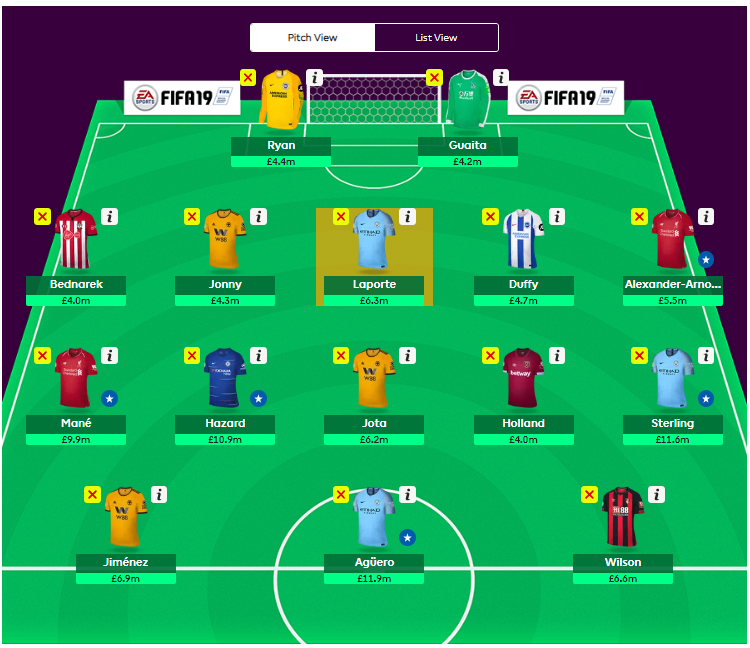 Scenario B: planned transfers if Robertson is passed fit: Jonny > Laporte / Hazard > Pogba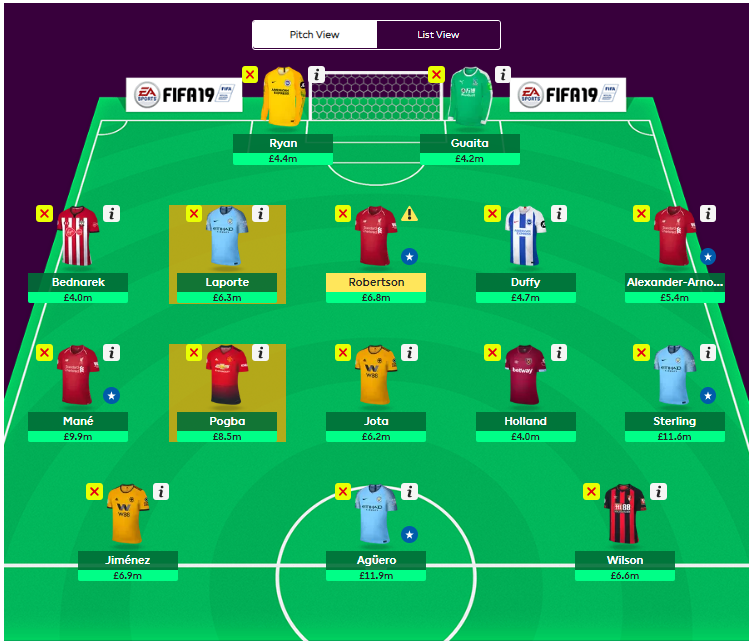 Formation: TBC
Captain: Aguero
Vice-captain: Mane
Transfers made: TBC
Point deductions: TBC
At the culmination of surely one of football's most astounding weeks, we find ourselves in the calm before another storm, and any port will do; namely, Aymeric Laporte. The Frenchman has been in vogue for some time now, but the team have as yet neglected to bring in a Manchester City defender at all. With our eyes firmly set upon topping the mini-league, Aymeric could be the doorway to victory.
"La porte" means "the door" in francais. You couldn't make this stuff up.
Thursday's Europa League successes for Arsenal and Chelsea left us with the perfect money-making move, as Eden Hazard played a full 120 minutes and scored the winning penalty, and so could be a potential trapdoor for FPL managers banking on him starting the Chelsea's last Premier League game of the season. While he could make some kind of appearance, a Europa League final against London rivals Arsenal will likely suit more as Eden's final flourish in a Chelsea shirt. Selling Hazard allows us to bring in Laporte for Jonny, while a lack of Son through suspension means the team could be taking a gamble on Paul Pogba. With United now at the end of the season with nothing to play for, having drawn with possibly the second-worst Premier league team in history last week when they did have something to play for, should be avoided in my opinion. Cardiff are not likely to go down without a last middle-finger up to the Premier League. I will suggest they go for the likes of Youri Tielemans or Gylfi Sigurdsson as soon as I finish writing this piece. They will ignore me.
With news filtering through that Robertson is likely fit to line up on Sunday, scenario 2 seems the likeliest at the moment, but we won't pull the trigger until Sunday in the hope that some early team news seeps through prior to the deadline. We will publish our final team below when it is confirmed!
This will come down to the wire, with the choice of captain proving key at the top of our league. We'll likely plump with poll leader Aguero. Elsewhere, the team are hoping Callum Wilson outscores our nemesis Darren Whalen's Marcus Rashford, while Trystan's individual team - currently a distant third place - secretly plots for a four-goal captain Salah as the dark horse for our title.
Thanks for reading, and good luck in Gameweek 38!
For the rest of our Gameweek 38 content, visit the links below:
Captain Picks - https://www.thestatszone.com/fpl-gameweek-38-captain-picks-18-19

FPL Projections - https://www.thestatszone.com/fpl-gameweek-38-projections-18-19
FPL Fixtures - https://www.thestatszone.com/fpl-gameweek-38-fixture-analysis-son-replacements-robertson-injury-sunday-deadline

Team News & Predicted Line-ups - https://www.thestatszone.com/fpl-gameweek-38-fixtures-team-news-press-conference-quotes-predicted-line-ups-18-19

FPL Podcast - https://www.thestatszone.com/fpl-gameweek-38-tsz-podcast