With all relegated teams and Champions League qualifiers decided, the thrilling title race takes centre stage on Sunday's season climax. It is the eighth time in Premier League history where the champions are undecided going into the final day and the first since Man City and Liverpool vied for first place in 2014. Five years later, the same two teams go into D-Day having emerged from frightening Gameweek 37 tests. Divock Origi's (£5.0m) late header saw Liverpool scrape a 3-2 win over Newcastle, before Vincent Kompany (£5.2m) scored an unlikely screamer for Man City when all hope looked lost. They held on to win 1-0.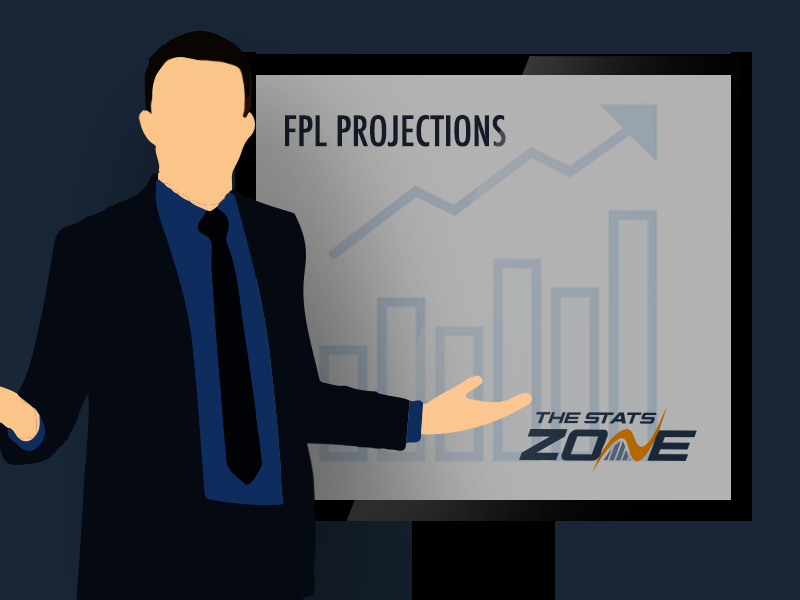 The FPL weekend was problematic and brought blanks from many highly-owned players. Everton secured another clean sheet and Cardiff were relegated, as the slapstick battle for a top four finish continued to stun. Son Heung-min (£8.7m) got sent off for nine-man Tottenham, who were beaten in injury time by Bournemouth. Man United could only draw 1-1 at Huddersfield, swiftly followed by Arsenal doing the same with Brighton. Only Chelsea won - thanks to two Eden Hazard (£11.0m) assists - and were rewarded with a move up to third place. Gameweek 38 is traditionally a sun-drenched freak of a finish, full of goals, farewells and beach-dreaming. So let's try to predict the unpredictable!
OPTIMUM SQUAD
It was another strange week where the overall average score (48.78) out-performed the top 10k average (44.98), so the algorithm should be satisfied with a total of 50. Captain Diogo Jota (£6.3m) missed chance after chance without any success and his team mate Raul Jimenez (£6.9m) blanked to make it one goal in seven games. Patrick van Aanholt (£5.5m) and Laurent Koscielny (£5.4m) didn't play any minutes but the team was saved by Chelsea duo Hazard and Marcos Alonso (£6.2m), plus goals for Wilfried Zaha (£6.9m) and Pierre-Emerick Aubameyang (£10.8m).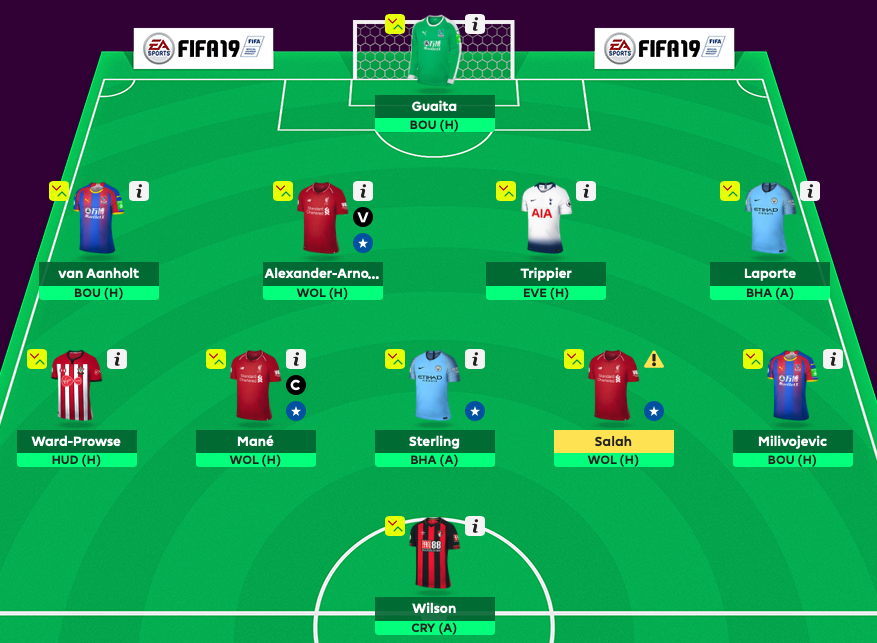 As part of a Crystal Palace triple-up, the optimum team contains two of their defensive assets in goalkeeper Vicente Guaita (£4.3m) and attacking left-back Van Aanholt, depending on whether the latter can regain his place in a winning team. The Eagles' 12 clean sheets have only been bettered by five teams and two have come from the last three home games, although Palace are generally better on their travels. They are 19th in the league's home table and face a Bournemouth side who have eight goals from their last two away trips.
Despite the clean sheets, they have still conceded 38 shots in the box over four home games and only Watford, Fulham and Cardiff are leakier. Van Aanholt does love late-season goals though and scored in each of Palace's final three games of last season, plus the last home game of 2016/17. If he plays, the Dutchman will be determined to continue this.
The midweek Champions League action was truly extraordinary for Liverpool and Tottenham, completing the most improbable of comebacks on consecutive nights. So much drama, so many tears. Jurgen Klopp needs his side to concentrate on league duties for just one more game, where they need to win and pray for a miracle from Brighton. Trent Alexander-Arnold (£5.7m) has been an unbelievable assist machine of late, with two last Saturday at Newcastle before his corner flag quick-thinking set up Origi's winner against Barcelona. As well as this and an earlier assist for Georginio Wijnaldum (£5.5m), both he and Andrew Robertson (£6.8m) have amassed 11 in one league season and will compete for a record-breaking 12th.
Alexander-Arnold is particularly impressive given that he hasn't started in ten of these games. His last three matches have brought in an incredible 31 points, narrowly pipping the 30 of equally in-form Aymeric Laporte's (£6.3m). Laporte has provided either a clean sheet or an attacking return in 11 of his last 13 games, doing both against Leicester on Monday night. Brighton have just re-discovered how to score goals but Man City travel there on the back of four successful shut-outs, knowing that it's all in their hands. Kieran Trippier (£6.0m) has been linked with a move to Napoli this week and has been rotated out of Spurs' line-up in three of their last five league games. Everton are tough opponents for a side with nothing to play for and a possible hangover from Wednesday's thrills. The priority is to avoid injury.
Further up the pitch, Sadio Mane (£10.2m) has been given the captain's armband over Mohamed Salah (£13.3m) as the latter's concussion makes him a slight doubt. He was knocked out after colliding with Martin Dubravka (£5.0m) and was forced to miss midweek. Liverpool are an irresistible side right now, regularly scoring at least a trio of goals. During their last six league games, Salah has returned to form and brought in 46 FPL points (an average of 7.67 per game) compared to Mane's 30. Their opponents Wolves are known for big performances against the big sides but, with seventh place secured, may struggle to resist the overwhelming emotional wave at Anfield. They have waited almost 30 years for a league title and Sunday could be the day.
Unlike Liverpool, Man City have had the rare benefit of a whole week off, since their Champions League quarter final exit. This rest, combined with the must-win element of every single game, makes Raheem Sterling (£11.7m) relatively safe from rotation against Brighton. Then again, he has gone four games without scoring so he couldn't complain if he was benched for poor form. In the equivalent meeting of Gameweek 7, Sterling bagged 14 points.
Southampton's 3-0 defeat at West Ham was hardly convincing, but on the other hand they do close the season at home to Huddersfield. Unless you're Man United, that's a very generous fixture. Whilst some will choose Nathan Redmond (£5.5m) or Shane Long (£4.7m) as options, perhaps free-kick specialist James Ward-Prowse (£5.1m) is the way to go. He has seven goals in 2019 and only has 3.5% ownership, so he's a great differential for a late, dramatic overtaking of mini-league rivals.
Even more reliable than a JWP free kick is a Luka Milivojevic (£6.5m) penalty. In tandem with Zaha, who regularly gets himself fouled in the box, the Serbian also has seven goals this year but is on 12 for the season. He faces Callum Wilson (£6.8m), in a week where the algorithm expects low scores from strikers. While the Bournemouth man frustrated owners with recent blanks at home to Fulham, Burnley and Newcastle, his last three away returns have been 16, 15 and 11 – a monstrous run containing four goals and four assists. He has five double-digit away hauls and will aim for a sixth on a last-day goal frenzy.
THE REST – GOALKEEPERS/DEFENDERS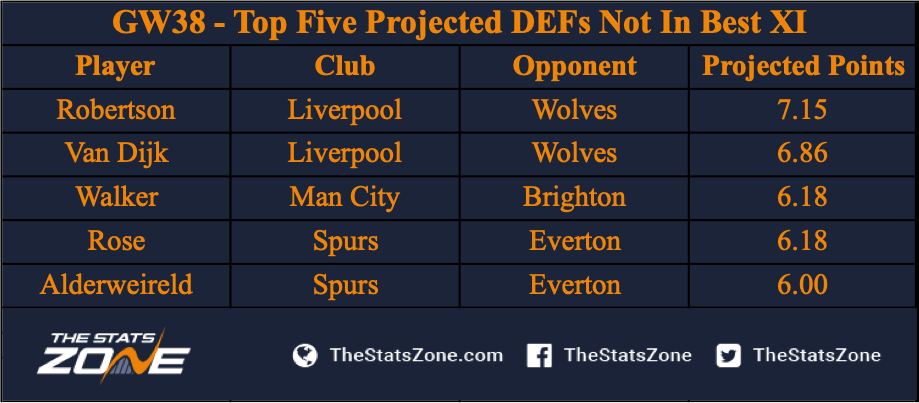 Hugo Lloris (£5.4m), Alisson (£5.9m) and Ederson (£5.7m) are backed to close the season on clean sheets, with Lukasz Fabianski (£4.7m) hoping to follow consecutive clean sheets against a Watford side possibly distracted by the following week's FA Cup Final. Robertson limped off against Barcelona and may not be risked, with James Milner (£5.6m) rumoured to be stepping in at left-back. As with all Tottenham players, be aware of the emotional drainage of Wednesday's victorious trip to Ajax. Whereas Liverpool can't afford to let it affect them, Spurs can. Danny Rose (£5.8m) and Toby Alderweireld (£6.0m) could even be rotated.
THE REST – MIDFIELDERS/FORWARDS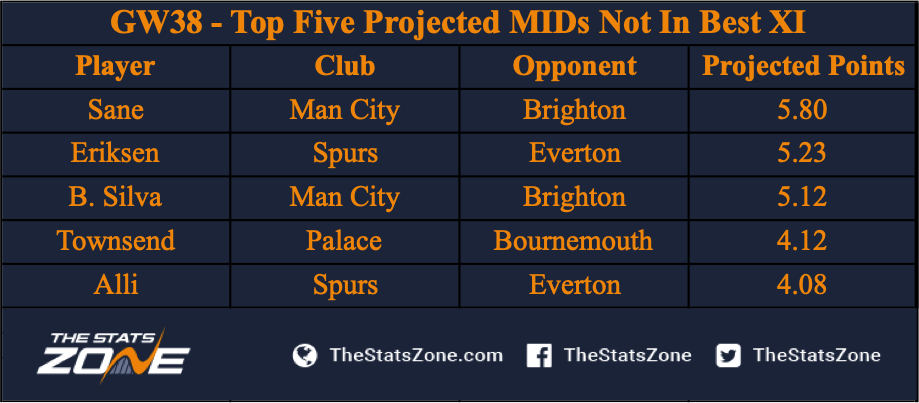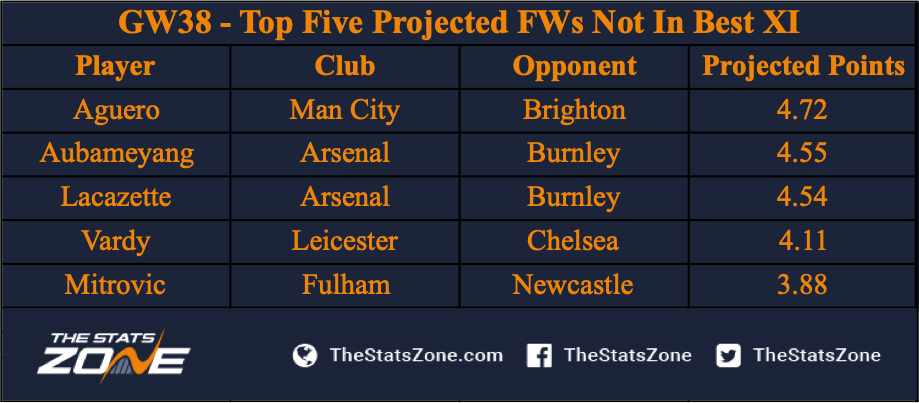 The same can be said of Dele Alli (£8.8m) and Christian Eriksen (£9.2m). The Dane in particular must be exhausted, having played all 90 minutes of Tottenham's last 12 matches. Leroy Sane (£9.3m) must be jealous as, to update the recent statistic, his 34 minutes versus Leicester means he's down to playing just 39.9% of Man City's last 1,920 minutes. His place in the front three has been taken by Bernardo Silva (£7.8m), who has Pep Guardiola's trust. Elsewhere, Andros Townsend (£5.6m) bagged a goal and assist at Cardiff, although Alexandre Lacazette (£9.4m) hasn't scored in five league games. Aleksandar Mitrovic (£6.3m) faces former club Newcastle at Craven Cottage.