This season, we've pooled our (self-proclaimed) collective genius together to form 'Team TSZ', a fearsome squad of fantasy point machines who will gun for glory in our very own FPL mini-league.

Decisions will be made collectively after polite discussion. 'Team TSZ' consists of:
Rob Esteva – Managing Director
Trystan Pugh – Sports Content Manager
Tim Blackwell – Chief Sports Data Scientist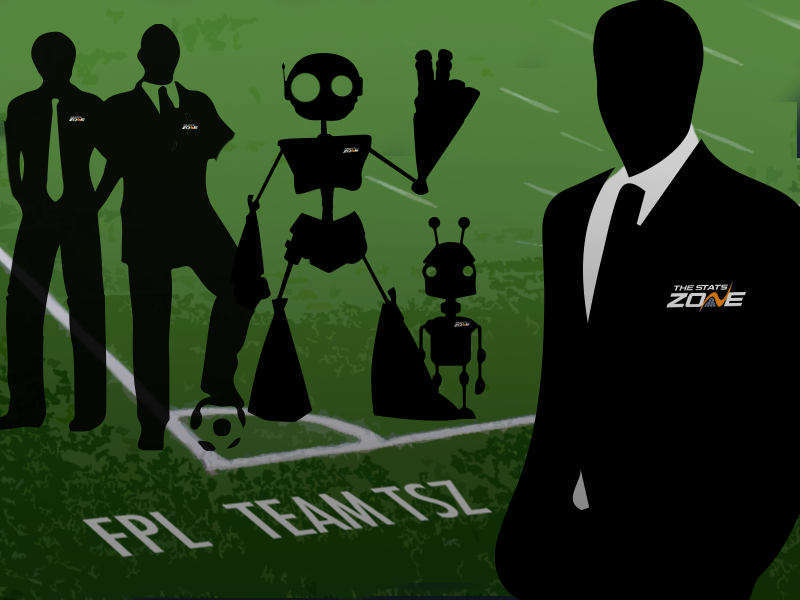 So how did we get on in Gameweek 36?
Last Gameweek's Points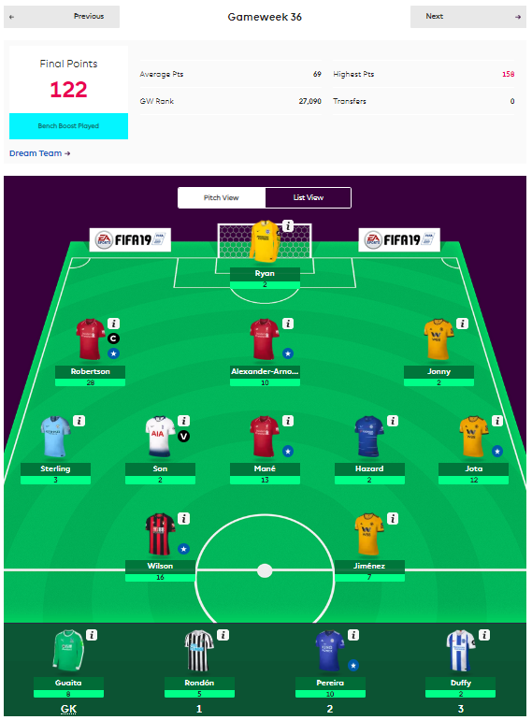 GW points: 122
GW average: 69
GW rank: 27,090
Overall rank: 1678 (▲)

With our last chip played, we enter the penultimate round of fixtures 122 points better off after a stellar performance. We are up to number 1,678 in the world, which is actually a number you can say without snapping your tongue in half, and the team should be proud of themselves.
If they had only brought in Pogba off the back of Mourinho's sacking when I'd suggested. We shall never know what could have been. Apart from we do. We'd be top of the mini-league. Although my showing in the Differentials League in our FPL Podcast (above) is starting to explain why I am so quickly disregarded.
So, when the chips are down, we find ourselves facing off over a thousand other people who really should go outside more. "This is it guys…" said Rob over the Skype call. Buffering slightly, yet stoic. "This is our chance to really do something." Powerful words. Here's what we did:

Gameweek 37 Team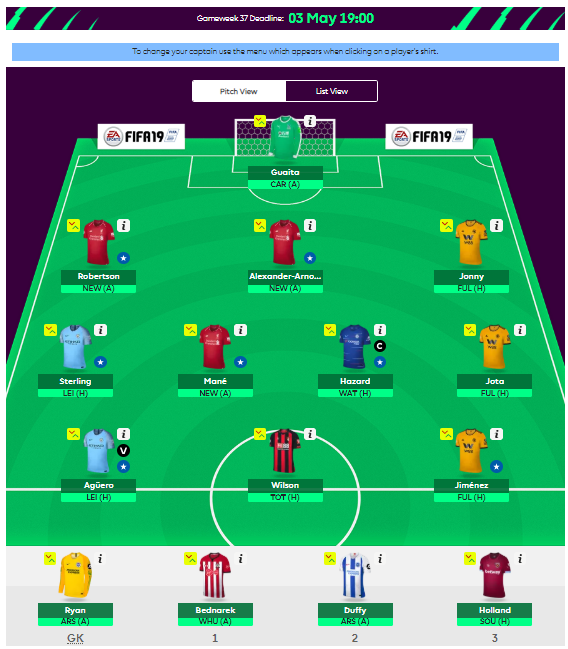 Formation: 3-4-3
Captain: Hazard
Vice-captain: Aguero
Transfers made: 3 (Rondon > Aguero / Son > Holland / Pereira > Bednarek)
Point deductions: -4
There was a general optimism in the camp this afternoon. After a torrid first half of the season, Team TSZ has had a meteoric rise up the leaderboard. Top 2k is excellent work, but they wanted more. Spirits were high, if a bit apprehensive. Apart from Trystan who, possibly due to spirits last night, was hungover from the darts, but is always apprehensive anyway.
Today's discussion proved to be the longest Team TSZ has ever had. As in about FPL, we do talk about other things. It is my job here to dilute more than 40 minutes of head-scratching and polite-but-firm "no"s, which is easy really considering nothing much changed until the last ten.

As discussed on the podcast, Eden Hazard could prove to be an excellent differential captain, as most of the top 1k are currently without him. Of course, this could be why they are indeed the top 1k, but in fairness to Hazard he's scored plenty of points this year, just in erratic but often-enough to infuriate spells. I doubt Hazard is concerned with the states of our FPL teams, but perhaps his last home game at Stamford Bridge (if massive obvious rumours are to be believed) will motivate him to glory.
Otherwise, our team was fine the way it is, said Tim. Trystan, brow already permanently furrowed since around the seventh pint the night before, opened discussions with Sergio Aguero, namely getting him in. As the team repeatedly tried to fit a square Argentinian into a round, FPL overdraft, Tim muttered "I think we're actively making the team worse." It's phrases like this that explain why Rob makes the speeches.
I'll save some time with a list of players who were mentioned: Luke Shaw, Aymeric Laporte, Ederson, Kyle Walker, Shane Long. Eventually the team settled on a -4, unprecedented for them but my absolute bread and butter, to bring in bench-warmers Jan Bednarek and Nathan Holland. The latter of which must have had an odd week, as his budget-saving price has seen him snapped up by many. Sergio Aguero's presence on the team is just the right amount of safety needed to accompany the risk in captaining Hazard. Good job team! (They let me help this week, so i'm being kind to them).
For the rest of our Gameweek 37 content, visit the links below:
Captain Picks - https://www.thestatszone.com/fpl-gameweek-37-captain-picks-18-19

FPL Fixtures - https://www.thestatszone.com/fpl-gameweek-37-fixture-analysis-rested-city-firmino-minutes-man-utd-schedule-hazard-home-form

FPL Projections - https://www.thestatszone.com/fpl-gameweek-37-projections-18-19

FPL Podcast - https://www.thestatszone.com/fpl-gameweek-37-tsz-podcast-18-19

Team News & Predicted Line-ups - https://www.thestatszone.com/fpl-gameweek-37-fixtures-team-news-press-conference-quotes-predicted-line-ups-18-19