This season, we've pooled our (self-proclaimed) collective genius together to form 'Team TSZ', a fearsome squad of fantasy point machines who will gun for glory in our very own FPL mini-league.

Decisions will be made collectively after polite discussion. 'Team TSZ' consists of:
Rob Esteva – Managing Director
Trystan Pugh – Sports Content Manager
Tim Blackwell – Chief Sports Data Scientist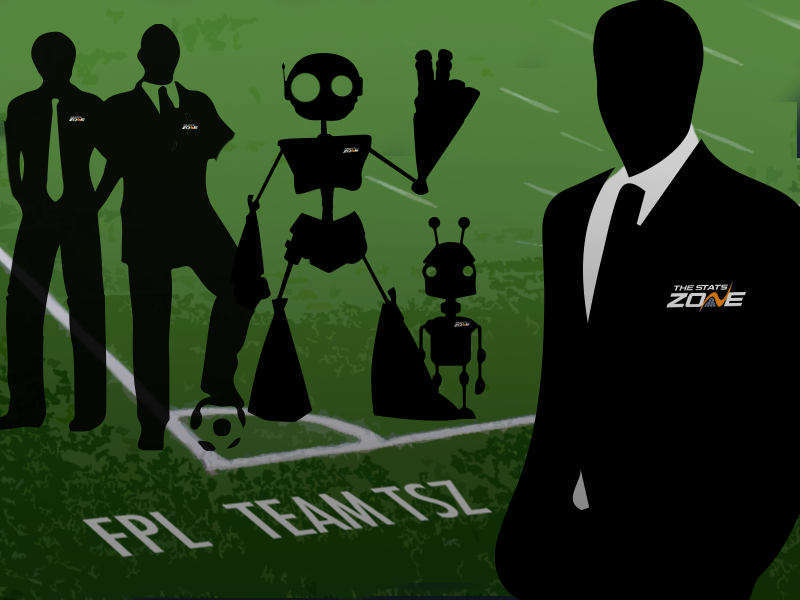 So how did we get on in Double Gameweek 35?
Last Gameweek's Points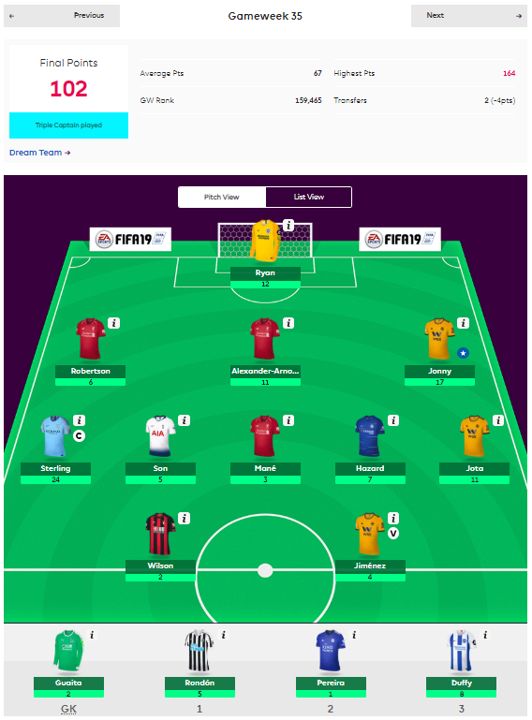 GW points: 102
GW average: 67
GW rank: 159,465
Overall rank: 3,985 (▲)

After a few weeks break from writing this article I must say I am impressed with how the team has shaped up. TSZ recovered from its first red arrow in nine gameweeks to move back to the upper-echelons of FPL with 102 points. In a week where many decided to bench boost, including our main mini-league competitor Darren Whalen, we became the latest team to triple captain Raheem Sterling to little effect. To be fair to Sterling, we may have heaped unwanted pressure on him, he already has this "Premier League" thing to play for, apparently. We see you Whalen, and we want our first place back.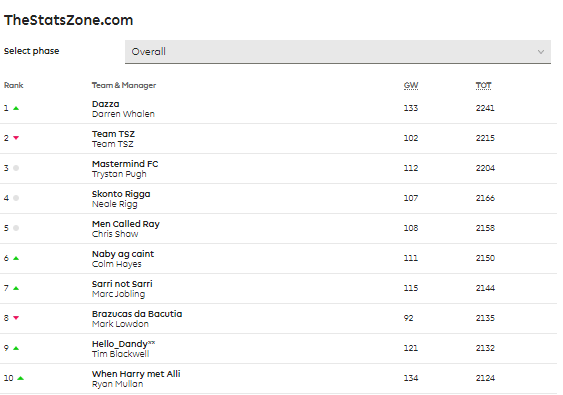 Shane Duffy was placed on the naughty step after a miserable double gameweek in 34, and he responded with at least one, if not two fingers up to us. Elsewhere, my suggestion that Ayoze Perez might be a shrewder option than Salomon Rondon down the line looks well-founded after four goals in his last two games, but the team insist on muting me at every turn. I am only allowed to speak on the podcast, which you can find at the top of this page.
In personal team news, there is now just 13 points between myself in 69th and Rob in 73rd down in the depths of our mini-league. I've suggested a relegation system put in place for Team TSZ whereby I could be promoted to the decision making in his place, but unfortunately I cannot find the backing from Trystan or Tim because he's bribing them, with their salary.
Gameweek 36 Team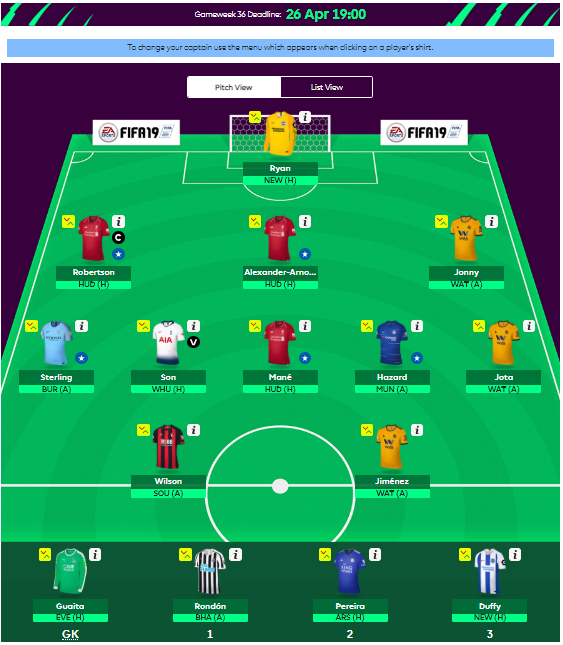 Formation: N/A (Bench Boost)
Captain: Robertson
Vice-captain: Son
Transfers made: 0
Point deductions: 0
Captain Robertson has a nice ring about it, don't you think? The team's thinking being that Mohamed Salah and Sadio Mane will be most FPL managers' big guns this week leaves Andy, FPL's fifth-highest scoring player, a highly competitive option. Liverpool vs Huddersfield offers many problems this week, as Liverpool face a team much like the Terriers on Wednesday called Barcelona, from Spain. With Jurgen Klopp a big grinning question-mark in terms of rotations, despite his comments to the contrary, captaining any Red will hold some peril, but it is a risk the team are taking. I suggested that it would not be odd for Barcelona-bound (if rumours are true) Alberto Moreno to get a game here, with the Champions League in mind, but everybody found that very funny. Heung-Min Son stands in as a very decent vice-captain, should Alberto come in for a joke.
With the FPL season almost over, this week is likely the last for many fixtures to matter, and soon managers (actual ones) will be tinkering and trialling youngsters. With that in mind the team have played their final chip - the Bench Boost, and with it, the hopes of securing the inaugural TSZ League Trophy.
For the rest of our Gameweek 36 content, visit the links below:
Captain Picks - https://www.thestatszone.com/fpl-gameweek-36-captain-picks-18-19

Fixture Analysis - https://www.thestatszone.com/fpl-gameweek-36-fixture-analysis-triple-captains-triple-ups-and-the-season-run-in-schedule

Projections - https://www.thestatszone.com/fpl-gameweek-36-projections-18-19

Podcast - https://www.thestatszone.com/fpl-gameweek-36-tsz-podcast-18-19

Team News & Predicted Line-ups - https://www.thestatszone.com/fpl-gameweek-36-fixtures-team-news-press-conference-quotes-predicted-line-ups-18-19