This season, we've pooled our (self-proclaimed) collective genius together to form 'Team TSZ', a fearsome squad of fantasy point machines who will gun for glory in our very own FPL mini-league.

Decisions will be made collectively after polite discussion. 'Team TSZ' consists of:
Rob Esteva – Managing Director
Trystan Pugh – Sports Content Manager
Tim Blackwell – Chief Sports Data Scientist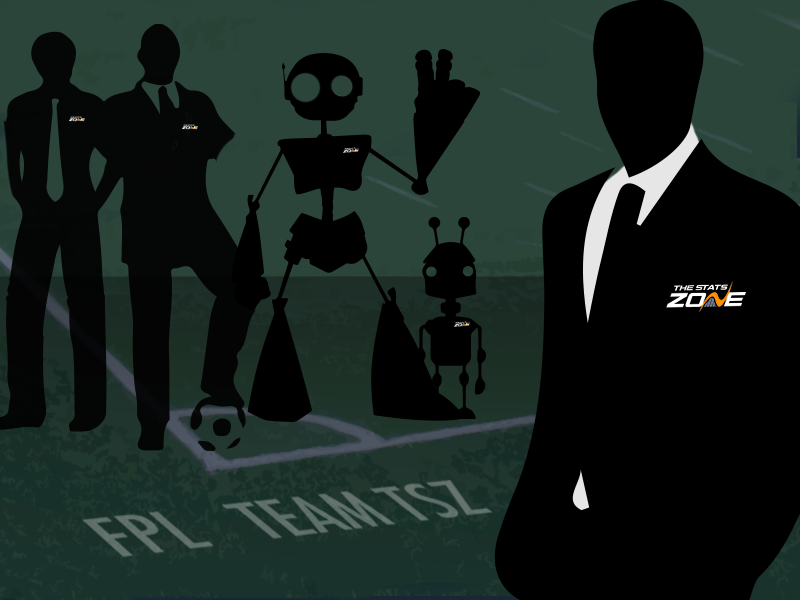 So how did we get on in Gameweek 29?
Last Gameweek's Points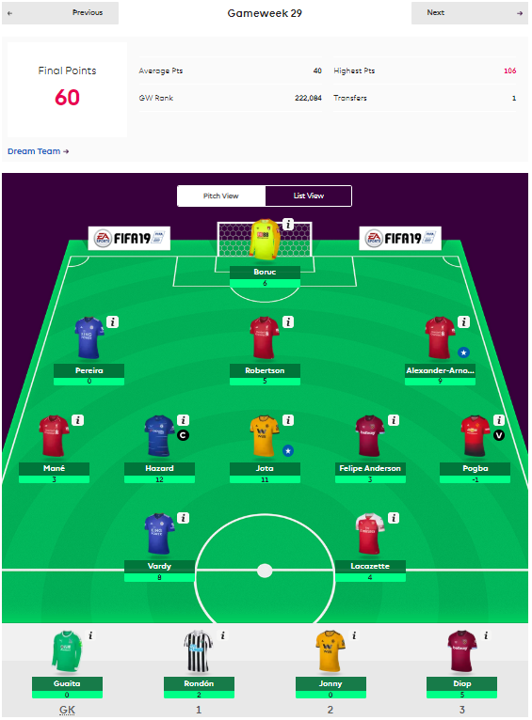 GW points: 60
GW average: 40
GW rank: 222,084
Overall rank: 35,287 (▲)
Gameweek 29 was a very difficult round of fixtures indeed for FPL managers everywhere, especially those of us who captained Paul Pogba whose penalty technique looks silly when he scores, let alone misses. Pogba takes a penalty like a seagull interrupted whilst searching for worms. Speaking of seagulls, Brighton won for the first time in 2019 at home to Huddersfield Town, who are on their way down to meet Colin Quaner in the Championship. Our upturn in fortunes seems to have coincided with our wildcard, where we transferred Quaner for some Premier League players. Interesting.
More to the point we are now at our highest rank of the season, 35,287th, after four excellent weeks of wildcards and wildly overachieving, and we really are the form team of our league. Trystan continues to look over his shoulder, at himself, which must be a rather lucid experience. Like in a mirrored elevator except Tim and Rob are also in his reflections. The gap between his personal team and Team TSZ? Two points. Issa Diop could have been the difference. Elsewhere, Eden Hazard didn't completely let us down, Boruc got points for effort at home to Manchester City, and Liverpool again drew 0-0 with their other, older enemy Everton to keep our defence ticking over nicely indeed.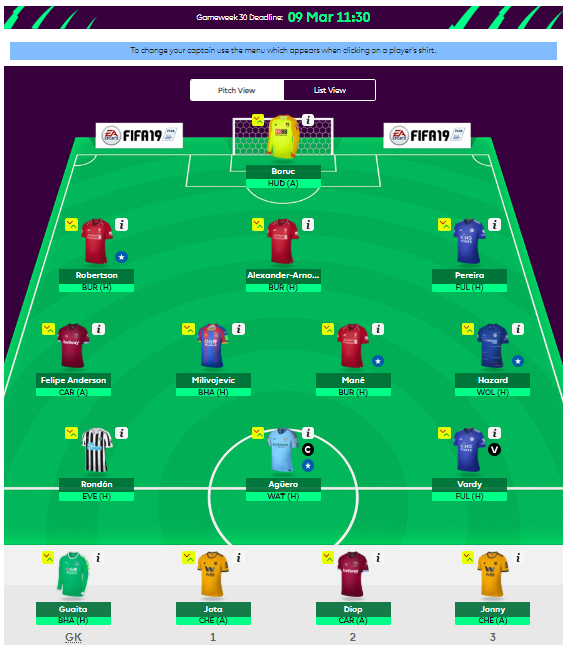 Gameweek 30 Team
Formation: 3-4-3
Captain: Aguero
Vice-captain: Vardy
Transfers made: 2 (Pogba > Milivojevic / Lacazette > Aguero
Point deductions: 0
With our two free transfers, the team decided it was best to bring in a big-name striker for Alexandre Lacazette, who has been perfectly fine since he moved in but hasn't exactly pulled up any tress. We're hoping Sergio Aguero will finally clear our lawn in time for May. We're getting a patio. Manchester City's talisman (when at home, of course) comes in and captains against Watford, who look good but not beat-City-at-home good. Listeners to the podcast will know why Jamie Vardy is VC, and why Ricardo Pereira keeps his place over Jonny. They play Fulham at the King Power, where I truly fear for the Cottagers' back-line.
Luka Milvojevic comes in for Paul Pogba because 1) we needed the funds for Aguero and 2) because of Manchester United's incoming blank gameweek and potential fatigue from their midweek exertions. That was three reasons. Crystal Palace are also at home to Brighton, one of the more vicious and yet geographically distant rivalries out there, where there was a penalty for either side in the reverse fixture at Brighton. Palace's penalty-taker could fill his boots in a poisonous atmosphere, where there will almost certainly be at least one red card. I have placed Shane Duffy as far down my bench as possible in anticipation. Elsewhere, the team take a risk choosing Chelsea over Wolves, with a midweek fixture and shaky foundations counting against the London club. As Tim and Trystan keep saying in the podcast, it's sort of our unofficial slogan: Wolves tend to play to the level of their opposition.
While I have you, a big thank you to everyone who has listened to our FPL Weekly podcast thus far. Your support is very much appreciated, especially by me as it is the only time the team allow me to speak.
For the rest of our Gameweek 30 content, visit the links below:
Captain Picks - https://www.thestatszone.com/f...

Projections - https://www.thestatszone.com/f...
Fixtures - https://www.thestatszone.com/f...
FPL Podcast - https://www.thestatszone.com/f...
Team News & Predicted Line-ups - https://www.thestatszone.com/f...