It was reminiscent of a battlefield in Saving Private Ryan. Gameweek 29. Wounded FPL managers limping around in shellshock, set to be haunted by flashbacks forever more. Paul Pogba (£9.0m) missing a late penalty and picking up a yellow card which took him into negative points – doubly negative for the many teams he captained. This followed a penalty miss from Pierre-Emerick Aubameyang (£10.9m), shockingly benched for the North London derby but given a late chance to rescue his owners. Let-downs from Sergio Aguero (£11.8m), Raheem Sterling (£11.4m) and Marcus Rashford (£7.7m), as Mohamed Salah (£13.4m) blanked for the fifth time in six games. It was a weekend of pure survival.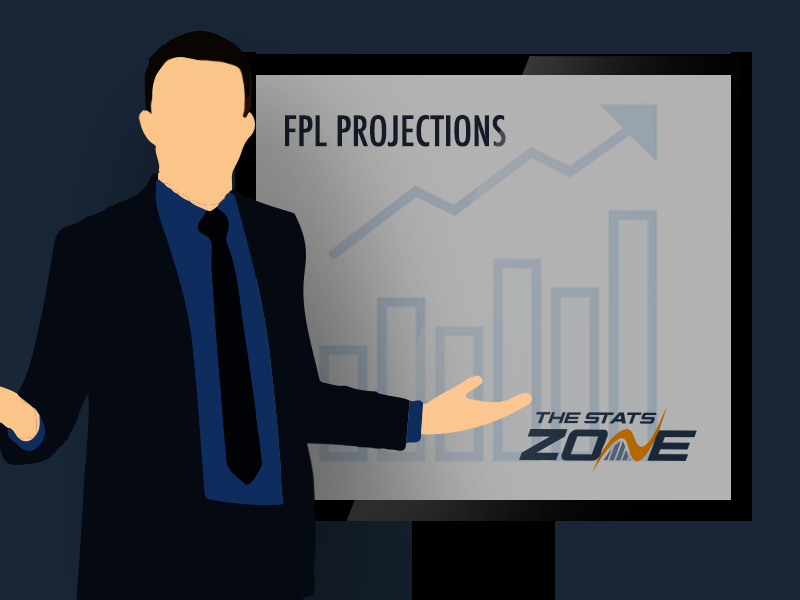 Yet there were moments of hope for some, as Raul Jimenez (£6.9m) racked up 12 points for Wolves and Romelu Lukaku's (£10.7m) second consecutive brace scraped a comeback win for Man United. Gameweek 30 sees all 20 Premier League teams in action, unlike the following week. Arsenal host Man United, whilst Man City and Liverpool have promising home games against Watford and Burnley respectively.
OPTIMUM SQUAD
The FPL community averaged a lowly score of 40, yet the algorithm was a victim of bad luck by scoring just 24. Captain Pogba brought in -2, whilst Marcos Alonso (£6.4m), David Luiz (£5.9m), Martin Dubravka (£5.0m), Fabian Schar (£4.7m) and Glenn Murray (£6.3m) all scored zero. The former two were simply rested but the latter three all got yellow cards. Brighton did provide some joy, though, with Shane Duffy (£4.7m) bringing in nine points and Anthony Knockaert (£5.2m) setting up the game's only goal. Eden Hazard (£10.8m) also assisted.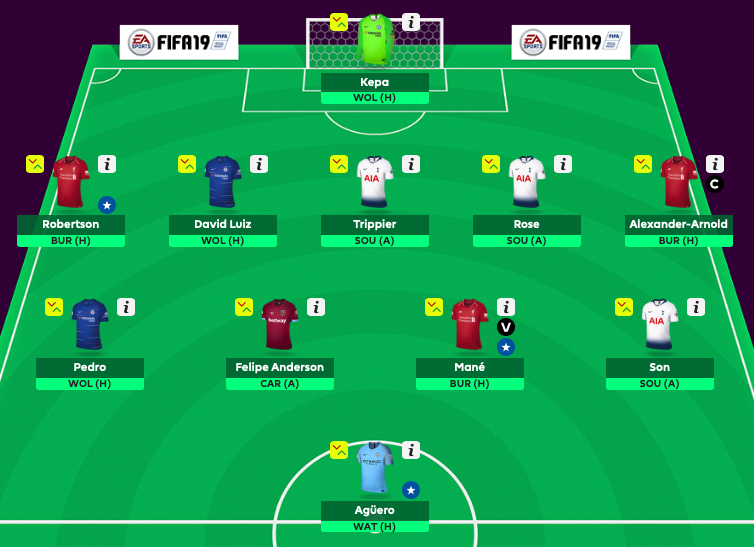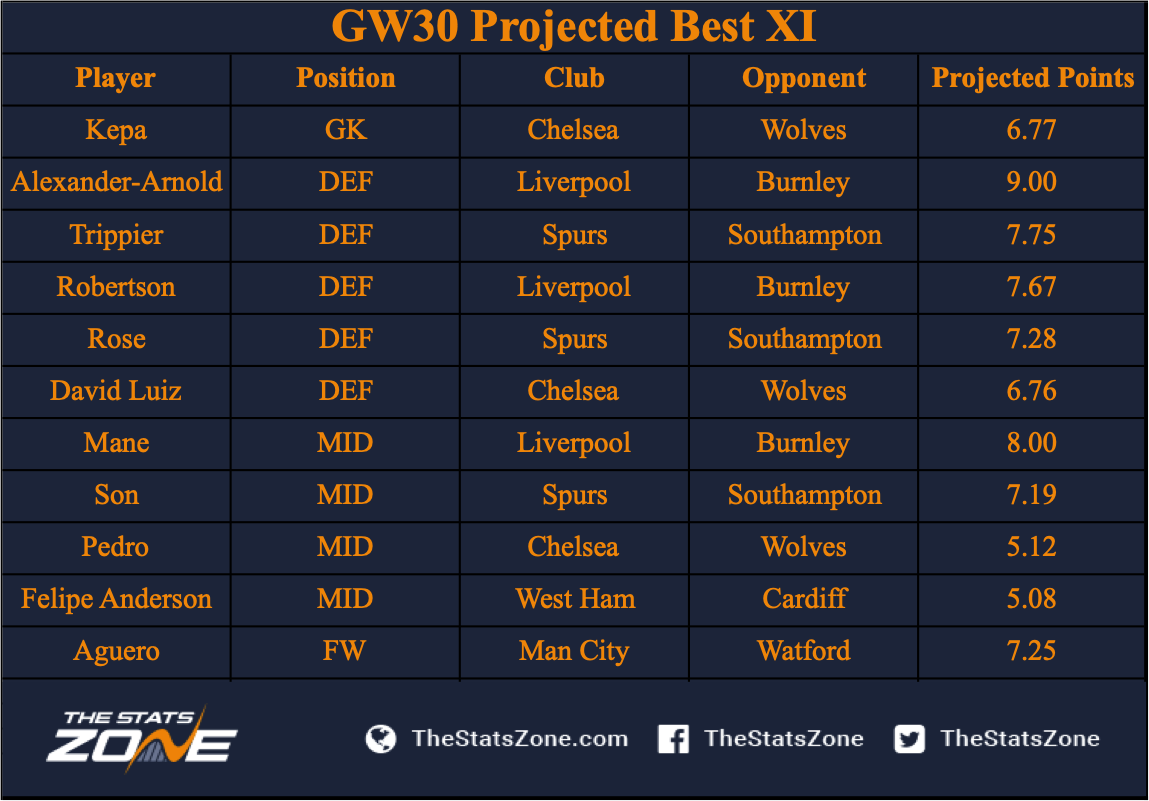 Going with an unorthodox 5-4-1 formation, the optimum squad focuses on three defences – Chelsea, Liverpool and Tottenham. With his permission, we'd love to put Kepa Arrizabalaga (£5.4m) in goal for his match against Wolves. After manager Mauricio Sarri punished Kepa by playing Willy Caballero (£4.7m) for the 2-0 win over Spurs, the Spaniard was reinstated for the victory over Fulham. David Luiz was rested in that West London derby but is expected to return to the backline against a side who seemingly enjoys visiting the big teams – Wolves drew 1-1 away to Arsenal and Man United, whilst stunning Spurs with a 3-1 win at Wembley.
Mauricio Pochettino's side also provides two defenders, with Kieran Trippier (£6.1m) eager to banish memories of his comedic own goal at Stamford Bridge and Danny Rose (£5.8m) hoping to hold off competition from Ben Davies (£5.6m), who revealed he now "feels fine" after struggling with groin problems over the past year. Neither Trippier nor Rose started Tuesday's victorious trip to Dortmund, so they should play against Southampton.
Many FPL managers are debating which to double-up on – Liverpool's defence or Liverpool's attack. As Salah is a huge strain on the optimum squad's budget, the algorithm has decided to choose defence. Andrew Robertson (£6.9m) is more expensive than Trent Alexander-Arnold (£5.5m) but his starting place is more secure and he's provided a fantastic nine assists from the left, although TAA set up three goals in one match. In fact, that 5-0 win over Watford saw all five goals assisted from full-backs. Alexander-Arnold has played 70% of Robertson's minutes, yet has amassed one goal and six assists.
They host 16th-placed Burnley in the quest to regain their place at the Premier League summit, a match that finished 1-1 last season. The Clarets' eight-match unbeaten run has been followed by defeats to Newcastle and Crystal Palace, so Jurgen Klopp's side will see this as a good time to face them. Salah's recent form has shaken the FPL community, whose season can be split into three periods. Gameweeks 1-15 was steady for the game's highest-priced player, averaging 6.0 points-per-game. Then, a hat-trick at Bournemouth led to an explosive eight-game winter spell where Salah scored nine goals and averaged a phenomenal 10.9 points-per-game. However, the six games since Gameweek 24 have been terrible – one goal, no assists, 3.5 points-per-game.
This has coincided with the good form of far-cheaper teammate Sadio Mane (£9.8m). The Senegalese man has a fine FPL track record, scoring 10+ plus goals in all five of his English seasons. His current tally of 14 is already the most, with six coming in the past seven matches. Yet his brace against Watford was his only time in double figures, still managing to avoid any bonus points at all. The algorithm tips Mane to do well against Burnley and he's a good transfer to make, considering the fewer amount of fixtures in Gameweeks 31 and 33. Liverpool play in both, with encouraging trips to Fulham and Southampton.
The return of Harry Kane (£12.4m) has impacted the returns of Son Heung-min (£8.8m), who has returned two points in all three corresponding league games. He did score in December's meeting with Southampton though and his 17 shots is the third-highest midfield tally for the past six matches. Nonetheless, only six of these were in the box. Despite scoring 11 goals, Son's xG is just 6.74, suggesting he's either been overachieving or has an above-average prolificacy. Pedro (£6.3m) is expected to take Willian's (£7.1m) place in Chelsea's line-up, with the Spaniard scoring the opening goal in their home win over Spurs.
Felipe Anderson (£7.2m) is in hideous form, with just one assist from the last ten games. He's still involved in the build-up play but has stopped taking shots, whilst Robert Snodgrass (£5.0m) succeeds with his own corners. However, it's sometimes wise to choose fixtures over form and, not only are West Ham about to face a Cardiff side who have conceded ten times in three games, but they have arguably the best fixture during Blank Gameweek 31 - Huddersfield.
The team's only striker is Aguero, who will be relying on home comforts when Watford come to town. After scraping a couple of 1-0s together, the champions will be hoping for the same non-performance that Watford put in at Anfield. 15 of his 18 league goals have come at the Etihad Stadium and owners will be praying that Pep Guardiola doesn't follow-up on his suggestion that Aguero is tired and Gabriel Jesus (£9.9m) will help share the burden.
THE REST – GOALKEEPERS/DEFENDERS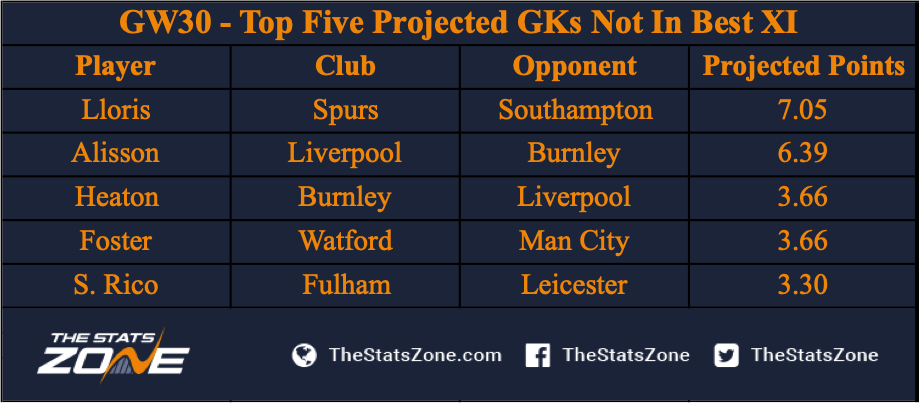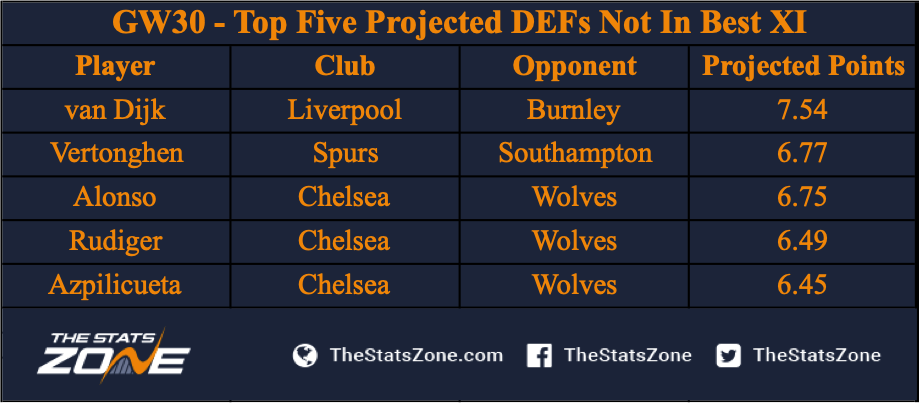 Hugo Lloris (£5.5m) and Alisson (£6.0m) are tipped to record a clean sheet this weekend, with France's captain fresh from saving the Aubameyang spot-kick. The other three goalkeepers are expected to accumulate save points during tough matches. Virgil van Dijk (£6.6m) scored an amazing 20 points against Watford, thanks to his two late goals, with Cesar Azpilicueta (£6.3m) quietly contributing three assists from four matches. Perhaps facing Wolves at home is when Alonso finally scores that elusive goal – none since Gameweek 2, having hit the woodwork six times.
THE REST – MIDFIELDERS/FORWARDS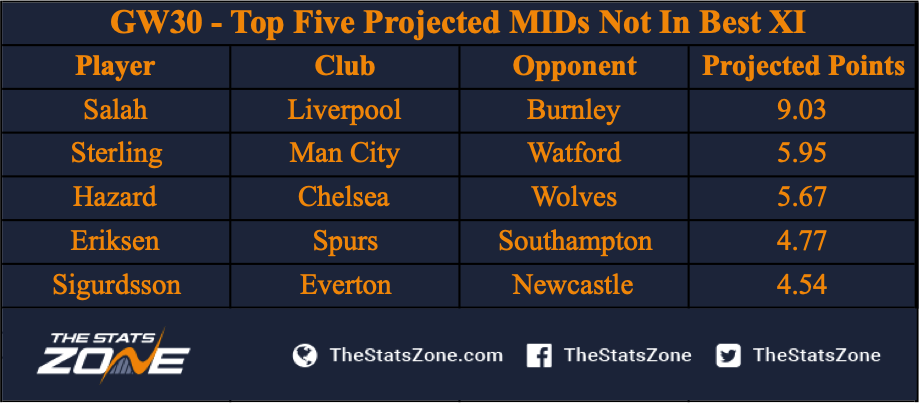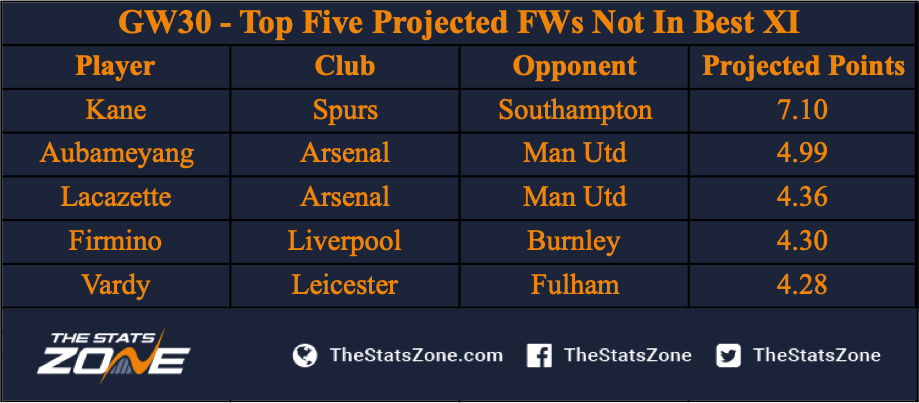 As mentioned, Salah only misses out because of his price. Roberto Firmino (£9.2m) aims to take his starting place back off Divock Origi (£5.0m), whilst Jamie Vardy (£8.9m) will see facing Fulham as a great chance to score in his third consecutive game. Raheem Sterling (£11.4m) always carries the risk of rotation (he has played 31, 90, 35 and 90 minutes of late) but Man City have had a whole week of rest, with their Champions League tie being next week. At Arsenal, it's very hard to tell who will start out of Aubameyang and Alexandre Lacazette (£9.5m) – they've not started together since Gameweek 25 – so it might be time to cash in on them.