This season, we've decided to pool our (self-proclaimed) collective genius together to form 'Team TSZ', a fearsome squad of fantasy point machines who will gun for glory in our very own FPL mini-league.

Decisions will be made collectively after polite discussion. 'Team TSZ' consists of:
Rob Esteva – Managing Director
Trystan Pugh – Sports Content Manager
Tim Blackwell – Chief Sports Data Scientist
So how did we get on in Gameweek 2?
Last Gameweek's Points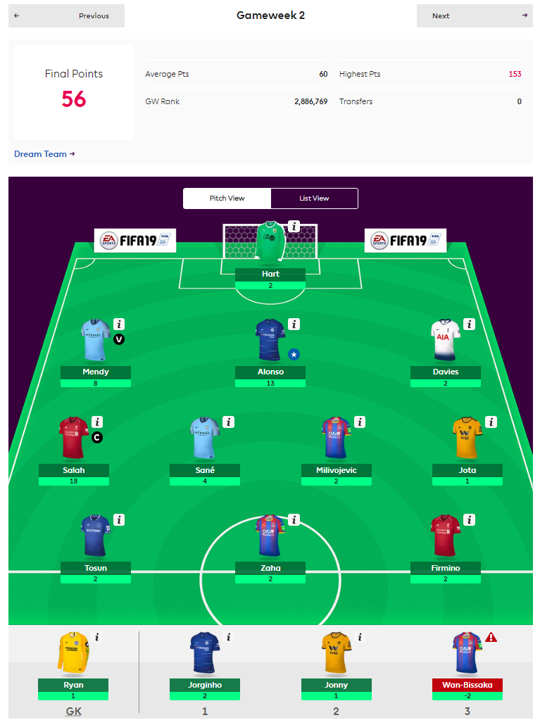 GW points: 56
GW average: 60
GW rank: 2,886,769
Overall rank: 1,062,046

Let's get the glaringly obvious omission out of the way, and that is the lack of Sergio Aguero. It feels like every other FPL team out there not only owned the Argentine, but captained him as he bulldozed his way to a hat-trick, assist and three bonus points against hapless Huddersfield. It was a painful Sunday afternoon for all involved with Team TSZ, and the following image has been plastered on our office walls to remind us of our shortcomings:

There were one or two positives in amongst this catastrophe; Alonso and Mendy once again justified our investment in premium defenders by rewarding us with more attacking returns, and captain Salah at least returned two assists to soften the Kun-sized blow we had been dealt. Rob had advocated for giving the armband to Mendy in the build-up to GW2, and for a while it looked like Tim and I were set to be given the chop:

Thankfully, Salah's late assist for Mane's goal spared us of Rob's iron fist for at least another week, but we live in constant fear...
We fell to 54th in our very own mini-league. Given that there are exactly 100 teams in said league at present, that puts us firmly in mid-table mediocrity. We are Bournemouth (only they have started better than us this season).
Gameweek 3 Team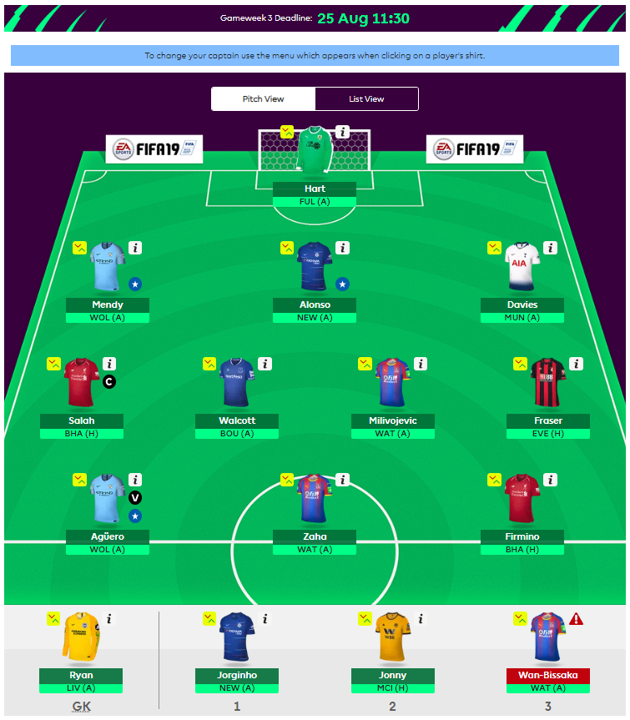 Formation: 3-4-3
Captain: Salah
Vice-captain: Aguero
Transfers made: 3 (Sane > Walcott, Jota > Fraser, Tosun > Aguero)
Transfer cost: -4
Substitutions made: 0

We cut our weekends short for showdown talks on Sunday evening. Words were exchanged, coffee cups were thrown and egos were bruised, but one thing we agreed on was that our squad required immediate surgery. Price changes are volatile at this stage of the season so we needed to act early despite the fact the gameweek was still in progress.
Unsurprisingly, Aguero was unamimously voted in, with Tosun the man to make way. Elsewhere, Sane - despite his late cameo yielding an assist on Sunday - simply isn't worth the investment, so we decided upon Walcott as his replacement (the impressive Richarlison was just beyond our budgetary means). Finally, Jota to Fraser released the necessary funds to make the Aguero move possible.

We didn't use our free transfer last week, so this triple swoop cost us four points - a necessary sacrifice. In terms of the captaincy, there's a compelling argument for Aguero no doubt, given last week's antics, but we've stuck to our guns and favoured Salah given his home fixture against Brighton. Will Aguero punish us again? Check back in with us next Friday to see how we got on!

For the rest of our Gameweek 3 content, visit the links below:
Captain Picks - https://www.thestatszone.com/f...
Dream Team - https://www.thestatszone.com/f...
Projections - https://www.thestatszone.com/f...
Predicted Line-ups - https://www.thestatszone.com/f...