This season, we've pooled our (self-proclaimed) collective genius together to form 'Team TSZ', a fearsome squad of fantasy point machines who will gun for glory in our very own FPL mini-league.

Decisions will be made collectively after polite discussion. 'Team TSZ' consists of:
Rob Esteva – Managing Director
Trystan Pugh – Sports Content Manager
Tim Blackwell – Chief Sports Data Scientist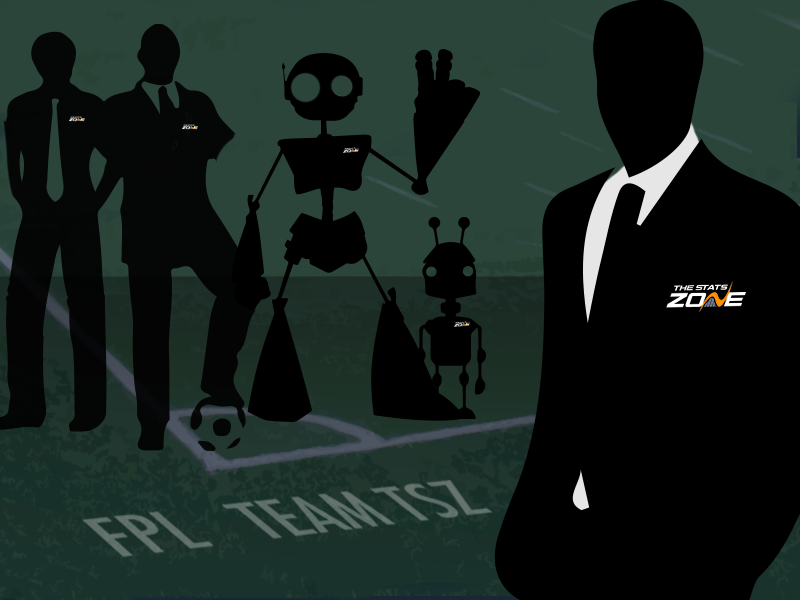 So how did we get on in Gameweek 28?
Last Gameweek's Points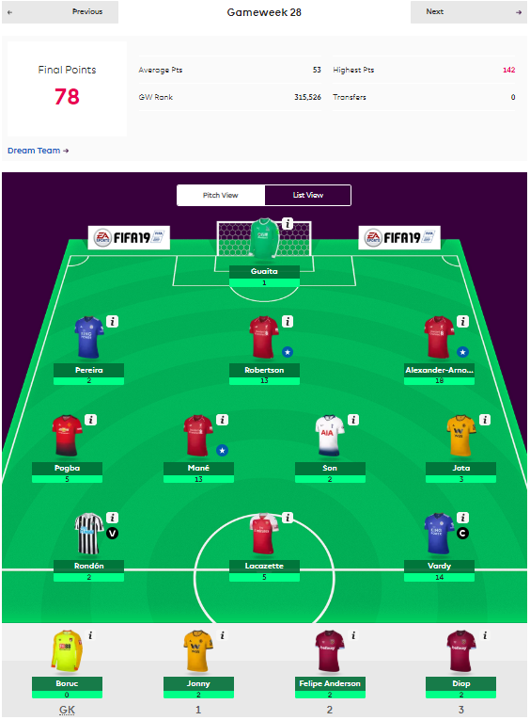 GW points: 78
GW average: 53
GW rank: 315,526
Overall rank: 53,432 (▲)

It's the 1st of March! The birds are singing, the days are longer, the sheep are birthing. A month for rejuvenation, then, and there is certainly a spring in our step here at Team TSZ after a trio of decent weeks has culminated in this marvellous scoreline: Team TSZ 78 - the rest of FPL nil. Or just inferior scores.
As I stated last week, this team largely relied "on Liverpool having a really, really good game at home to Watford". Tick. Messrs Andy Robertson, Trent Alexander-Arnold and Sadio Mane made us proud, and completely absolved us of transferring out the Egyptian King, Mohamed Salah when we wildcarded. Jamie Vardy also got on the scoresheet, having been allowed to attack by his interim managers. He looks eager for more. I may name him my differential every week on the podcast from now on. Except this week, as Rob's picked him. Plus he's over 5%-owned, now.
We've moved back to the heady heights of (almost) the top 50k, where we belong.
Gameweek 29 Team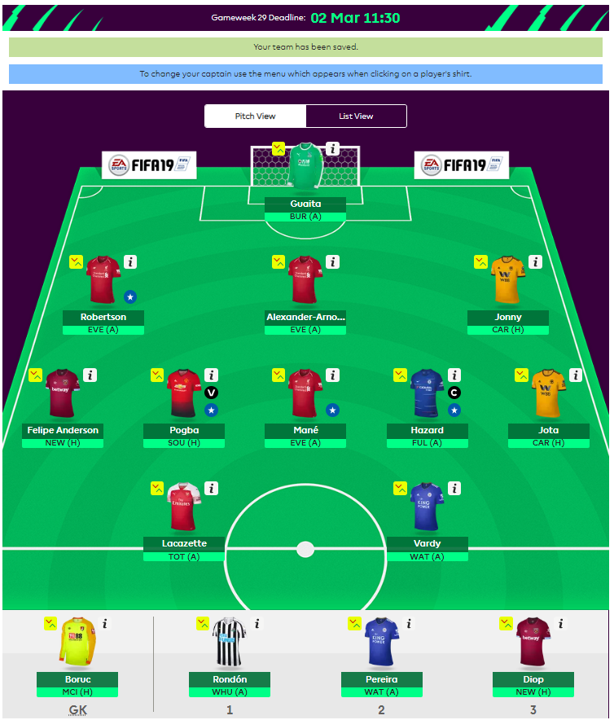 Formation: 3-5-2
Captain: Hazard
Vice-captain: Pogba
Transfers made: 1 (Son > Hazard)
Point deductions: 0
A short-turnaround this week sees Team TSZ back in business before we were finished basking in GW28's success. Yet, here we are, and a warning to those of you who think it wise to make decisions based on our image: Eden Hazard is back to troll us again, and this time he's been promoted. After the success with Vardy, Tim, Rob and Trystan are feeling lucky, and will look to gain ground on the top 50k with differential captains. Yes, the team have thrown caution to the wind and run with the age old captain-anybody-or-anything-that-faces-Fulham gambit, but I fear they are at risk of throwing away all their hard work. Trouble brewing? I smell danger. Sorry, danger.
Fulham have sacked Claudio Ranieri and replaced him with a temporary young, charismatic former captain in Scott Parker. 1) last time Fulham sacked a manager they won their following game, albeit against Southampton, and 2) last time a Premier League team made that move, Darren Moore became interim coach of West Brom, and he almost turned things around. I would not be surprised if we saw a different Fulham side this weekend, with Tom Cairney and Ryan Sessegnon in their correct positions, and Sergio Rico in his: very far away from goal.
Still, it'll probably work.
Our Wolves duo come in for Rondon and Pereira, while new fans' favourite (the fans being me) Diop sits this one out. Let us hope that our Liverpool trio embark on another stellar performance at Goodison on Sunday. Apart from Rob, who supports Everton. Readers, while I have you, Divock Origi was on the scoresheet last time out against Watford, and with Roberto Firmino unlikely to make the full 90 minutes upon his return, if he does indeed return, he could feature. The Belgian has a 100% record in scoring against the Toffees. You didn't hear it from me.
For the rest of our Gameweek 29 content, visit the links below:
Captain Picks - https://www.thestatszone.com/f...

Fixture Analysis - https://www.thestatszone.com/f...
Projections - https://www.thestatszone.com/f...
Team News & Predicted Line-ups - https://www.thestatszone.com/f...