It was a high-scoring weekend for many FPL managers, especially the million who captained or triple-captained Sergio Aguero (£11.4m). It was a mixed bag for those who put faith in Man City assets. Aguero stole headlines with his hat-trick and 19 points overall, with Raheem Sterling's (£11.3m) two assists bringing in ten points against Arsenal (11 overall). However, owners of Leroy Sane (£9.7m) were fuming after the German was left on the bench for all 90 minutes against the Gunners before playing for an infuriating 58 minutes against Everton without an attacking return. Owners of 20-point hero Aymeric Laporte (5.9m), though, are laughing.
Elsewhere, Eden Hazard (£10.9m) trolled those who'd lost patience with the Belgian after no goals in five games. He scored a brace at home to Huddersfield, as did new signing Gonzalo Higuain (£9.5m). A late Son Heung-min (£8.7m) winner started the weekend at Wembley, before the Pogba-Rashford combination struck again for Man Utd. Yet it was the second blank in a row for Mohamed Salah (£13.6m) that will concern many, especially with cheaper teammate Sadio Mane (£9.5m) scoring in both. All eyes will therefore be on Liverpool's juicy home game with Bournemouth, as well as the clash between Man City and Chelsea.
OPTIMUM SQUAD
The Gameweek 25 optimum squad returned a healthy 85 points, despite Pedro (£6.3m) and Dejan Lovren (£4.9m) not playing. The decision to back Crystal Palace's backline paid off, as did captaining Aguero and selecting David Luiz (£5.9m) for his goal and clean sheet.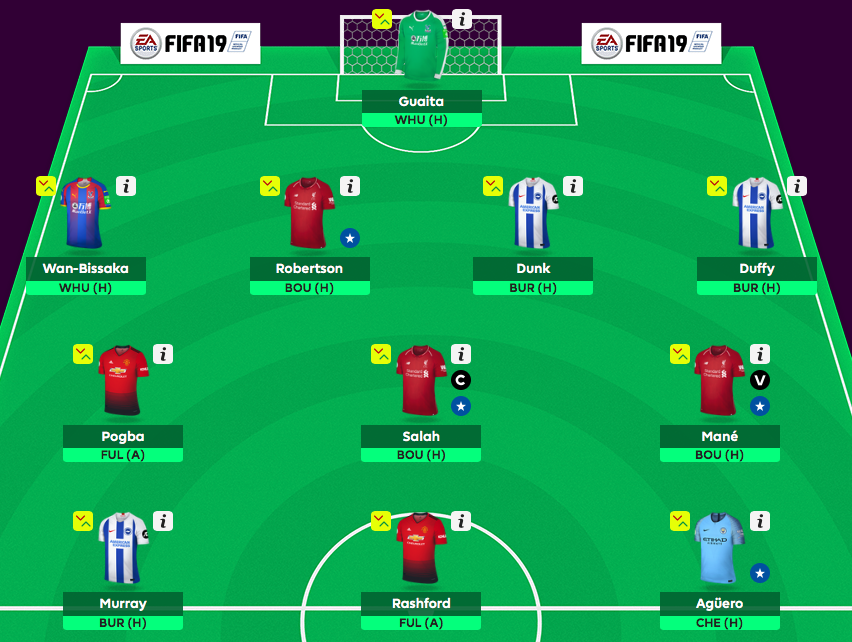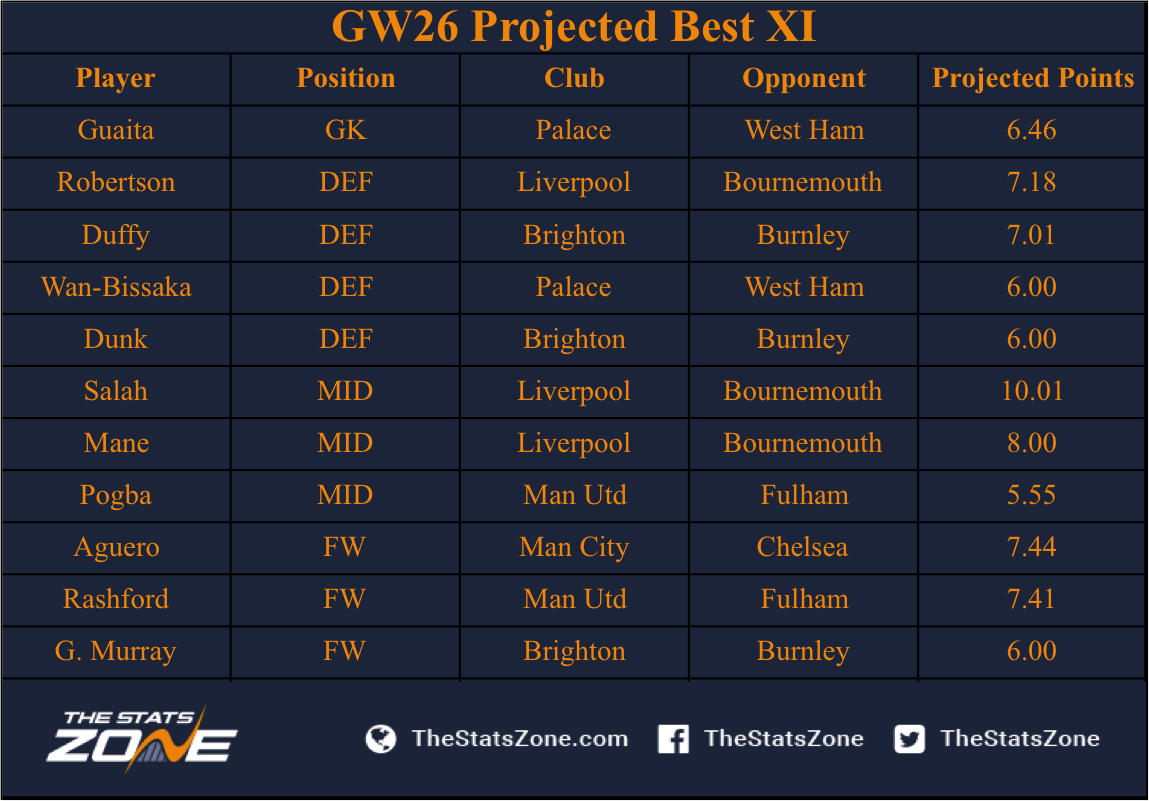 Four of last week's side remain for Gameweek 26. Following the successful triple-up of Palace's defence for their 2-0 win over Fulham, the algorithm has two for their hosting of West Ham. Vicente Guaita (£4.2m) has kept four clean sheets in his eight appearances, sitting behind a formidable lower-half defence that has at least two more clean sheets than 15 Premier League sides. FPL legend Aaron Wan-Bissaka (£4.6m) was discussed last week but he remains an excellent asset, regardless of his increasing price. They face a West Ham side who have lost their last three away games without a goal, yet have the ability to beat Arsenal and draw with Liverpool at the London Stadium. Roy Hodgson's side will feel confident of shackling Felipe Anderson (£7.1m) and, if fit, Marko Arnautovic (£6.8m).
Another defensive double-up belongs to Brighton, ahead of their home tie with Burnley. Saturday's successful clean sheet versus Watford starts a very encouraging run of games for the Seagulls, hosting Huddersfield, Cardiff and Southampton in upcoming weeks. How you navigate the season with your Bench Boost, Triple Captain, Wildcard and Free Hit chips will determine how attractive Brighton coverage is, considering they are without a match in Gameweek 27. The algorithm has chosen both Lewis Dunk (£4.5m) and Shane Duffy (£4.6m), a solid defensive partnership already enhanced by six goals this season. With 61 and 55 respectively, they are the league's top two for blocked shots.
After 12 clean sheets in 19 matches, the imperious Liverpool defence continued their rough patch by conceding at West Ham. It's now one shut-out and eight goals conceded from six games. They face Bournemouth, who are capable of anything after beating Chelsea 4-0 and then falling to a feeble defeat at Cardiff. Andrew Robertson (£6.8m) assisted when these sides met in December, tallying 11 points. He's the game's highest-scoring defender and a reliable option at both ends of the field.
Their December clash was better-known, though, for the stunning 21-point haul of Salah. Until then, the Egyptian had drip-fed goals at a modest rate. He'd had just one double-digit return and two bonus points from the opening 15 fixtures. Suddenly, he scored a hat-trick against Eddie Howe's side and started an eight-game run of nine goals, three assists, 13 bonuses and 77 points. Perhaps history can repeat itself, with Salah coming into this game on the back of his first back-to-back blanks since Gameweek 8 and only two open play goals from the last seven matches. With owners beginning to doubt him, Bournemouth could once again feel the brunt of this.
His quiet spell has coincided with the re-emergence of Mane. Hugely popular in the early weeks, he was always perceived as more reasonably-priced than Salah but not as explosive or fearful. Yet he's now on a higher points-per-million value and provided more bonus points over the season. Is that enough to choose Mane over Salah? Possibly not, but Liverpool are one of the few sides who won't blank in Gameweeks 31 or 33. Against Fulham and Southampton, selecting both in midfield could be an intelligent strategy.
Maybe it will be as successful as the Paul Pogba (£8.6m) and Marcus Rashford (£7.7m) duo. The former set up the latter for Sunday's only goal at Leicester, making it the fourth time this combination has struck since Ole Gunnar Solskjaer took charge. Right now, they are deadly. In Solskjaer's eight league games, both have scored six times, with Pogba assisting a further six and Rashford setting up two. They're unbeaten post-Mourinho and are about to visit Fulham, whose 55 conceded goals are comfortably the league's highest. The Cottagers have conceded at least two for five consecutive games.
Aguero made many people happy against Arsenal. Tried and trusted in the FPL world, the Argentine has scored 14 goals and is often the apex of the league's most thrilling team. The presence of in-form Gabriel Jesus (£10.0m) undoubtedly put many off Aguero when it was time to choose a Man City asset for Double Gameweek 25 and that hesitancy was punished at the Etihad with three tap-ins. He'll be happy to face Chelsea, who he's scored against 12 times in 16 meetings.
Just be aware that he'll not play the following week, as the same sides take the weekend off league duty to meet in the Carabao Cup final. Completing the line-up is Glenn Murray (£6.3m). The Brighton man is very much a home player, with seven of this season's ten goals occurring there. His bad form recently ended with a double at Fulham and another brace against West Brom in the midweek FA Cup replay. Combined with penalty duty, Murray looks like a strong option.
THE REST – GOALKEEPERS/DEFENDERS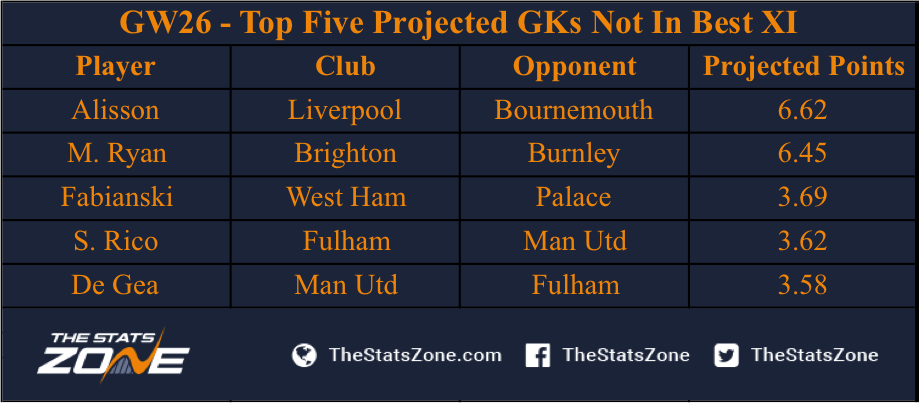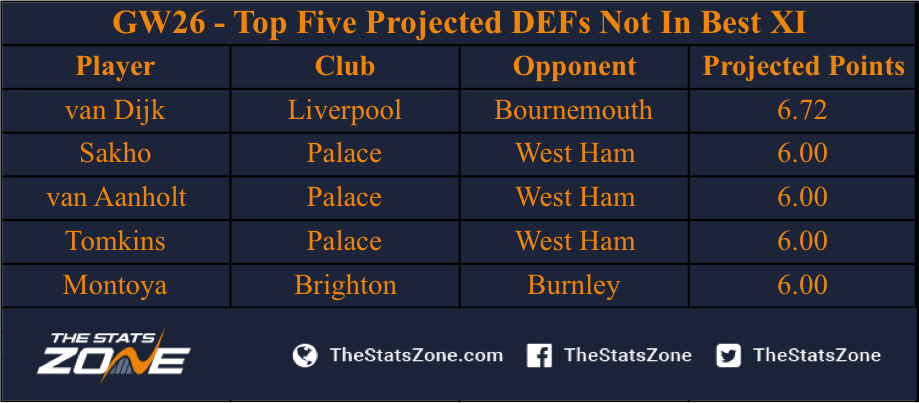 Crystal Palace also dominate the reserve list, with Mamadou Sakho (£4.9m), James Tomkins (£4.3m) and Patrick van Aanholt (£5.4m) expected to deliver. Brighton coverage is furthered via Martin Montoya (£4.3m) and Mathew Ryan (£4.4m), who is back in action following Asian Cup duty. Virgil van Dijk (£6.5m) played through recent matches, despite suffering from illness. It may even be why Liverpool's defence has stuttered of late, making the fully-recovered Van Dijk a valuable commodity. Lukasz Fabianski (£4.7m) has scored at least one save point in each of the last nine games – when West Ham concede, he's still racking up the points.
THE REST – MIDFIELDERS/FORWARDS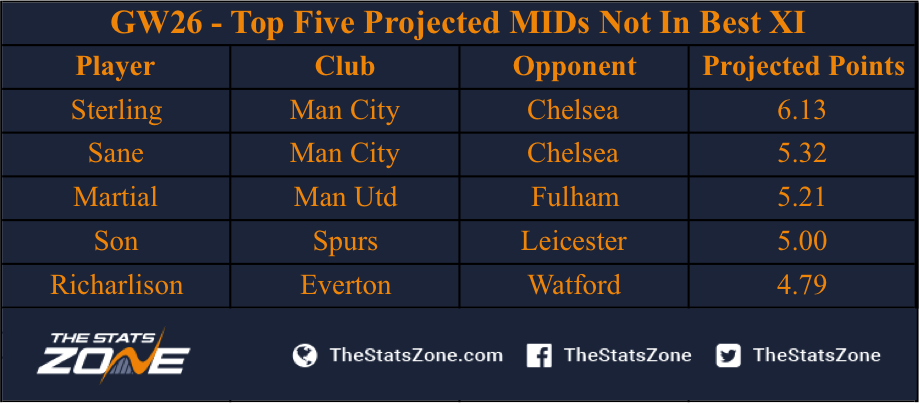 The aforementioned Sterling and Sane are predicted to score well against Chelsea, with Richarlison (£6.8m) looking to bounce back from a terrible Double Gameweek by scoring at former club Watford. It could be a spicy atmosphere, considering the public dispute between both clubs over Everton's approach to Marco Silva. Raul Jimenez (£6.7m) has returned to form for Wolves, collecting three goals and all six bonuses from their recent pair of games. Incredibly, it's taken this long to mention Arsenal. Unai Emery's side are away to bottom-side Huddersfield, with Pierre-Emerick Aubameyang (£11.2m) and Alexandre Lacazette (£9.3m) hoping to boost their push for Champions League football next season.