This season, we've pooled our (self-proclaimed) collective genius together to form 'Team TSZ', a fearsome squad of fantasy point machines who will gun for glory in our very own FPL mini-league.

Decisions will be made collectively after polite discussion. 'Team TSZ' consists of:
Rob Esteva – Managing Director
Trystan Pugh – Sports Content Manager
Tim Blackwell – Chief Sports Data Scientist
So how did we get on in Gameweek 21?
Last Gameweek's Points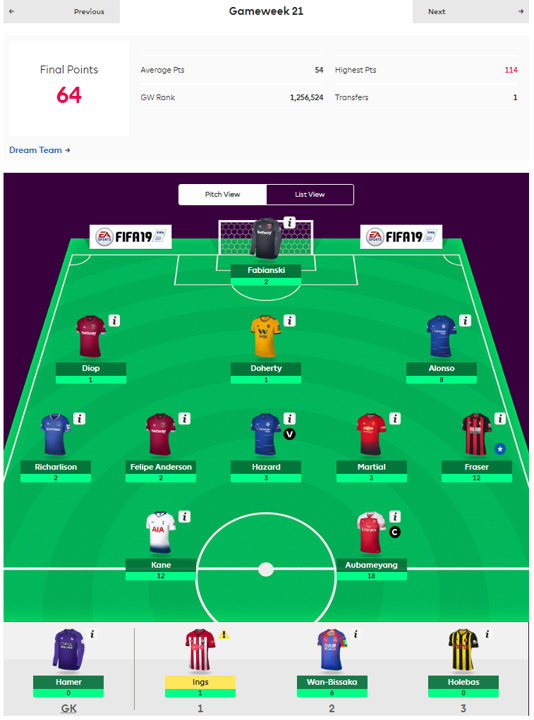 GW points: 64
GW average: 54
GW rank: 1,256,524
Overall rank: 86,942 (▲)

Happy New Year from us at TSZ Towers! A new year brings with it new beginnings, resolutions, and fresh perspectives, and so I have decided (following their public apology) to not mention the Pogba thing upon my return to the article. Apart from just then. #pogbagate
In a particularly high-scoring week for many FPL managers, our 64 points was a welcome return but went largely unnoticed. It is however a green arrow, and for that we are grateful. Unfortunately our big-money swap from Sterling to Hazard did not reap rewards after a 0-0 home draw against Southampton, who look a totally different prospect under Hasenhuttl. Nor did our choice of Doherty over Wan-Bissaka, after a 2-0 Palace away win at Wolves, who look a totally different prospect every time they play.
When Jose Mourinho was sacked, I suggested we bring in Paul Pogba, who had a point to prove. I was roundly shut down by my esteemed colleagues. In the following three gameweeks, he proved many, many points. 46, to be exact. I'm over it, let's move on. #pogbagate

After our difficult festive period, we find ourselves 36,943 places below where we feel we should be, just like Manchester United. 11th place in our mini-league is a blessing after the period we've had, in a rare week where Team TSZ outscored all the private teams of its members. Finally an advocate for teamwork! However, TSZ Robot 1 outscored us all with 76 points, proving that one day soon our robot overlords will rise-up and create their own FPL league away from us emotional, fleshy beasts, for a real challenge. It won't be called 'Fantasy Premier League'. More likely it'll be "001100101001110010" which is machine for "Hypothetical Football Statistics Algorithm Calculation League"; and while they may score astronomical points, none of their team names will be at all humorous.

I digress, and with wildcards burning in the pockets of FPL managers everywhere, let's take a look at this week's decisions.

Gameweek 22 Team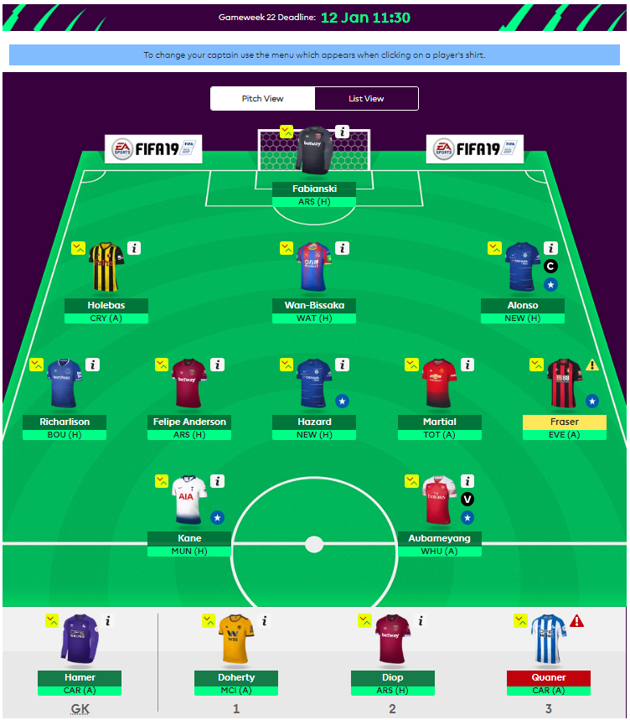 Formation: 3-5-2
Captain: Alonso
Vice-captain: Aubameyang
Transfers made: 1 (Ings > Quaner)
Point deductions: 0

No readers, your eyes do not deceive you. That IS Wan-Bissaka actually off the bench.
(We'll get to Quaner later).
As James Morrison and Nelly Furtado taught us, you can't play on Broken Ings, and so with the Saints striker out of action for an indeterminate amount of time, Trystan suggested we use our two free transfers for action. For the second week running, Tim expressed concern that our team contains neither a City or Liverpool player, and he expressed it extra hard this week. With Nathaniel Clyne off to Bournemouth, Trent Alexander-Arnold was put forward as an excellent candidate, as he now has no natural cover or competition for his place at right-back. Liverpool's fixtures look mouth-watering from here on in, and the youngster is significantly cheaper than his counterpart Robertson on the left.
The proposal was Danny Ings out for Fulham's Aboubakar Kamara to free up money as a perpetual unused sub, and the largely ineffective Issa Diop out for TAA. Trystan's mouse hovered over the "make transfers" button, as I wondered what on Earth I was supposed to write about this week, but then Rob threw a stat amongst the pigeons.
"Brighton have not failed to score at home since March."
It was back on. Diop, somehow, lives to sit on the bench another day.
"Why are we holding our wildcard?" Tim asked, opening Pandora's Box. I called my friends to say I'd be late home from work.
We reset the team, swapped in Mohamed Salah for Eden Hazard, and tried to figure out how to pay for it. Operation Aubamey-In has really limited our ability to chop and change, which the team feel was a real strength of ours before, as the two premium forwards tie down our funds. No player was safe: Hazard, Anthony Martial, Jose Holebas, Felipe Anderson, even Marcos Alonso, was at one point shaded in grey as Trystan, Tim and Rob struggled to make a too-expensive peg fit in a not-enough-money hole. Alas, it would take a wildcard, and the two T's especially are cautious about using that without proper care and attention. They reset again and captained a relieved Alonso, who may well be a shrewd choice at home to Newcastle with his ability to effectively stretch their inevitable parked bus (like a bendy-bus) with his crossing ability and eye for goal. Wolves' Matt Doherty gets a rest, while Lukasz Fabianski faces his former club Arsenal in a fixture that, historically, has been pretty hard-going for West Ham.
To conclude then, readers, after half an hour's discussion, one transfer is made. Danny Ings out, Colin Quaner in. An injured striker, for one who is currently on-loan at the Championship's bottom-side Ipswich Town. I've checked, and no, bench boost does not cover Championship players.
(#pogbagate)
For the rest of our Gameweek 22 content, visit the links below:
Captain Picks - https://www.thestatszone.com/f...
Fixtures - https://www.thestatszone.com/f...

Projections - https://www.thestatszone.com/f...
Team News & Predicted Line-ups - https://www.thestatszone.com/f...