This season, we've pooled our (self-proclaimed) collective genius together to form 'Team TSZ', a fearsome squad of fantasy point machines who will gun for glory in our very own FPL mini-league.

Decisions will be made collectively after polite discussion. 'Team TSZ' consists of:
Rob Esteva – Managing Director
Trystan Pugh – Sports Content Manager
Tim Blackwell – Chief Sports Data Scientist
So how did we get on in Gameweek 20?
Last Gameweek's Points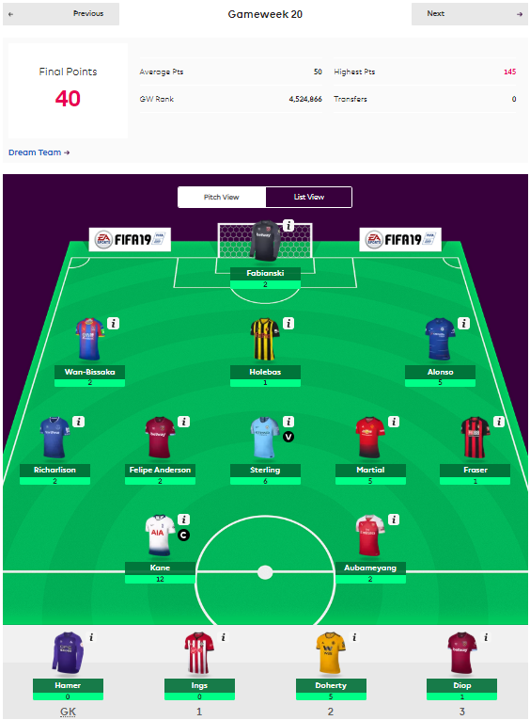 GW points: 40
GW average: 50
GW rank: 4,524,866
Overall rank: 105,540 (▼)

It's not been a great festive period for Team TSZ. Our last five gameweeks show four red arrows and not a single gameweek score below the two million mark. A few too many sherries for the lads, perhaps. We've cancelled the New Year's Eve party as a result, and it's been extra training sessions all round. We simply must bounce back in 2019!
There were very few highlights in GW20. Captain Kane returned a pretty uninspiring 12 points, while other expensive assets failed to really shine. Doherty has five points going to waste on the bench, as my protestations over his axing fell on deaf ears prior to the deadline.
We've also just dipped below the 100k mark again. Must try harder!
Gameweek 21 Team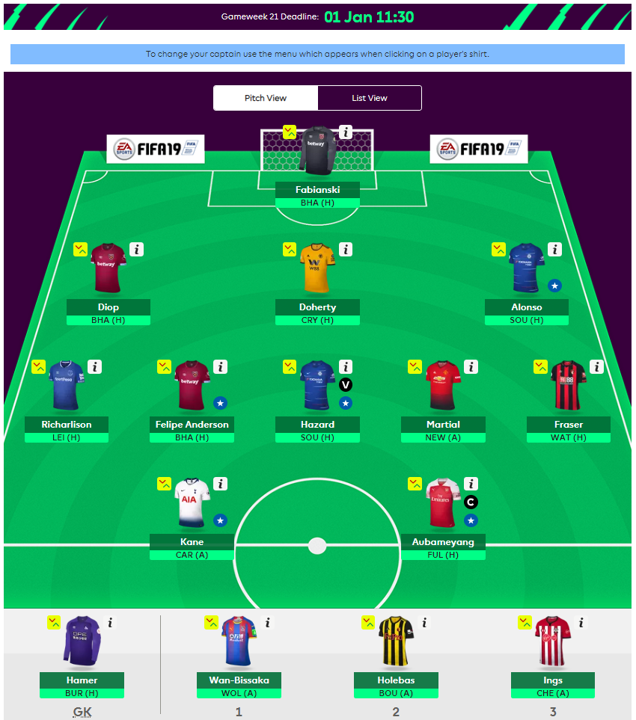 Formation: 3-5-2
Captain: Aubameyang
Vice-captain: Hazard
Transfers made: 1 (Sterling > Hazard)
Point deductions: 0

Armed with two transfers, we've decided to use one of them and roll the other. Like many in the FPL community, we've decided to jump the Sterling ship and climb aboard the Hazard express. There are obvious fears associated with this, but we've come to the conclusion that we need to be aggressive after a slump in form. The Belgian then came into the reckoning for the captaincy in a toss-up with Aubameyang, and it was a tough call. After Adam was snubbed for his Pogba suggestion three gameweeks ago (WE ARE VERY SORRY, ADAM. WE TRULY ARE), we decided it was only fair to hand this particular decision over to him. He plumped for Aubameyang, and we await the results with baited breath.
Other discussions centred on addressing the goalkeeper situation, and also how we might shoehorn Salah into the team, but these are questions to be answered in 2019.
For now, Happy New Year from TSZ!
For the rest of our Gameweek 21 content, visit the links below:
Captain Picks - https://www.thestatszone.com/f...
Fixtures - https://www.thestatszone.com/f...

Team News & Predicted Line-ups - https://www.thestatszone.com/f...