This season, we've pooled our (self-proclaimed) collective genius together to form 'Team TSZ', a fearsome squad of fantasy point machines who will gun for glory in our very own FPL mini-league.

Decisions will be made collectively after polite discussion. 'Team TSZ' consists of:
Rob Esteva – Managing Director
Trystan Pugh – Sports Content Manager
Tim Blackwell – Chief Sports Data Scientist
So how did we get on in Gameweek 19?
Last Gameweek's Points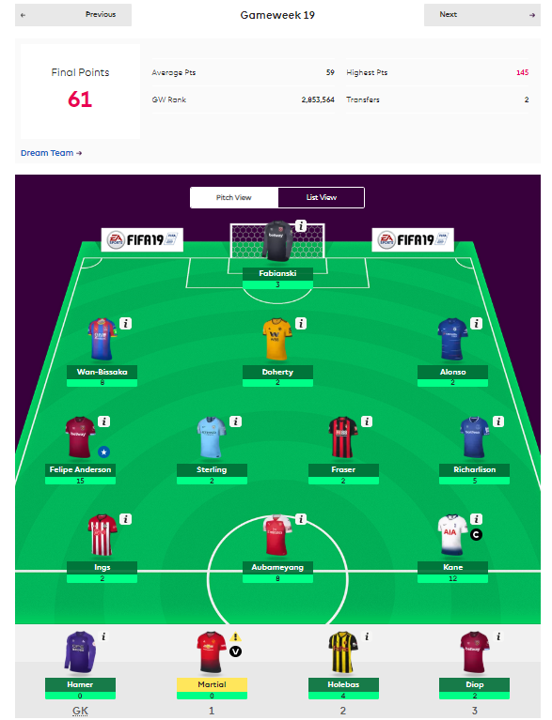 GW points: 61
GW average: 59
GW rank: 2,853,564
Overall rank: 73,200 (▼)
GW19 wasn't a great one, if truth be told. A score of 61 is more than respectable most weeks, but there were a few notable hauls from players we don't own. Digne, Hazard, Son and Pogba spring to mind, some of whom we have discussed yet dismissed in recent weeks. We won't go there.

Thank goodness for a Felipe Anderson brace on Thursday, though, as our gameweek was looking decidedly grim up until West Ham's latest creator-in-chief saved the day.
In some ways, our double premium forward approach is working as both Kane and Aubameyang are scoring FPL points with regularity, but such a strategy is depriving us of some explosive midfielders so a re-think may well be on the cards in the new year.
One aspect that definitely didn't work out was our transfers prior to GW19 but it can often take a few weeks for those to pay dividends so time will tell if Holebas and Martial turn out to be welcome additions to Team TSZ.
We've slipped down to 73k in the overall standings, and while that is not to be sniffed at the half-way point, we really have our sights set on the top 50k and beyond now.
Gameweek 20 Team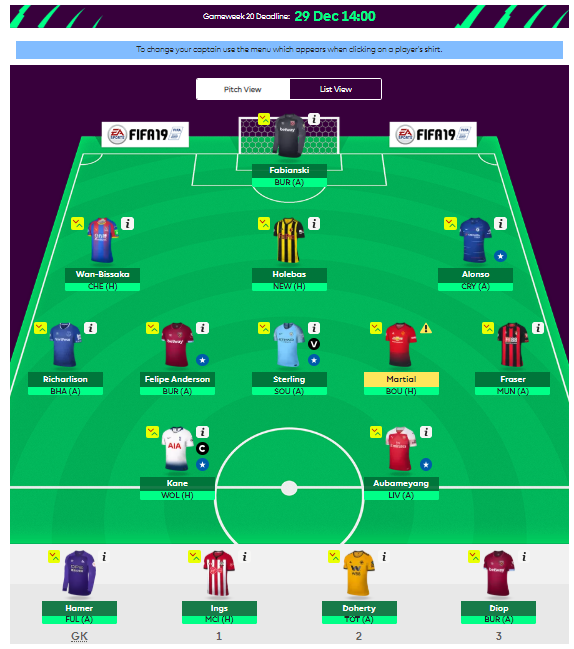 Formation: 3-5-2
Captain: Kane
Vice-captain: Sterling
Transfers made: 0
Point deductions: 0

Despite a few notable absences in our squad, we've decided to hold our free transfer and roll it over to GW21 - a tactic we've grown quite fond of.
The chief bone of contention was who to bench, and then the order of the bench. If it seems like madness that we've gone for Wan-Bissaka - who faces an in-form Chelsea - to start, then that's because we pretty much let Rob call the shots this week. I'm up in arms that we're benching the most attacking full-back that's ever lived AKA Matt Doherty, while Tim and I both thought Diop should be considered. Alas, the boss had his way and we've somehow ended up with Ings as first sub should one of our XI fail to make the field (most likely Martial).
It should also be noted that Adam, our esteemed new colleague who's been penning this column recently, tried to suggest signing Pogba a couple of weeks back. Perhaps we should start listening to him...
For the rest of our Gameweek 20 content, visit the links below:
Captain Picks - https://www.thestatszone.com/f...

Team News & Predicted Line-ups - https://www.thestatszone.com/f...