Gameweek 1 is in the books and if the first round of matches are anything to go by, it'll be more of the same this season. Last season's top five all won; City dismantled Arsenal despite not hitting top form, Liverpool scored plenty and kept another clean sheet at home and it took Mo Salah all of 20 minutes to show that last season was no fluke.


With Mohamed Salah (£13.0m) looking like a must have already, managers will have to find cheaper sources of points from the rest of their squad. With that need comes the rise of the defender. An astonishing nine defenders recorded 11 points or more in GW1 – more than the goalkeepers, midfielders and forwards combined.


Optimum Squad

In fact, not a single premium forward (£10m+) scored greater than two points in GW1.
This fact starts to beg the question – are defenders from the top clubs more valuable than their forward counterparts? It's an interesting conundrum. At the top clubs, defenders - and full-backs in particular - offer considerable attacking potential and that's before the added bonus of getting four points for a clean sheet. Our projected best XI for GW2 supports this train of thought.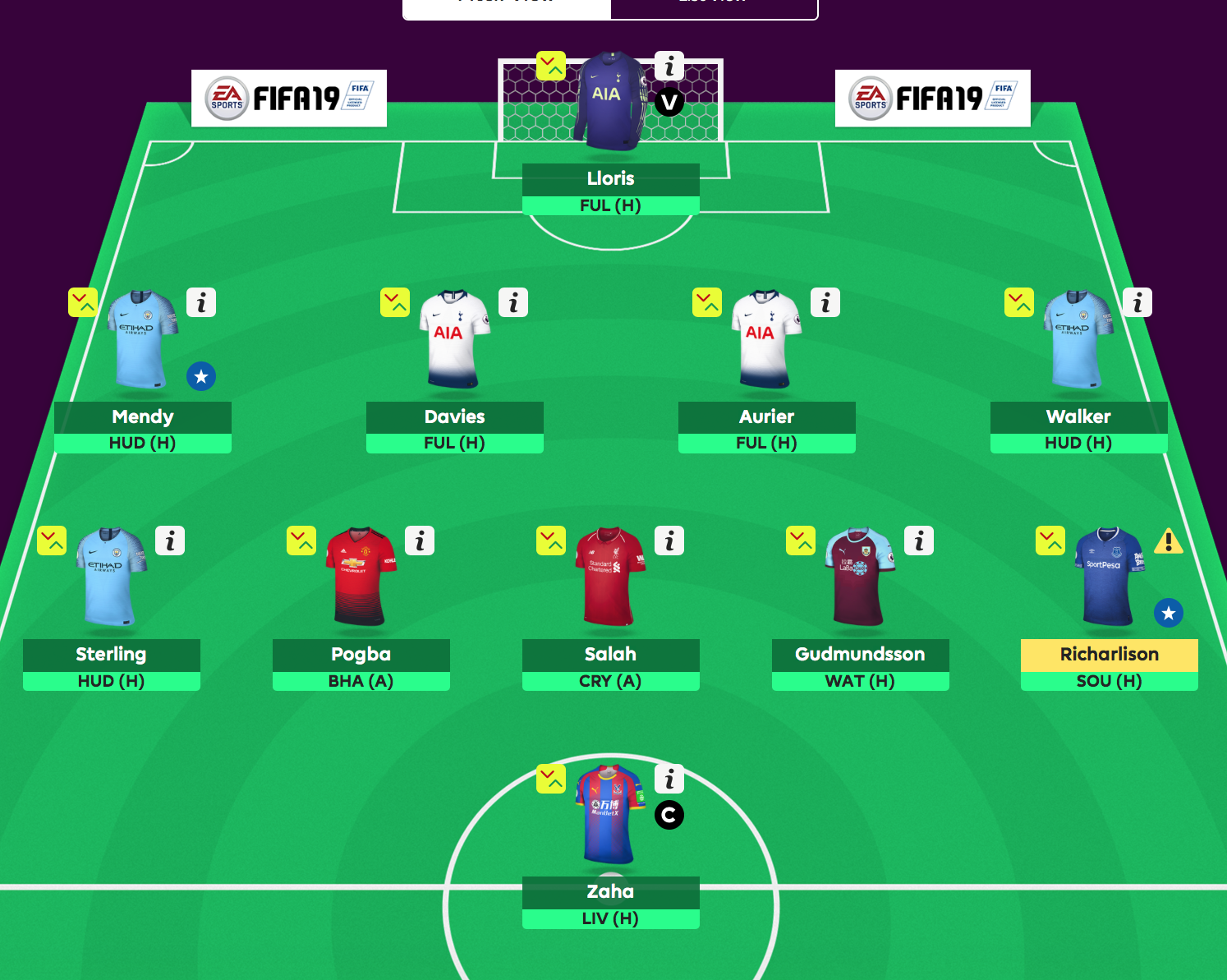 Having run the numbers for all different formation combinations, our algorithm predicts the best formation for GW2 matches is a 4-5-1. Once again, defences are expected to score heavily. Favourable matches in GW2 include Manchester City at home to Huddersfield and Tottenham at home to Fulham, where many of the defenders are predicted to collect a clean sheet in addition to their attacking threat.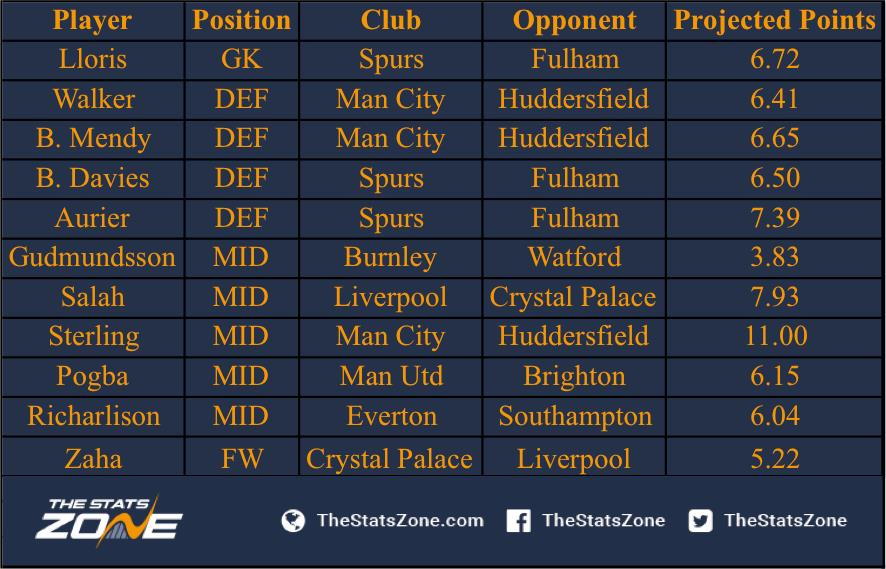 Along with a strong back four is GW1 darling Richarlison (£6.6m). The Toffees face Southampton at Goodison this week and with a kind run of upcoming fixtures, Richarlison looks like being the first bandwagon of the season. He is joined in midfield by Paul Pogba (£8.1m), Raheem Sterling (£11.0m) and Johann Berg Gudmundsson (£6.0). The lone frontman is Crystal Palace forward and popular pick Wilfred Zaha (£7.0m), who opened his account last weekend.

Looking Further Ahead
Looking at the weekend fixtures, it doesn't take an expert to realise why Manchester City and Tottenham dominate our projected top scorers.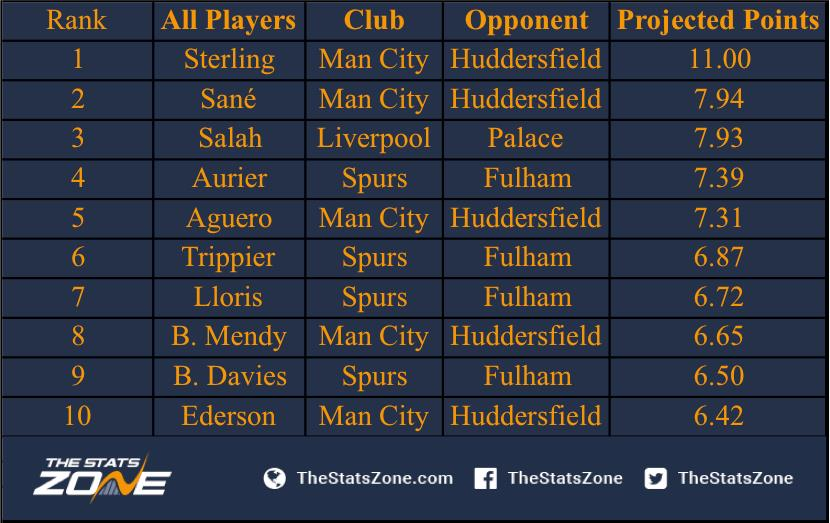 Given their pedigree of high points scores in general, most fantasy managers are likely to have players from each of these two squads already included in their own. It might therefore be more prudent for managers to spend GW2 saving a transfer up in preparation for GW3. Following a horror opening two fixtures against Manchester City and Chelsea, Arsenal's matches get significantly easier from GW3 – GW10.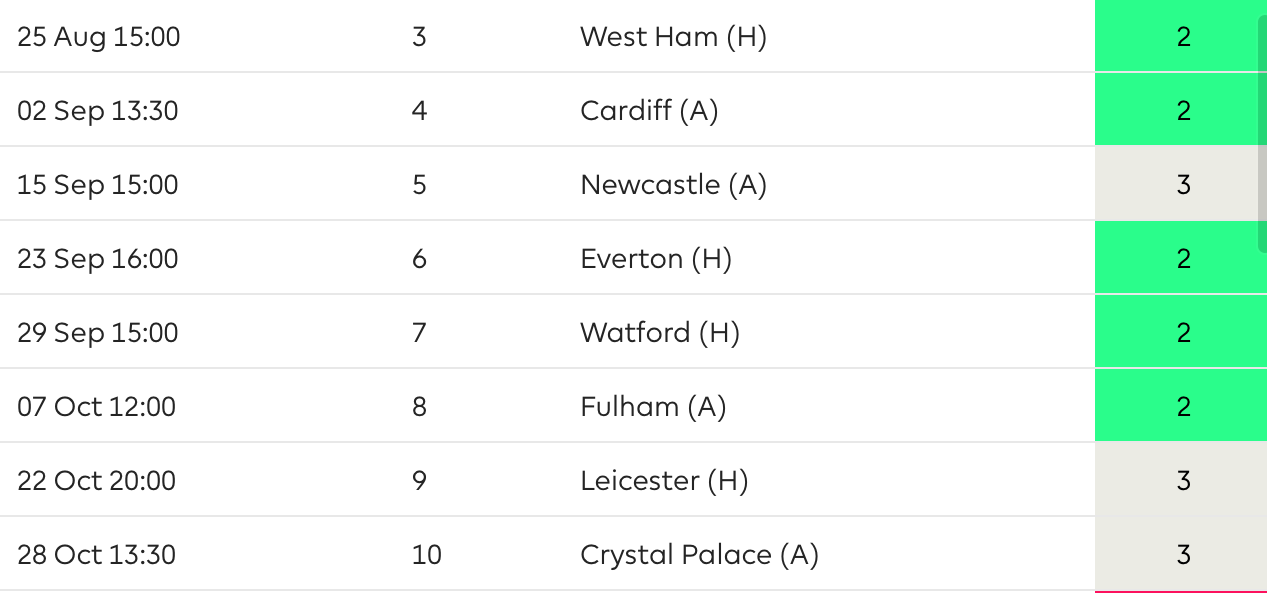 The Gunners don't face a single team from last season's top five during this stretch. This brings the likes of Pierre-Emerick Aubameyang (£11.0m), Alexandre Lacazette (£9.0m), Aaron Ramsey (£7.5m) and Henrikh Mkhitaryan (£7.0m) right into our thinking from GW3 onwards.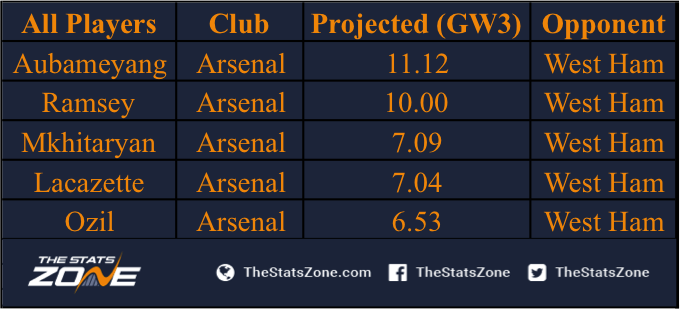 With high scores for the Gunners projected for next Gameweek, saving a transfer in GW2 may just be the way to go so we all can jump aboard the Aubameyang train.