This season, we've pooled our (self-proclaimed) collective genius together to form 'Team TSZ', a fearsome squad of fantasy point machines who will gun for glory in our very own FPL mini-league.

Decisions will be made collectively after polite discussion. 'Team TSZ' consists of:
Rob Esteva – Managing Director
Trystan Pugh – Sports Content Manager
Tim Blackwell – Chief Sports Data Scientist
So how did we get on in Gameweek 17?
Last Gameweek's Points
GW points: 47
GW average: 43
GW rank: 2,106,445
Overall rank: 59,079 (▼)

Season's greetings from us here in TSZ Towers, where from our window, we can see the Coronation Street Christmas special being filmed. (Spoiler alert) It looks like it's going to be another hard year for [enter character here]. It was a hard week, too, for many FPL players who are fielding three strikers still in the vain hope that at least one of them will do their job, and more consistently. We propose a formation change-up at FPL HQ: Freestyle. Ours would be 2-7-1. A back-two of Robertson and Doherty will screen the goal, while a midfield of seven score all the points behind a budget striker, perhaps Cardiff's Callum Paterson (who is technically a defender anyway).
Then again, this close to Christmas, it's rather amusing to see Jesus coming into form. The born-again Brazilian striker joins Southampton's Danny Ings as the only forwards to score twice last weekend. Which is what they are supposed to do.
We fell short for the second week in a row, to that common FPL 40-50 points score that just screams "captained the wrong player", and received another red arrow for our troubles. Since writing these articles, my personal team has outscored Team TSZ's every time, as Trystan's continues to do at the top of our mini-league. Thus proving that in some areas two heads may be better than one, but when it comes to FPL, three does not. Somehow, we've managed to retain tenth position. Not in the world, obviously.
The following are some confident statements made by our experts at Team TSZ last week:
Trystan: "Even if Wilson comes on as a sub, he's worth playing!" (Wilson 1pt)
Tim: "I'd bench Diop - Fulham always have goals in them!" (West Ham 2-0 Fulham)
Adam (me): "Wan-Bissaka is waiting readily in the wings to score 6 points and not feature after Callum Wilson inevitably comes on in the 82nd minute for his point. You watch." (Wan-Bissaka 6pts).
To compound a distinctly average week, we lost in the first round of the stupid-FPL-cup-thing-that-no-one-wants-or-cares-about-anyway to Team STINKY. Well done. We're focusing on the league.

Gameweek 18 Team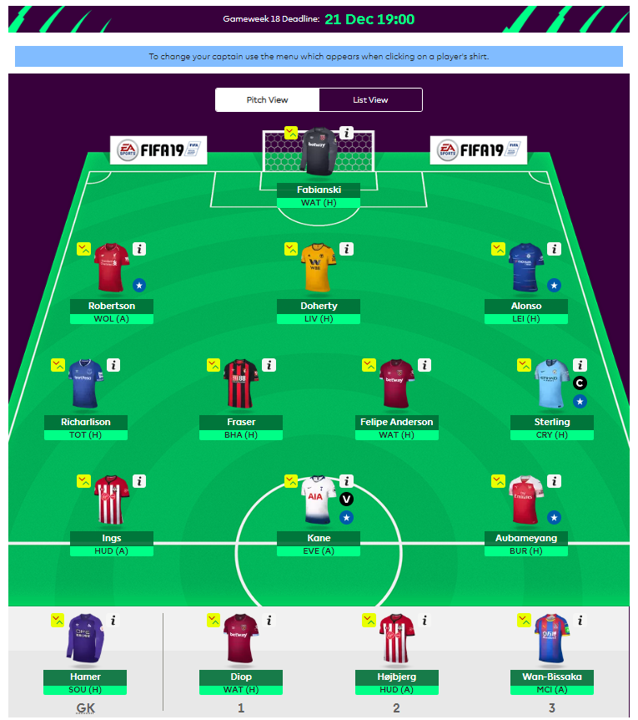 Formation: 3-4-3
Captain: Sterling
Vice-captain: Kane
Transfers made: 1 (Wilson > Ings)
Point deductions: 0

With Rob unavailable for comment or discussion this week, it was down to Trystan and Tim to make the key decisions. Which in hindsight is essentially how it works anyway. With two free transfers burning a hole in their pockets, and 0.1 million to play with, the Ts spent 21 minutes agonising over how to free up funds for another premium midfielder. A Sane, or a Hazard. This seems to be the consensus amongst FPL users this week, with Aubameyang and Kane two of the top five players to be transferred out at the time of writing. It seems that Operation Aubamey-In has been a resounding failure, as Tim suggested we sell the Gabon striker for scrap, but the home fixture against Burnley is too good an opportunity to miss, even though he'll end up being benched for Alexandre Lacazette. Also, Trystan made a noise of genuine anguish at the thought, causing Tim to suggest that he is too emotionally attached to his players. A bit like Jose Mourinho if by a bit like you mean the exact opposite.
There was a brief few minutes of madness in which Trystan suggested swapping out Andrew Robertson for Lucas Digne. He said that this was Rob's idea, that they'd had a discussion beforehand, but I'm not so sure. (Readers, I think this is direct evidence of Trystan's sabotage. I'm sure at 7pm this evening we'll see the scintillating Scot flanking his FPL team). Digne has had more touches in the opposition's half than Richarlison, he said, trying to convince a suspect Tim, with a backwards stat about the Everton wing-back that may actually suggest why they've stopped keeping clean sheets. After realising he'd have to back-track or get caught mid-sabotage, we un-selected Robertson and put Digne back on the FPL hype-wagon.
Without Rob there to interject the discussion and make the hard calls, the team talk rolled well-over the normal 20-minute mark. In amongst some chat in which the team briefly discussed the reason your voice sounds lower in your head, they eventually reached quite a contentious decision. As in, I and Rob think it's unwise, which probably means it's a good call. We've transferred best-of-the-rest starlet Callum Wilson for potential one-week-wonder Danny Ings. Cue underwhelming fanfare! We'll save the other free transfer for next week, where we'll no doubt attempt something drastic for half an hour and then undo it and just bench Wan-Bissaka again. Do come back to see me try to write about that again and again over the festive break!
Happy Holidays from TSZ!
For the rest of our Gameweek 18 content, visit the links below:
Captain Picks - https://www.thestatszone.com/f...
Projections - https://www.thestatszone.com/f...
Fixtures - https://www.thestatszone.com/f...
Team News & Predicted Line-ups - https://www.thestatszone.com/f...