This season, we've pooled our (self-proclaimed) collective genius together to form 'Team TSZ', a fearsome squad of fantasy point machines who will gun for glory in our very own FPL mini-league.

Decisions will be made collectively after polite discussion. 'Team TSZ' consists of:
Rob Esteva – Managing Director
Trystan Pugh – Sports Content Manager
Tim Blackwell – Chief Sports Data Scientist
So how did we get on in Gameweek 16?
Last Gameweek's Points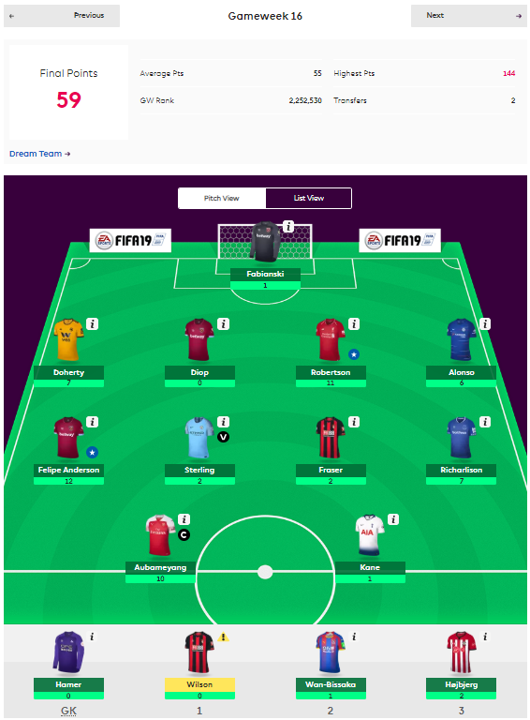 GW points: 59
GW average: 55
GW rank: 2,252,530
Overall rank: 51,411 (▼)

After Chelsea's emphatic win against Man City proved that no team is infallible, and Mo Salah's stony-faced hat-trick silenced clueless critics as to his credentials, we're back to discuss our plans for Gameweek 17. After an excellent midweek haul, we can't help but be a bit disappointed with our 59 points; our first red arrow in weeks. Captain Aubameyang scored 10 points, once doubled, which is roughly 10% of what everybody thought he'd produce. Looks like that sturdy new Huddersfield turned up after all. I did warn the team, but they told me to "shut up and keep writing, new blood".
It was an uncomfortable week in general for many of us, as Callum Wilson was a surprise absentee, and Mauricio Pochettino saved himself some January recycling by crossing himself off the Christmas card lists of roughly 1,983,634 users. The mass-search for a reliable FPL captain continues.
We're sitting pretty enough, still, just out of the top 50k (it was nice in there) and down to 10th in our league, the one that really matters:
The rise of Trystan's personal account has me wondering, however, if there is not some sabotage going on. Perhaps this is why I am now in charge of recording the discussions: to be the neutral official, the impartial judge, detective (if you will). The other conspiracy wafting around the office this week, is our fast-approaching robot teams. If you've not been properly introduced, look for the imaginatively named "TSZ Robot 1" and "TSZ Robot 2" (one is slightly older), in the upper echelons of our mini-league.

They follow algorithms, so if they end up winning the whole thing, we can all throw up our hands and say: "the game's gone!" like people of a certain age like to do when a defender is yellow-carded for snapping an opponent's leg off.
Gameweek 17 Team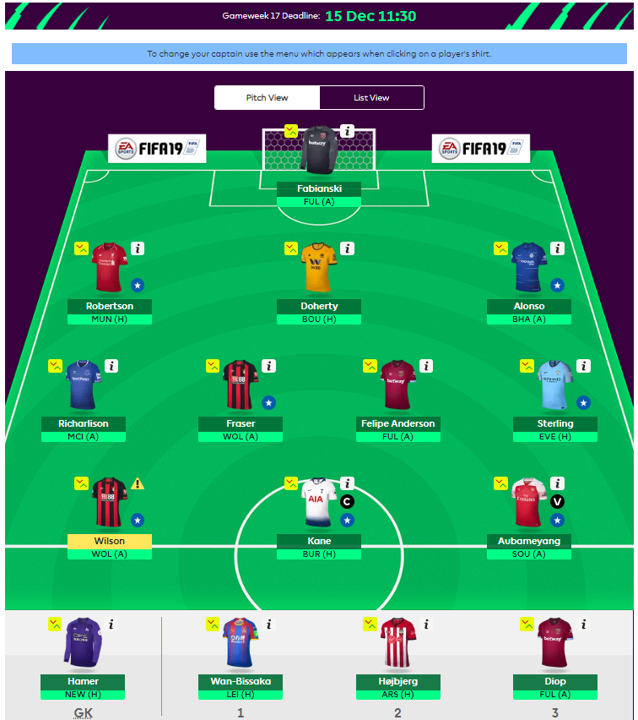 Formation: 3-4-3
Captain: Kane
Vice-captain: Aubameyang
Transfers made: 0
Point deductions: 0
Substitutions made: 1 (Diop > Alonso)

In a lively discussion this week, the team spent approximately ten hours deciding if Wilson should be benched or not. With Bournemouth manager Eddie being vague on exactly Howe fit the striker really is, he will be this week's risk for many. Nevertheless, one of Wilson, Richarlison and Wan-Bissaka was getting benched, with each of them at one point in the discussion occupying that first spot. Trystan was very much in favour of keeping him in (we'll see if he's bluffing once his personal team reveals itself) as even if Wilson came on as a sub, he would be a likely scorer at Wolves, who haven't kept a clean sheet at home since GW8. In came Wilson, out went Richarlison. Rob was unsure, as "we've been stung before," and Tim put forward Wan-Bissaka as an alternative. In came the Palace youngster, for a few seconds, before it was suggested that City have been letting in the odd goal. So then Richarlison swapped back. Are you keeping up? Basically, after all that, nothing changed. Diop is the casualty, as the team feel Fulham always have goals in them. Wan-Bissaka is waiting readily in the wings to score 6 points and not feature after Callum Wilson inevitably comes on in the 82nd minute for his point. You watch.
With £0.1m in the bank, we decided to roll our transfer in view of making a big move in a few weeks' time. Tim and Trystan are happy to spend the next few weeks letting rotations and injuries dictate their play, while Rob suggested bringing in Hojbjerg from the cold and getting an entirely new bench. This was met with the usual two-second silence. It's conflicting ideas like these that keep us all on our toes here in TSZ towers. Also, I'm grateful, as otherwise I'd have nothing to write about.
Finally, Gameweek 17 brings with it the beginning of the FPL Cup! Yes, it's that time of year again where you're beaten in the first round by a player who's not signed in since GW3! They've captained Lukaku, and still have Mee and Tarkowski at the heart of defence, just waiting for that against-all-odds hat-trick and clean sheet. We've been handed a pretty difficult draw, against a side with a few similarities to our own. Trystan was unaffected, Tim cautious, and Rob thought their team looks better. Which is probably a good thing, all in all.
For the rest of our Gameweek 17 content, visit the links below:
Captain Picks - https://www.thestatszone.com/f...
Projections - https://www.thestatszone.com/f...
Fixtures - https://www.thestatszone.com/f...
Team News & Predicted Line-ups - https://www.thestatszone.com/f...