This season, we've pooled our (self-proclaimed) collective genius together to form 'Team TSZ', a fearsome squad of fantasy point machines who will gun for glory in our very own FPL mini-league.

Decisions will be made collectively after polite discussion. 'Team TSZ' consists of:
Rob Esteva – Managing Director
Trystan Pugh – Sports Content Manager
Tim Blackwell – Chief Sports Data Scientist
So how did we get on in Gameweek 15?
Last Gameweek's Points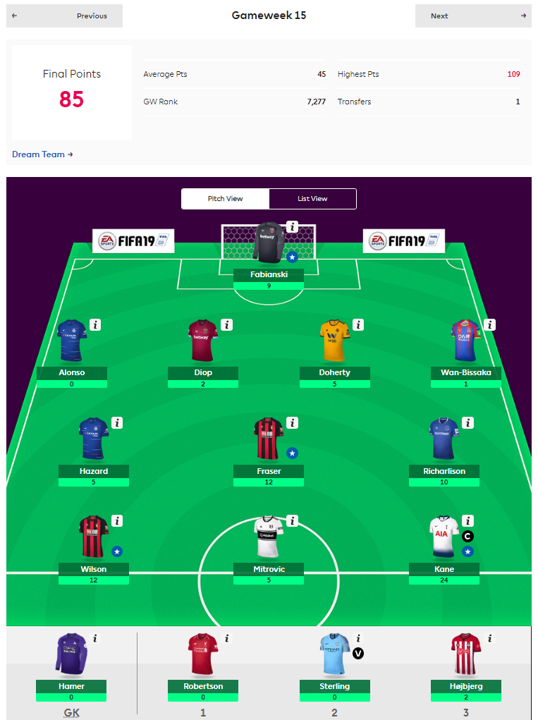 GW points: 85
GW average: 45
GW rank: 7,277
Overall rank: 47,230 (▲)

We're feeling festive here at TSZ Towers after Gameweek 15 came bearing gifts, namely points, 85 of them to be exact. In a rare set of fixtures for the Premier League in which all 20 teams scored at least once, we ranked at 7,277th in the whole wide world and now sit within the top 50k at 47,230th (which is really hard to say when you're showing off to everyone in the lunch queue). Also - and perhaps more importantly - we have stormed into the top ten of our very own hotly-contested mini-league! Even Trystan's personal team has started to look over it's shoulder...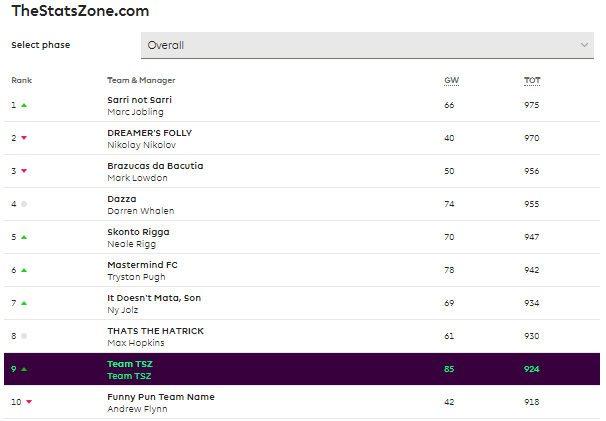 A big haul from Bournemouth duo Callum Wilson and Ryan Fraser, and our newly appointed captain Kane, brought us 48 points, with the switch from Aguero a popular FPL move this week, while Richarlison also put some work in. What we lacked for in clean sheets, we made up for in inexplicably offensive full-backs, and our favourite Polish ex-Arsenal goalkeeper (sorry Wojciech), who saved a penalty against Cardiff to earn himself a shiny blue star.
While Trystan believes my taking-over of the article is a phasing out of his bias - its true purpose is to keep me from getting anywhere near the FPL team, or the decision making. I like to think this is because I'm new, but in truth, it's because I'm terrible at it. Almost as bad as Rob...
(You can expect a new article writer in my place here for Gameweek 17, I had a good run).

Gameweek 16 Team
Formation: 3-4-3
Captain: Aubameyang
Vice-captain: Sterling
Transfers made: 2 (Hazard > Felipe Anderson / Mitrovic > Aubameyang)
Point deductions: 0
Substitutions made: 1 (Alonso > Doherty)

It was a strange discussion this week, as everybody was nice to each other. Tim and Trystan even admitted they were wrong to judge Rob's Martial shout.
The team had already completed Phase 2 of Operation Aubamey-In, with the pre-planned transfers of Eden Hazard for Felipe Anderson, and then Aleksandar Mitrovic for the FPL's new golden boy. Trystan spent all week sweating as Aubameyang's price slowly rose, but waiting for our additional free transfer to return instead of rushing him for the United fixture for a -4, proved to be the right call. We've immediately captained "Auba", who as we discussed may start out on the wing due to Arsenal's creative injuries, in the hope that the early-season porous Huddersfield turns up, and not the recent unrecognisable sturdier one. Sterling returns well-rested and ready to stand-in as vice, should Emery decide to infuriate roughly a third of FPL players.
After deciding Wan-Bissaka is happy enough on our bench right now, the team turned to left-backs. In his press conference today, Jurgen Klopp confirmed that Andy Robertson is fit and ready to start, so he joins our beloved Doherty and differential Diop in a back-three; meaning Alonso is benched. Trystan wishes to make clear that he was "hesitant...reticent" about this decision, and would have opted to sub Fraser instead. Manchester City's width may trouble Alonso, who looks rather tired of late, but what a game for Maurizio Sarri to drop the Chelsea star. The Chelsea boss wouldn't bite in his press conference, saying he was pleased with roughly half of the Spaniard's Wolves performance, so only the former-banker turned Nicorette spokesman knows if Alonso's stock is about to fall.
For the rest of our Gameweek 16 content, visit the links below:
Captain Picks - https://www.thestatszone.com/f...
Projections - https://www.thestatszone.com/f...

Team News & Predicted Line-ups - https://www.thestatszone.com/f...