Midweek Premier League action is already here for a football world that is still taking deep recovery breaths from Derby Sunday, which saw drama in both North London and Merseyside. Whilst Arsenal overcame Tottenham in a barnstorming 4-2 victory, Divock Origi (£5.0m) scored a ludicrous 96th-minute winner for Liverpool against Everton.
The games are coming thick and fast as we head towards the festive period, with managers actively talking of rotation and recovery. Seven gameweeks occur in the next month, making it essential that FPL managers have a set of substitutes who play and are ready to step in for absentees.
Many benches were called into action during Gameweek 14, as the most-selected captain Sergio Aguero (£11.4m) missed Man City's win over Bournemouth because of a minor injury. Managers unsure whether to join the hordes of new Harry Kane (£12.4m) and Pierre-Emerick Aubameyang (£11.1m) owners were left frustrated by Pep Guardiola's refusal to confirm whether Aguero will return for Tuesday's trip to Watford.
Elsewhere, Eden Hazard (£11.0m) almost blanked again until he provided a late assist for Chelsea's second goal against Fulham, whilst Mohamed Salah (£13.0m) and Sadio Mane (£9.8m) achieved nothing at Anfield. There was joy for Raheem Sterling's (£11.5m) 360,000 new owners, however, who rewarded them with a goal.
Four games take place on Tuesday night, with Wednesday's six highlighted by Man United vs Arsenal. And it's an intriguing set of fixtures for the FPL community, as West Ham, Bournemouth, Liverpool and Spurs have very favourable games on paper.
OPTIMUM SQUAD
The weekend's team scored a disappointing 46 points, mostly hindered by the lack of Aguero, the benching of Anthony Martial (£7.6m) and the heavy reliance on Burnley's defence as they fell to a 2-0 defeat at Crystal Palace.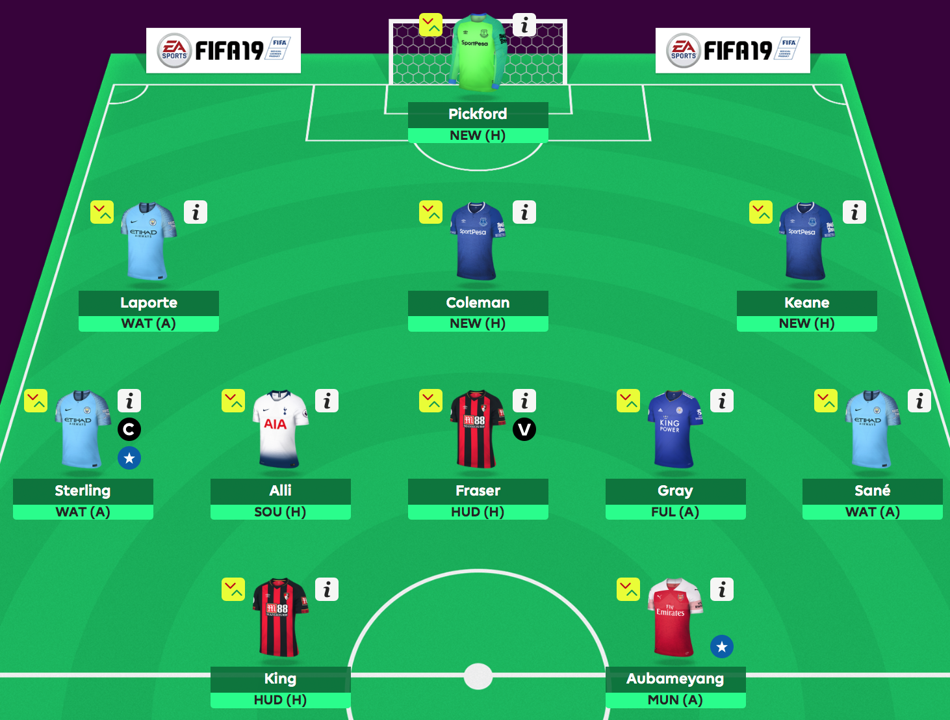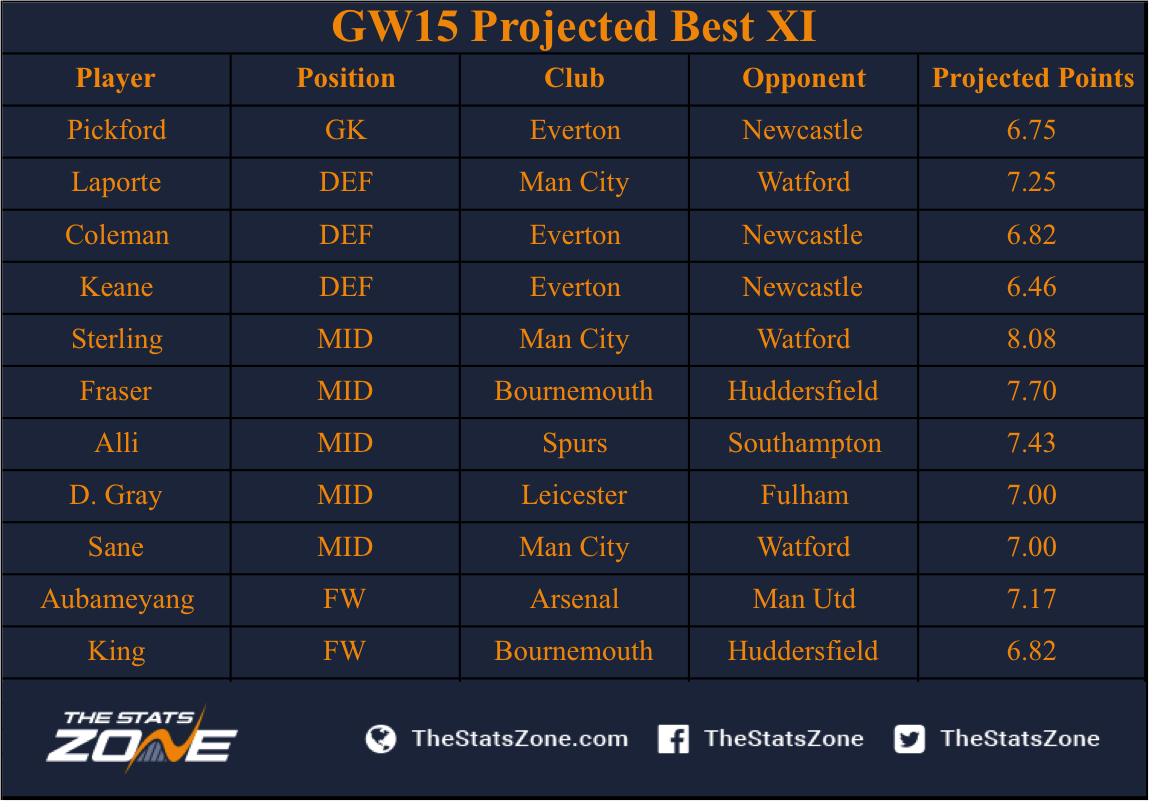 This time, the algorithm has gone all-out on Everton's backline and that looks a fairly safe bet as they host Newcastle. Not only do the Magpies lack a goal threat – highlighted during their defeat to West Ham – but Everton have impressed in recent weeks, with only Jordan Pickford's (£5.0m) dramatic error denying them a third consecutive clean sheet. Former Sunderland man Pickford is backed to make amends against Newcastle and is named alongside Michael Keane (£5.0m) and Seamus Coleman (£5.2m).
The other defence predicted to prosper is Man City, who dominate the algorithm's reserve list and provide Aymeric Laporte (£6.1m) in the starting 11. The Frenchman has played every single Premier League minute for the champions. Further up field, his team mates Sterling and Leroy Sane (£9.4m) are taking it in turns to deliver devastating hauls – sharing returns of 21, 19, 16 and 14 points during the past four gameweeks. Provided they both play – never a guarantee with Guardiola's deep squad – you would expect one of them to terrorise Watford. Sterling, as the first player to pass 100 FPL points this season, gets the captain's armband.
Whilst many have chosen the Kane route for Tottenham's strong run of games (only one of the 'big six' amongst their next 13 clashes, eight of which are at home), we've gone with Dele Alli (£8.9m). The midfielder announced his return from a hamstring injury with a goal and assist versus Chelsea and his FPL pedigree suggests he'll be a reliable source of points over the coming months.
Bournemouth's star has faded of late, with four straight defeats seeing Eddie Howe's side slip to ninth in the table. Despite that, their performance at Man City was promising and they host strugglers Huddersfield on Tuesday night. Only four players have assisted more often than Ryan Fraser (£6.2m), who'll be providing for Josh King (£6.3m) and in-form Callum Wilson (£6.9m). We rank King slightly higher because of his penalty duties.
Demarai Gray (£5.4m) has a promising trip to leaky Fulham, whilst the latest bandwagon is for Aubameyang. With an extraordinary rate of scoring his shots on target, the Arsenal forward is the league's top scorer with ten goals - two ahead of his closest challengers Kane, Sterling and Aguero. In fact, in the 24 hours since his derby double, Aubameyang has already been transferred into 300,000 new teams after undergoing two price rises in two days.
Three of his next seven games are at home to Huddersfield, Burnley and Fulham, alongside trips to Southampton and Brighton. Even Wednesday's trip to Old Trafford isn't daunting anymore. How often does an away striker at Man United get into the optimum squad? We're about to enter Aubamemania.
THE REST – GOALKEEPERS/DEFENDERS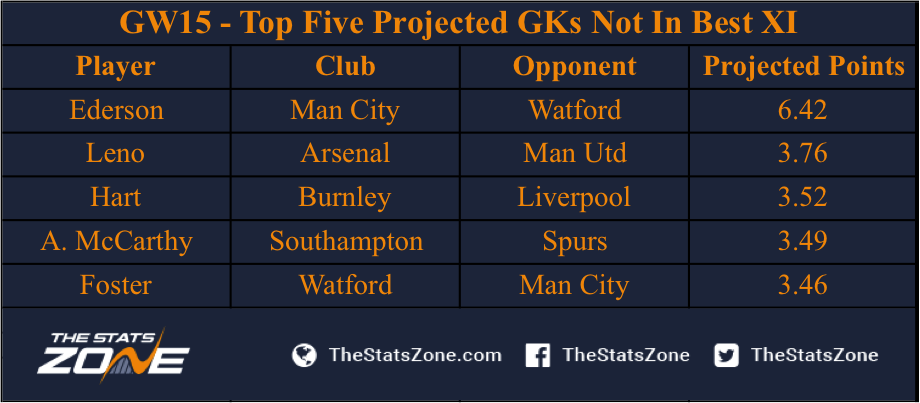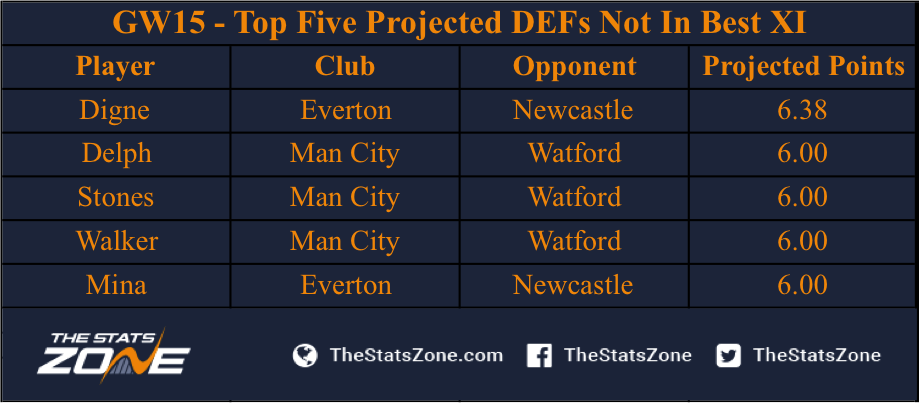 Ederson (£5.8m), Fabian Delph (£5.3m), John Stones (£5.3m) and Kyle Walker (£6.5m) continue the Man City defensive coverage, with the latter three not starting last weekend and therefore expected to step into the line-up. Football is a cruel game – Lucas Digne (£4.9m) was about to secure all three bonus points before Origi's late winner, which whittled the left-back's total down from nine to two. Regardless, he and Yerry Mina (£5.4m) are projected to shut Newcastle out. The other four goalkeepers are against strong opponents, priming them for save points.
THE REST – MIDFIELDERS/FORWARDS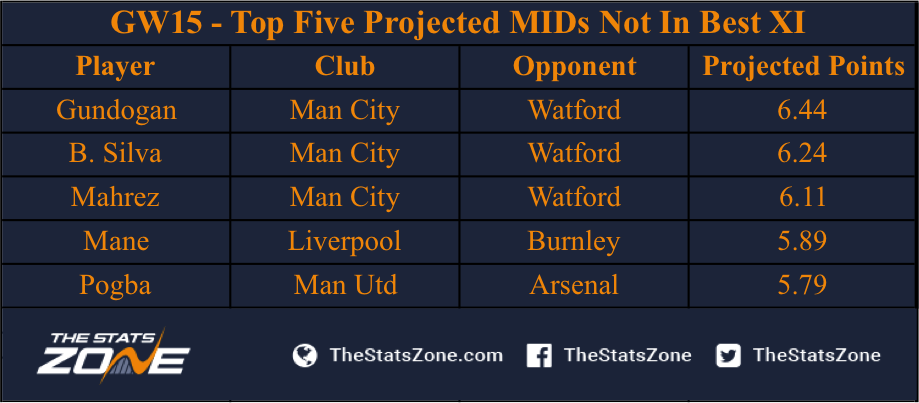 Monday's press conference saw Jurgen Klopp raise doubts over Mane's availability for Liverpool's trip to Burnley, saying: "Sadio got a real knock on his foot, we'll have to see how that ends". The midfield back-ups also feature a Man City trio, containing Ilkay Gundogan (£5.4m, goal vs Bournemouth), Bernardo Silva (£7.5m, goal vs Bournemouth) and Riyad Mahrez (£8.5m, three-minute cameo vs Bournemouth). FPL managers will hope they survive Pep's Rotation Wheel of Doom, as well as hoping Marko Arnautovic's (£7.2m) 70th-minute withdrawal at Newcastle was purely precautionary. If it was, the West Ham forward faces Cardiff at home. Additionally, Fulham vs Leicester sees Aleksandar Mitrovic (£6.6m) face Jamie Vardy (£8.9m), who will be assessed by club doctors regarding a knock picked up against Watford.