After a generally high-scoring start to the FPL season, Gameweek 13 was a sharp reality check that brought blanks for stars like Sergio Aguero (£11.5m), Richarlison (£7.0m) and Eden Hazard (£11.1m), whilst the much-anticipated Wolves clean sheet was destroyed by Huddersfield's Aaron Mooy (£5.1m).
It wasn't all doom and gloom, though, as Raheem Sterling (£11.3m) and Leroy Sane (£9.3m) both hauled for the unbeaten champions and started inevitable bandwagons for the Man City duo. The three-way captaincy race worked out well for Mohamed Salah (£13.0m) owners, with the Liverpool man opening the scoring at Watford, whilst two goals for Aleksandar Mitrovic (£6.6m) brought joy to new manager Claudio Ranieri.
In a week where Alan Hutton turned into Diego Maradona in the Birmingham derby, it was warming to see the reliable predictability of a Harry Kane (£12.3m) goal and a return to points for Dele Alli (£8.9m). Gameweek 14 is headlined by the derby trifecta of Arsenal v Tottenham, Liverpool v Everton and Chelsea v Fulham, with FPL managers pinpointing the latter as a potential goldmine alongside Man City's hosting of out-of-form Bournemouth. If Hazard and Aguero blank again, watch out for the upcoming race to replace the duo.
OPTIMUM SQUAD
The average score in Gameweek 13 was 50 points, as the algorithm team delivered a healthy score of 60. Yet again, it chose the correct defences to double-up on – this time it was Everton (Michael Keane (£5.0m) and Seamus Coleman (£5.2m)) and Man City (Ederson (£5.8m) and Aymeric Laporte (£6.1m)). It's a good thing that Mitrovic and Pierre-Emerick Aubameyang (£10.9m) also scored well with 13 and eight, as the midfield three of Anthony Martial (£7.6m), Richarlison and Ruben Neves (£5.0m) put on dismal showings.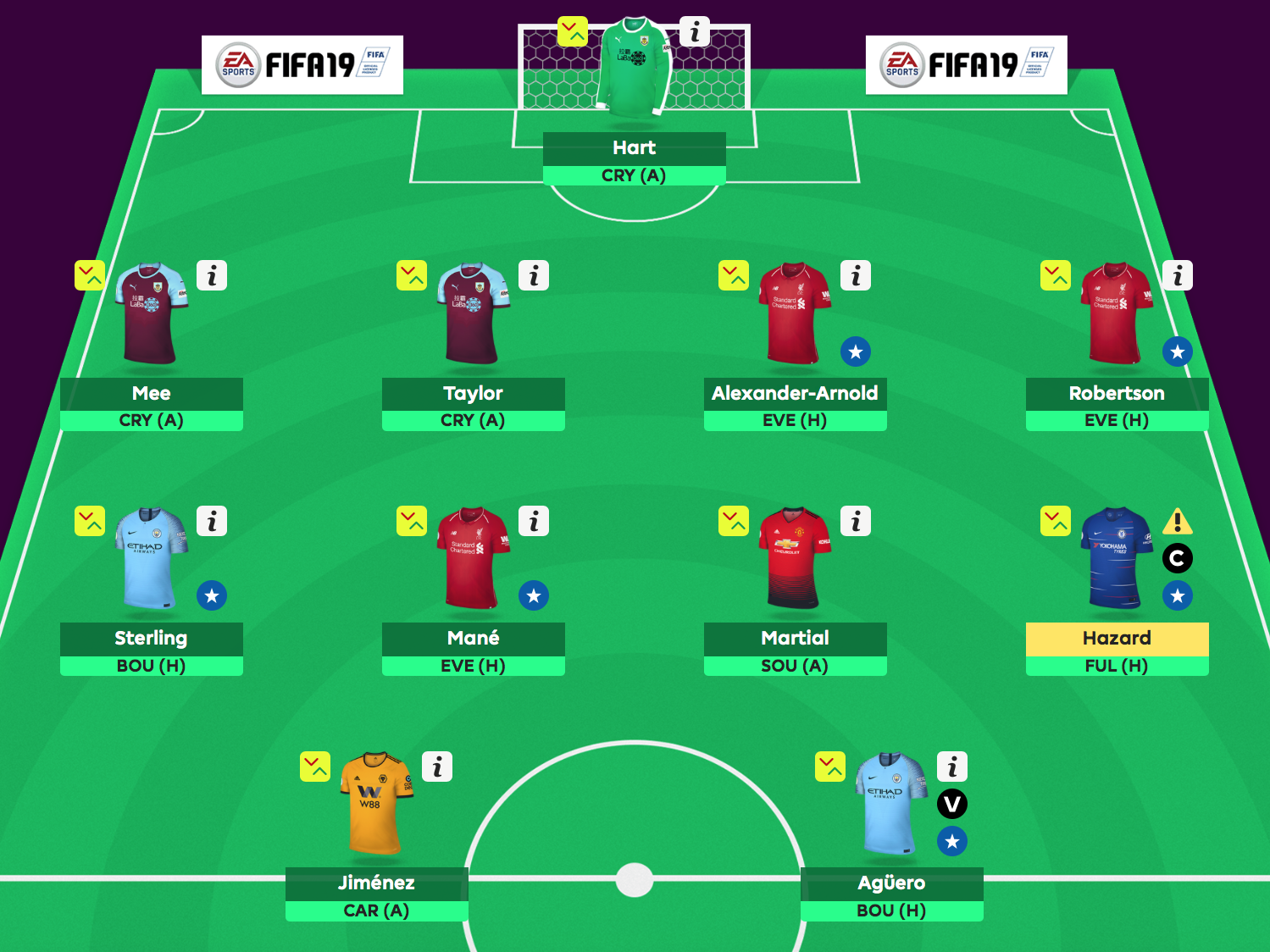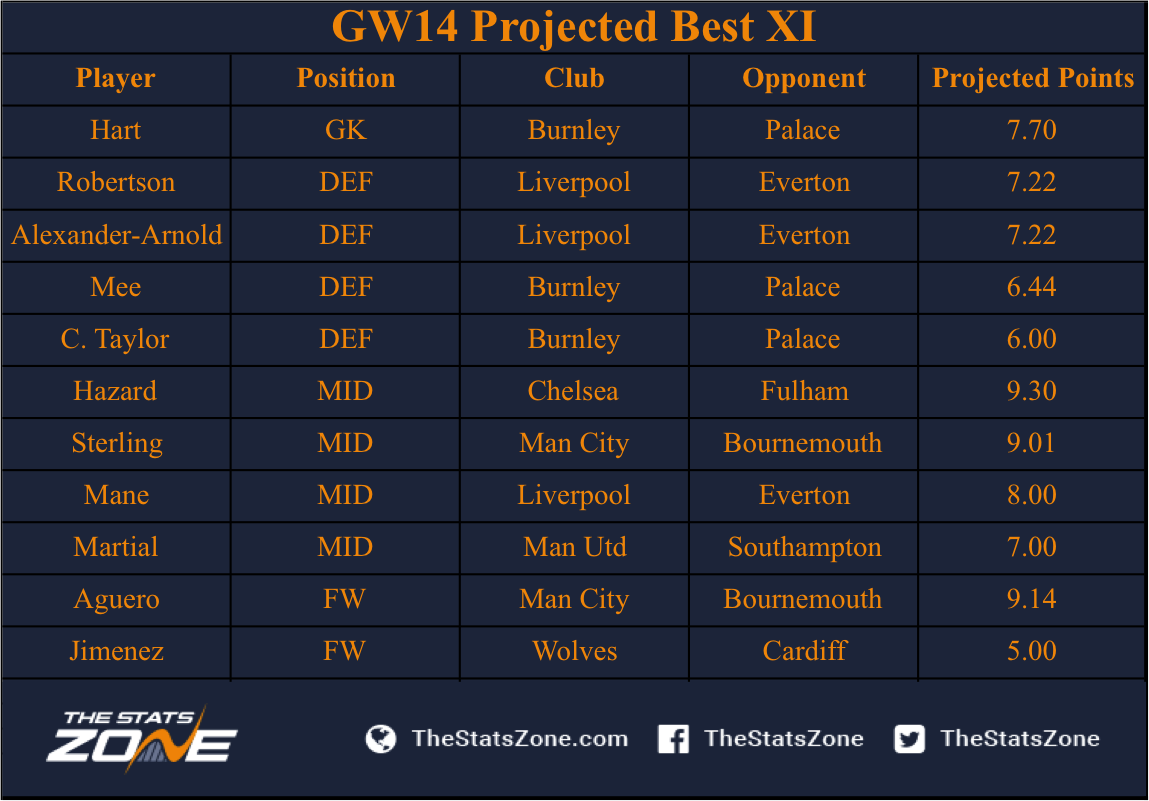 This week's defence relies on just two teams – Liverpool and Burnley. The Clarets have conceded the second highest number of goals this season and kept only three clean sheets, but they face a Crystal Palace side who have only scored eight times in 13 games. No team has fewer goals. Joe Hart (£4.5m), Ben Mee (£4.8m) and Charlie Taylor (£4.4m) represent them, with Hart's 55 saves better than all other goalkeepers.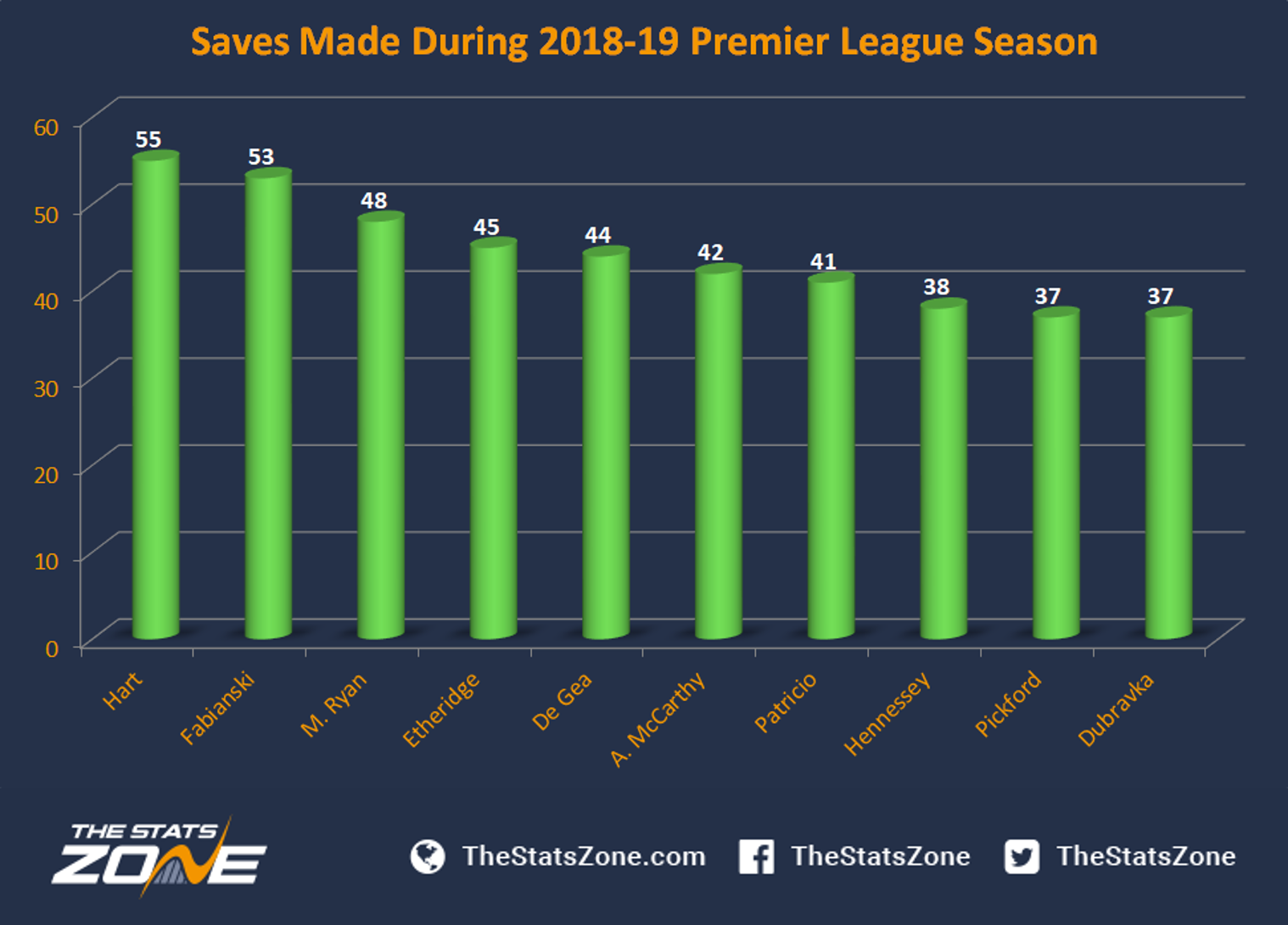 Everton have improved under Marco Silva and go into the Merseyside derby in great form, having the league's third best record over the past seven games. However, Liverpool's imperious defence will be determined to continue their spectacular record of conceding just once in 11 home league matches. Andrew Robertson (£6.5m) has provided three assists from left-back, whilst the much cheaper Trent Alexander-Arnold (£5.2m) collected 11 and 14 points during the past two games – including a wonderful free kick at Watford. With defensive solidity and attacking returns, Liverpool's full-backs are huge fantasy assets.
In midfield, Hazard is projected to end his relatively barren spell as he's against the league's worst defensive side – a team that conceded twice to Southampton! Despite not scoring whenever Alvaro Morata (£8.7m) is on the pitch, the Belgian still has the fourth best 'mins per goal involvement' rate.
Sterling's irresistible form makes him FPL's highest scorer, despite missing two whole matches. It's seven goals and seven assists for a man with an exemplary FPL record, fresh off the 21-point and 16-point destructions from the past three gameweeks. Unsurprisingly, he's the most-transferred in player this week and is about to face Bournemouth at the Etihad Stadium. If he starts the game – following a full 90 minutes against Lyon on Tuesday night – the 23-year-old is a strong captaincy choice and will leave non-owners hiding behind their sofas in worry.
The scoring streak of Martial finally ended during Saturday's surprise 0-0 draw with Crystal Palace but the former Monaco man has earnt enough good will to still be included in this week's side, as Jose Mourinho's side travel to Southampton. Elsewhere, the FPL community continue to debate whether it's worth having Salah. Yes, the Egyptian scored whilst others slipped up and his fourth goal in five games showcases the consistency craved from premium players, but is he value for money?
£13.0m is a hefty price and, although seven goals in 13 games is a good return, Salah still isn't getting the bonuses. Only once this season has Salah bagged additional points or scored a double-figure score and the one week he did? So did his much-cheaper team-mate Sadio Mane (£9.9m). There's a real fear factor with Salah but, with Sterling on fire, perhaps those funds could be utilised better.
There's an even bigger fear factor with Aguero, who is the most highly-owned player at 53.6%. Despite seven goals from seven home games, it feels somewhat underwhelming considering the team have scored 27 in those. His big problem is scoring only one away goal. Furthermore, he seems prime for some festive rotation with Gabriel Jesus (£10.1m), especially once the Champions League pauses for winter. However, before the mass sales begin, let's see how the Argentine does at home to Bournemouth – from past experience, Aguero can explode with a hat-trick at any given time.
Alongside him is Raul Jimenez (£5.9m), who was part of the Wolves buzzkill from Sunday afternoon. The Mexican had a header hooked off the line but will be expecting to do better against Cardiff.
THE REST – GOALKEEPERS/DEFENDERS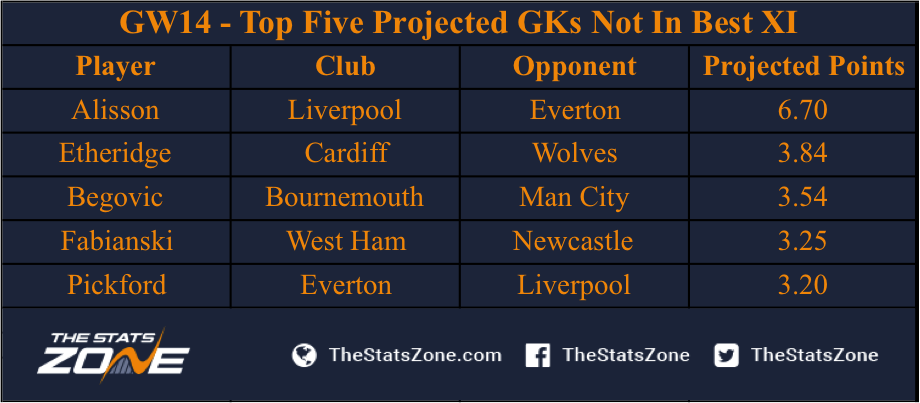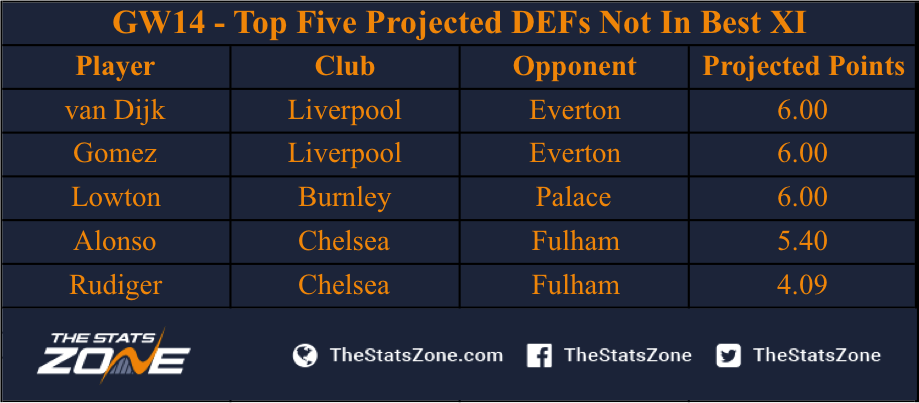 Alisson (£5.7m), Virgil Van Dijk (£6.0m), Joe Gomez (£5.1m) and Matt Lowton (£4.7m) continue the Liverpool and Burnley love-in, with the remaining goalkeepers expected to rack up save points. Chelsea aren't backed for a clean sheet, despite facing 20th-placed Fulham, as underlying stats suggest their recent clean sheets have been somewhat lucky. Nevertheless, Marcos Alonso (£7.1m) and Antonio Rudiger (£6m) provide a steady stream of attacking returns.
THE REST – MIDFIELDERS/FORWARDS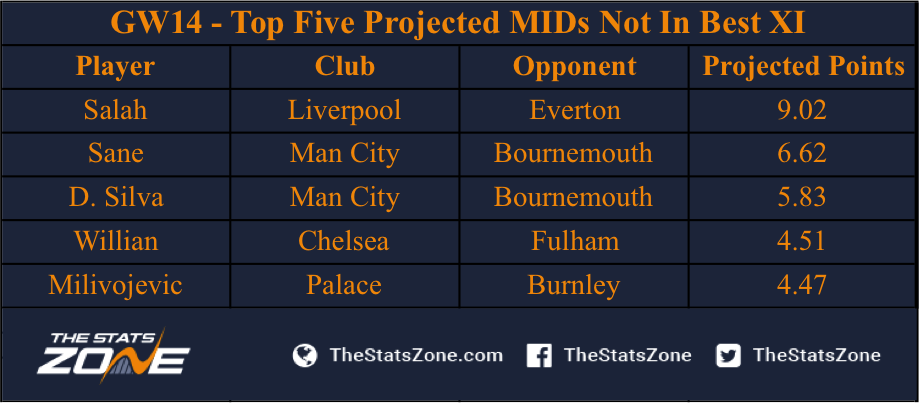 With three Liverpool players already selected, Salah's 9.02 projection has to settle for making the back-up list. As well as Sterling and Aguero, the match in Lyon saw Sane and David Silva (£8.6m) play the majority of minutes so it'll be fascinating who will be the victims of Pep Guardiola's rotation wheel. Luka Milivojevic (£6.0m) seems to have resumed his spurt of penalties, scoring two against Arsenal, with Kane hoping to extend his great North London Derby record, scoring seven in seven against Arsenal. Romelu Lukaku (£10.7m) and Marcus Rashford (£6.7m) are surely excited to face Southampton. Then again, after being criticised for shaking his head at young Rashford's miss against Young Boys, perhaps Mourinho will give someone else a start.