This season, we've pooled our (self-proclaimed) collective genius together to form 'Team TSZ', a fearsome squad of fantasy point machines who will gun for glory in our very own FPL mini-league.

Decisions will be made collectively after polite discussion. 'Team TSZ' consists of:
Rob Esteva – Managing Director
Trystan Pugh – Sports Content Manager
Tim Blackwell – Chief Sports Data Scientist
So how did we get on in Gameweek 12?
Last Gameweek's Points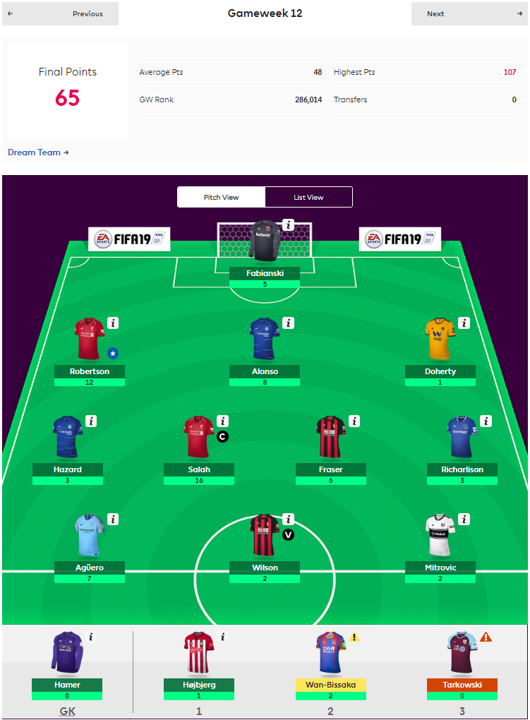 GW points: 65
GW average: 48
GW rank: 286,014
Overall rank: 201,434 (▲)

We achieved our second best gameweek rank of the season last time out, handing us our seventh positive rank change in eight gameweeks as we climbed to 23rd in the TSZ mini-league. We're naturally delighted with this trajectory, especially given Team TSZ's troubled beginnings. We chose to celebrate this success by throwing raucous parties throughout the international break (what else does one do at such times?) but now we must sober up and knuckle down once more as we prepare for the upcoming onslaught of festive fixtures.
A quick recap, first. Our GW12 point scorers were pleasingly spread throughout the team, with Robertson the stand-out performer following his assist and clean sheet against Fulham. Salah was a trusty captain once again, and although he has yet to really hit the stratospheric heights of last season, he has been a consistent force in our midfield.
Not sure how Mitrovic is still lingering in the frontline, though, as it's safe to say he's being put to shame by his Team TSZ teammates at the minute. Your days are numbered, Mitro.
Gameweek 13 Team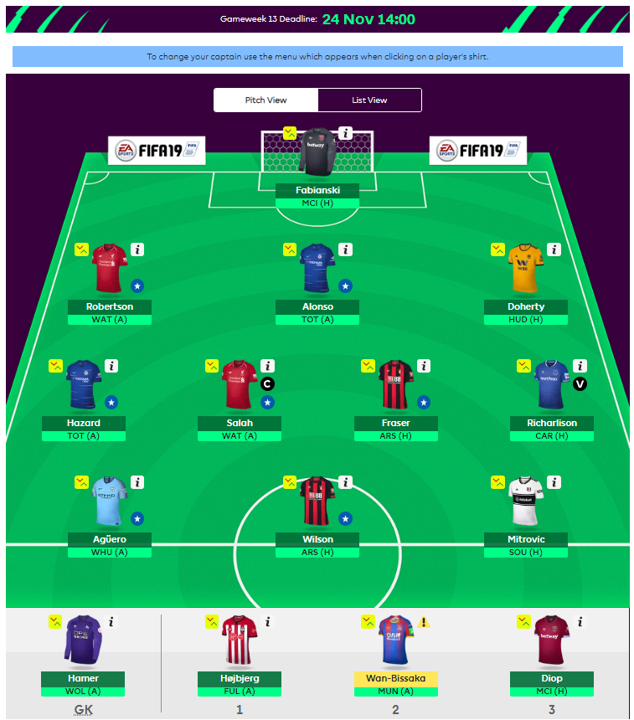 Formation: 3-4-3
Captain: Salah
Vice-captain: Richarlison
Transfers made: 1 (Tarkowski > Diop)
Point deductions: 0
Substitutions made: 0
We equipped ourselves with two transfers heading into the international break given that injuries are a common occurrence at such times, and wasn't that just the case! The FPL website became littered with yellow flags, yet we were fortunate enough to avoid most of them. Only Doherty gave us some concern but Santo's comments in the press conference earlier were encouraging, so we can count ourselves rather fortunate that our hand has not been forced into the market like many others.
We still dipped into it, though. You don't just burn a free transfer, right?! Our medium-term strategy is to bring Harry Kane in when Spurs' fixtures improve from GW15 onwards, so we want to bolster our bank balance in anticipation of that. To that end, we finally bid an angry farewell to Tarkoswki (a candidate for our worst transfer of the season) and welcome in the mighty Issa Diop with open arms. A thoroughly exciting transfer, I think you'll agree, especially given that Diop will occupy our third bench spot this weekend. However, West Ham's run of games look extremely favourable after they host top-of-the-table Man City this weekend, so this strategic move should hopefully reap long-term benefits whilst providing us with the funds for some big-money moves in the future.
I seem to have rambled upon about that for awhile. Apparently, I'm quite excited by this Tarkowski > Diop transfer...
When it came to the armband, we held firm in our belief that the big-hitters are the way to go. The notion of skippering Richarlison has gathered momentum throughout the FPL community this week but we've resisted the urge and opted for our old friend Mo. He's yet to let us down, having given us attacking returns all seven times he has captained our side.
Good luck, folks! And by that we mean, us.
For the rest of our Gameweek 13 content, visit the links below:

Captain Picks - https://www.thestatszone.com/f...
Projections - https://www.thestatszone.com/f...
Fixtures - https://www.thestatszone.com/f...
Team News & Predicted Line-ups - https://www.thestatszone.com/f...