This season, we've pooled our (self-proclaimed) collective genius together to form 'Team TSZ', a fearsome squad of fantasy point machines who will gun for glory in our very own FPL mini-league.

Decisions will be made collectively after polite discussion. 'Team TSZ' consists of:
Rob Esteva – Managing Director
Trystan Pugh – Sports Content Manager
Tim Blackwell – Chief Sports Data Scientist
So how did we get on in Gameweek 11?
Last Gameweek's Points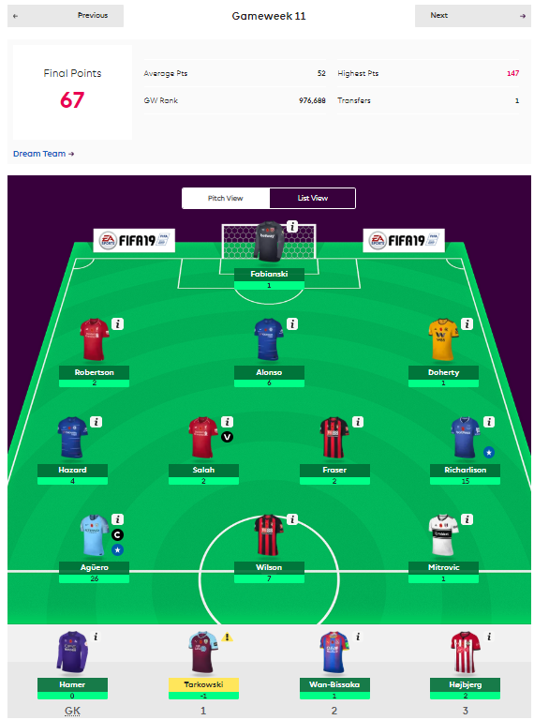 GW points: 67
GW average: 52
GW rank: 976,688
Overall rank: 280,110 (▲)

Another green arrow. We could get used to this! Our sixth positive rank change in seven gameweeks saw us creep into the top 300k overall and up to 27th in the TSZ mini-league.
Our GW11 score hardly set the world alight, but it was still a solid 15 points above the average. Aguero skippered our side with aplomb, scoring once and assisting twice in City's 6-1 demolition of sorry Saints. Richarlison should also be lauded for his excellent 15-point haul while Alonso, Hazard and the ever-dependable Wilson also produced attacking returns.
Our sideways Hart > Fabianski transfer reaped no immediate benefits, but that was always a long-term move given West Ham's eye-catching set of fixtures for the rest of the year.
Gameweek 12 Team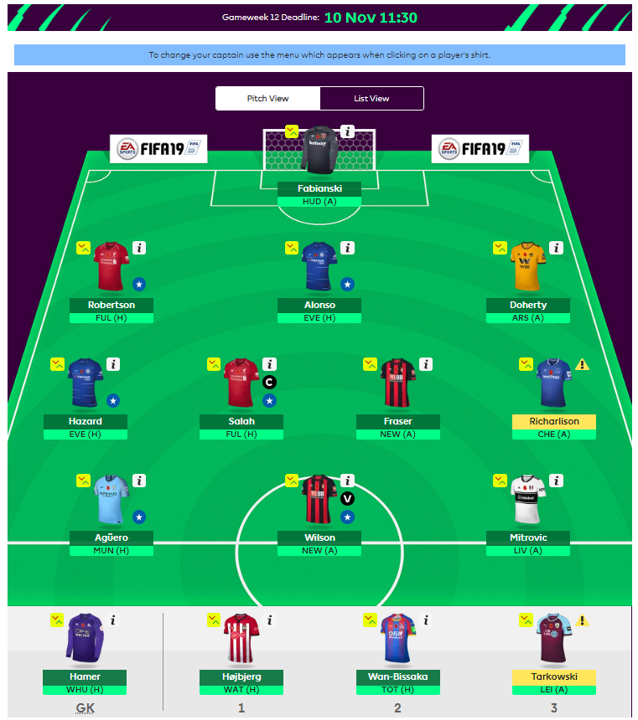 Formation: 3-4-3
Captain: Salah
Vice-captain: Wilson
Transfers made: 0
Point deductions: 0
Substitutions made: 0
Yet more excitement in TSZ towers this week as...*drum roll*...we are holding our transfer! This wasn't without discussion though, as we seriously considered offloading the under-performing Mitrovic for the in-form Arnautovic. The sticking point was that we couldn't afford to do this in a straight swap, so it would have required a -4 hit. Tarkowski was the leading candidate for the chop. I wonder why?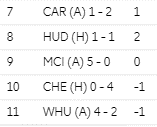 A cumulative total of one point in the five gameweeks since we signed him, that's why! Personally, I was in favour of getting rid of this deadwood as a makeweight for the Arnie transfer, but alas, I was outvoted. To be fair, being armed with two free transfers over the international break is a nice luxury to have, so I didn't put up too much of a fight on this occasion.
The captaincy goes to Salah, who faces bottom-of-the-table Fulham - there was really no debate to be had there - with red-hot Wilson ready to step in if for whatever reason the Egyptian doesn't appear.
Fingers crossed Richarlison makes it! We're not too enamoured with the prospect of Hojbjerg climbing off our bench!
For the rest of our Gameweek 12 content, visit the links below:

Captain Picks - https://www.thestatszone.com/f...
Projections - https://www.thestatszone.com/f...
Fixtures - https://www.thestatszone.com/f...
Team News & Predicted Line-ups - https://www.thestatszone.com/f...