Good riddance to the last international break of the calendar year, a wretched fortnight of scoreless World Cup qualifying play-offs, ruinous injuries to key FPL assets and marquee midfielders needlessly using up half their season's goal allowance in a game where they would have posted a 20-point score, had it been a Saturday afternoon in the Premier League and not a Tuesday night in Dublin.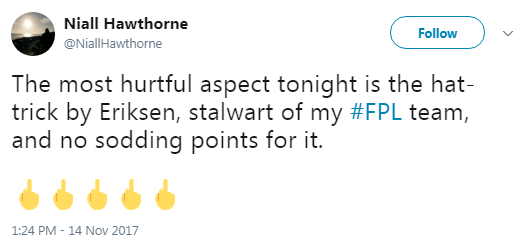 FPL managers have to expect the inevitable when it comes to knocks, sprains and tears picked up over the international break, and there is nothing in this world more inevitable than an injury to Phil Jones. The Manchester United defender, incredibly the fourth most transferred in player ahead of gameweek 12 despite the sheer inexorability of him picking up a niggle on England duty, has been ruled out of the Reds' Saturday evening game against Newcastle by his sulking manager, to the chagrin of the 15+% of FPL managers who own the limping lynchpin of United's defence.
Almost as predictable were injuries to Sadio Mané and Sergio Agüero, the former suffering a recurrence of his recent hamstring tweak while away with Senegal. After breaking his ribs in the back of a taxi in September, Agüero found another novel way to worry his million-strong owners on Tuesday, fainting during half-time of Argentina's 4-2 reverse against Nigeria. Mercifully (least of all in FPL terms), the news about the in-form forward is positive and Agüero is expected to be involved in Manchester City's away fixture at Leicester City this weekend. The all-knowing Ben Dinnery will no doubt be answering hundreds of variations of the same panicked question from fretting FPL managers over the coming days.
Gameweek 12 could be something of a turning point for FPL bosses this season – for better or worse – with the current abundance of flagged players causing not so much bothersome selection headaches as debilitating migraines ahead of the Saturday morning deadline.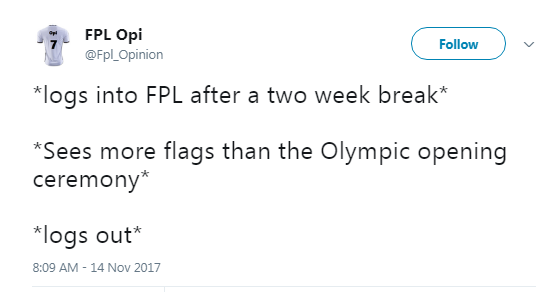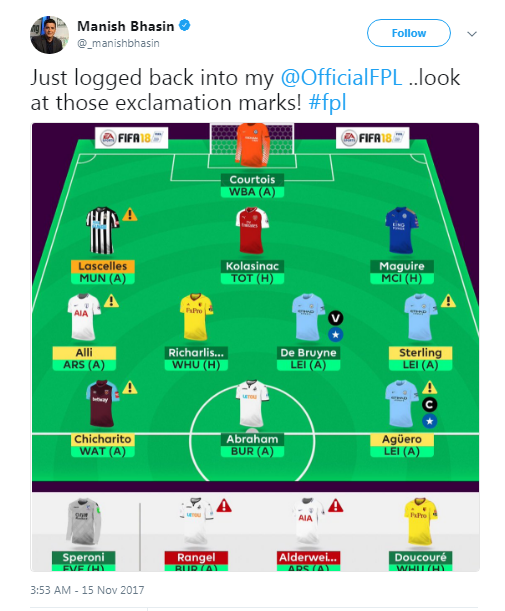 Those who resisted the urge to wildcard in early October in favour of activating the chip during this international break will be cupping their ears and shushing the rest of us as we nervously await the press conferences and contemplate taking four/eight/umpteen-point hits in order to field 11 fit players this weekend. And that's before we've even factored in post-international duty managerial tinkering.
It's not just the injury situation that plays into the hands of wildcard activators – the turn in the fixtures from gameweek 12 onwards will see hitherto untouchable players from the likes of Bournemouth, Crystal Palace and Everton become viable options, while Romelu Lukaku – having not found the net in Manchester United's four previous tricky league fixtures – suddenly has very appealing back-to-back home games against Newcastle and Brighton.
The Stats Zone's very own Trystan 'Mastermind' Pugh wrote about this subject earlier in the week for our friends at FF247, highlighting the importance of fixture difficulty over the next five gameweeks and beyond.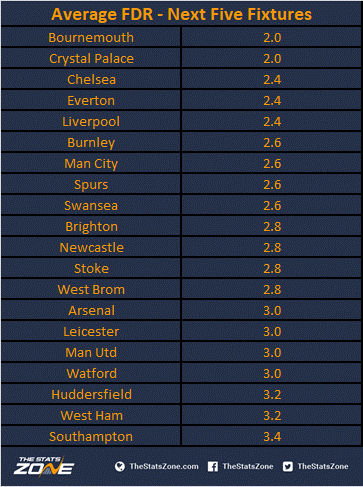 As the article points out, the outcome largely matches expectation when it comes to FDR (known as 'Roosevelt' in the dressing room), with diminishing returns as matches increase in difficulty. A breakdown of positional average scores though throws up one exception: goalkeepers.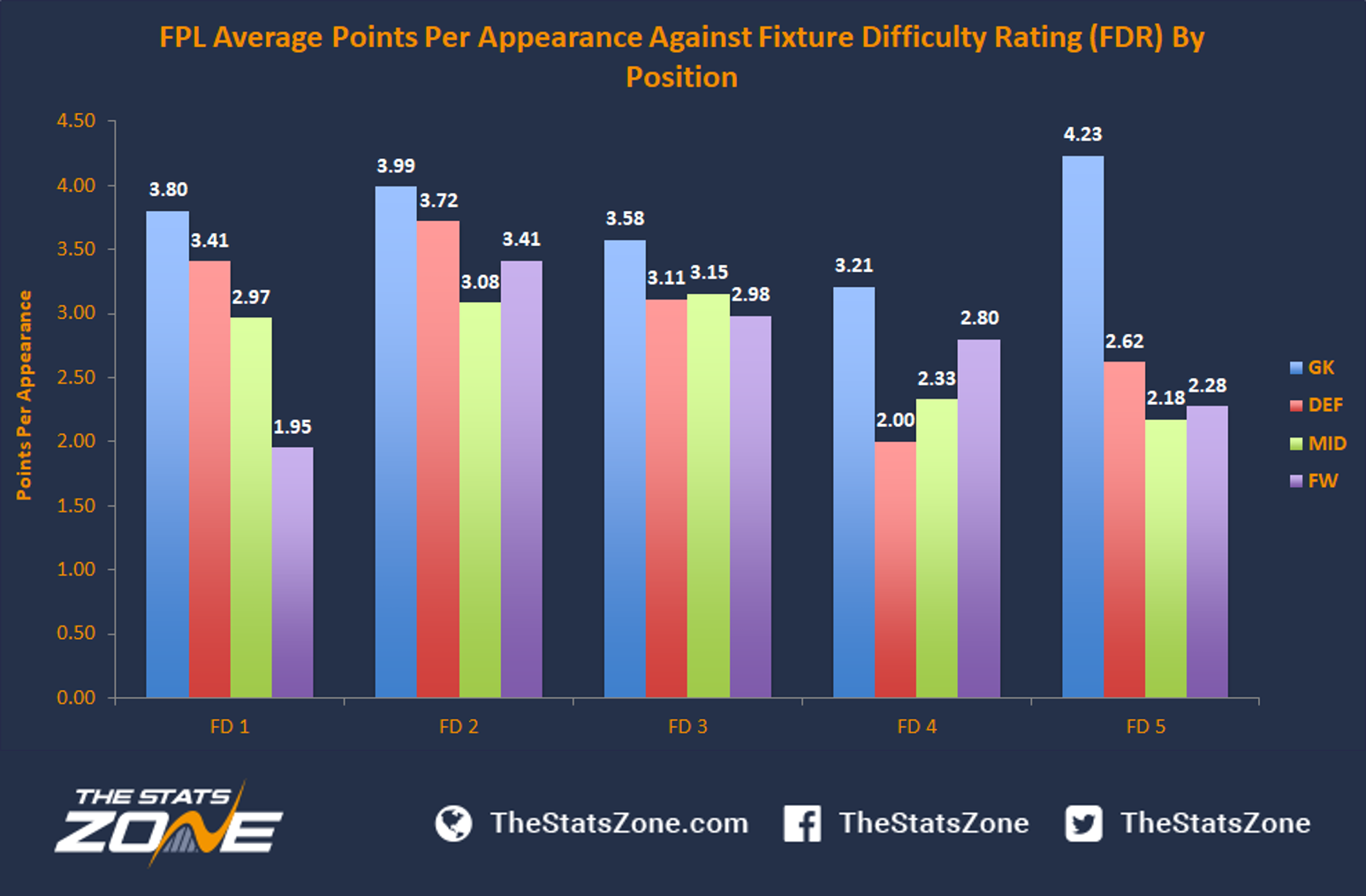 The data collated to date this season highlights the impressive returns 'keepers have been registering in those most tricky of fixtures (i.e. games graded as FD 5). The mean points per appearance (PPA) of 4.23 is not only higher than the four other fixture difficulty ratings for goalkeepers, it trumps all other position/FD combinations for returns.
There are perhaps two reasons for this. The first is the most obvious: the more difficult the fixture, the more shots a 'keeper will have to face over 90 minutes. Thus, despite the increased risk of losing a clean sheet, save points can be easily accrued to compensate for any goals conceded.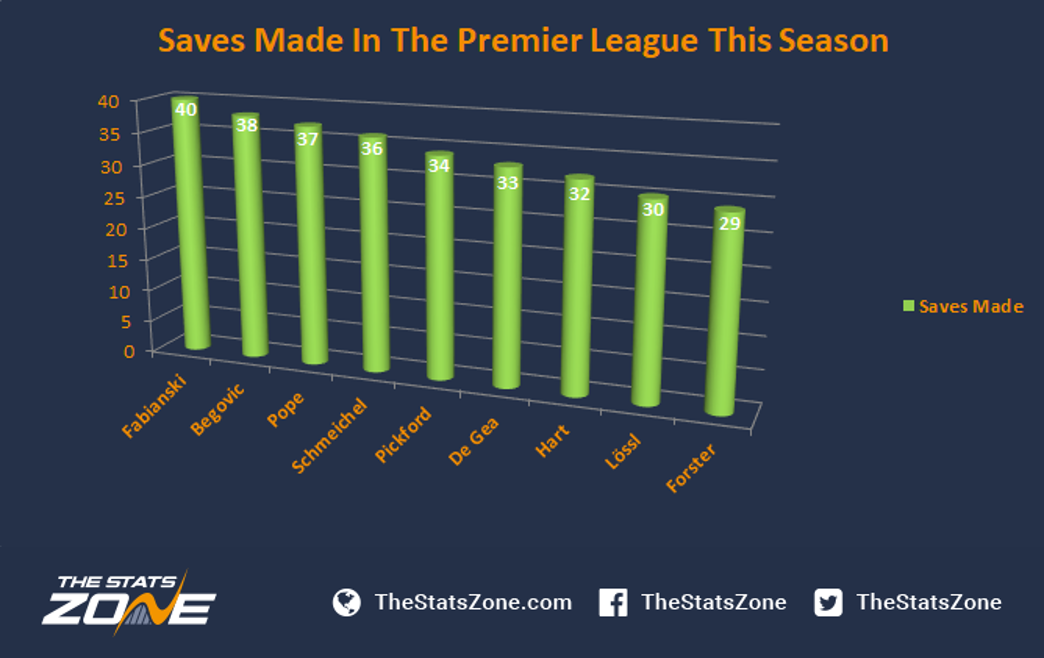 What's striking – but not surprising – in the above graph is the number of goalkeepers who lead the way in recorded saves who play for struggling sides. Six of the nine goalkeepers above play for teams who currently lie 12th or below in the Premier League table. It is these sides who will invariably face more FD 5-ranked matches (and shots) over a season and demonstrates that clean sheet potential is not perhaps everything when it comes to goalkeeper selection.
Speaking of which... the second possible reason for such an impressive PPA for goalkeepers this season (and not just in FD 5-graded games) is the proliferation of clean sheets. We may have been seduced by the attacking prowess of a rampant Manchester City this year, but defences have quietly been racking up the clean sheets in between. An analysis of the previous five seasons reveals just how prevalent shut-outs have been this year: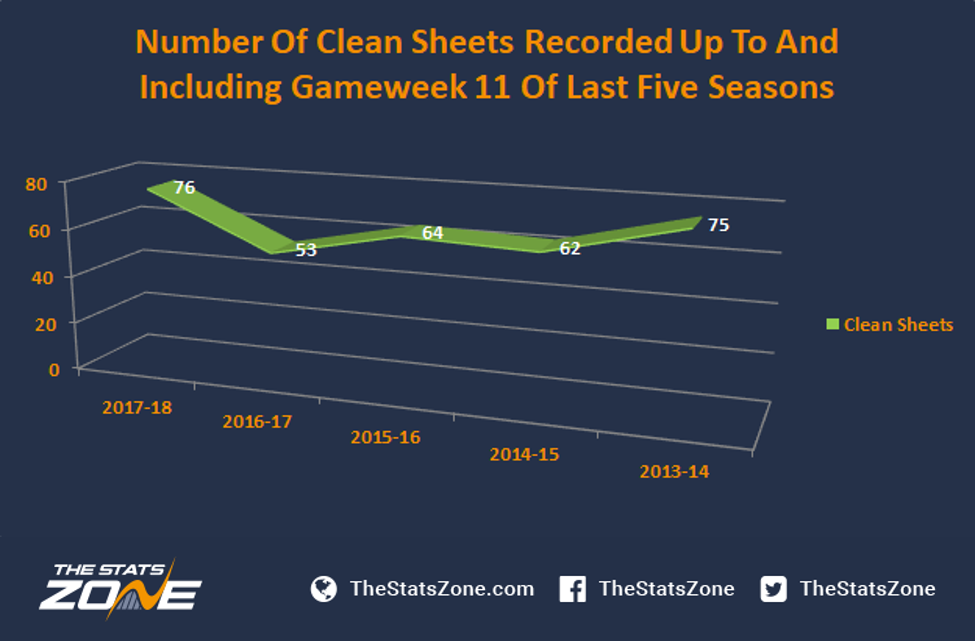 Over 43% more clean sheets have been recorded in the Premier League so far this season than at the same stage in 2016/17 – indeed, the 76 banked up to and including gameweek 11 represents a larger figure than in any of the four previous campaigns. Teams like Burnley, Brighton, Newcastle and Southampton are conceding at a goal a game or less, while even Swansea – stuck down in 19th place – have shipped a relatively meagre 13 goals in 11 matches to date.
When clean sheets and save points collide, the results can be as explosive as attacking returns from midfielders and strikers: Lukasz Fabianski's 11 points in the Swans' 0-0 draw at Spurs in gameweek 5 and Jack Butland's identical score in Stoke's 1-0 win over Arsenal in August being two stand-out examples.
This of course is all great news for FPL managers. With seemingly more premium strikers to cram into our squads than ever this season (Agüero, Jesus, Lukaku, Kane, Morata), savings must be made elsewhere. While some managers will be tempted by David de Gea's consistent returns (at £5.7m, hardly breaking the bank either), the fact that decent goalkeeping options exist at low, low prices (Rob Elliot at £4.2m, Nick Pope at £4.5m and a recently recalled Julian Speroni at £4.0m) frees up cash to splurge further up the pitch. Heck, even the world's greatest ever FPL player has two budget 'keepers in his squad.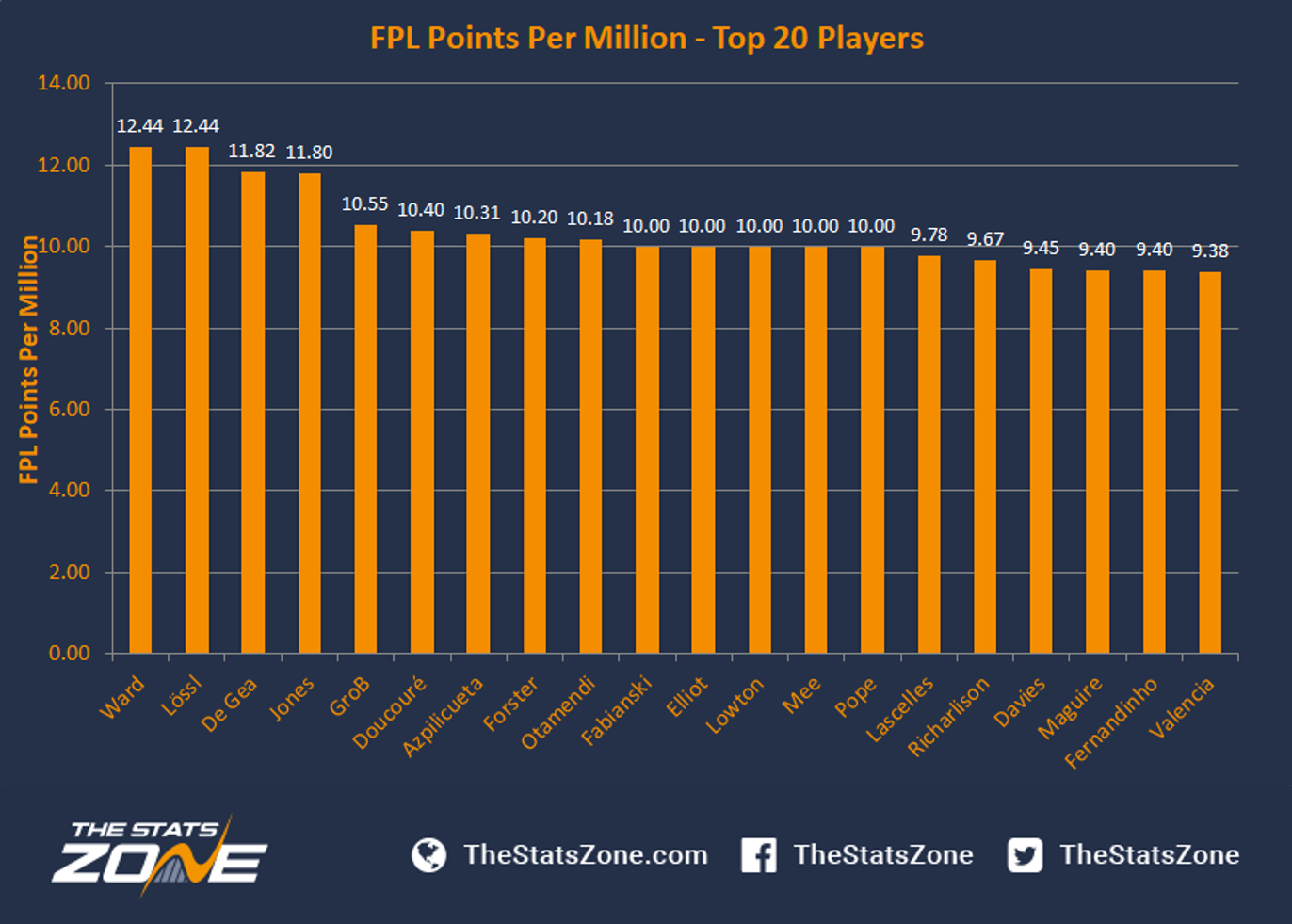 The above graph underlines the value currently being offered by budget custodians (he says, desperately trying to think of a synonym to avoid repetition) in FPL. Six of the 14 players who are returning PPMs of 10.00 or above are in fact goalkeepers: Jonas Lössl, De Gea, Fraser Forster, Fabianski, Elliot and Pope.
Only César Azpilicueta, Mohamed Salah, Leroy Sané and Sergio Agüero have scored more than De Gea's 65 points in 2017/18 to date, while Huddersfield's Lössl is not only the joint-best value player in the game this season (along with Burnley's Stephen Ward), he is actually outscoring much-championed big guns like Gabriel Jesus, Ben Davies, Henrikh Mkhitaryan and Jamie Vardy.
Speroni and Bournemouth's Asmir Begovic (£4.5m) have the most obvious clean sheet potential over the next five gameweeks, while Joe Hart (£4.4m) and Forster (£5.1m) will no doubt be seeing plenty of the ball as their fixtures stiffen up over the next month. Either way, the prospects for keepers – budget ones in particular – appear healthy for the season ahead, if the first 11 gameweeks are anything to go by.
Check out our FPL live blog, where we'll be covering all of Friday's press conferences in the run up to gameweek 12. Stats, predicted line-ups and much more!