This season, we've pooled our (self-proclaimed) collective genius together to form 'Team TSZ', a fearsome squad of fantasy point machines who will gun for glory in our very own FPL mini-league.

Decisions will be made collectively after polite discussion. 'Team TSZ' consists of:
Rob Esteva – Managing Director
Trystan Pugh – Sports Content Manager
Tim Blackwell – Chief Sports Data Scientist
So how did we get on in Gameweek 10?
Last Gameweek's Points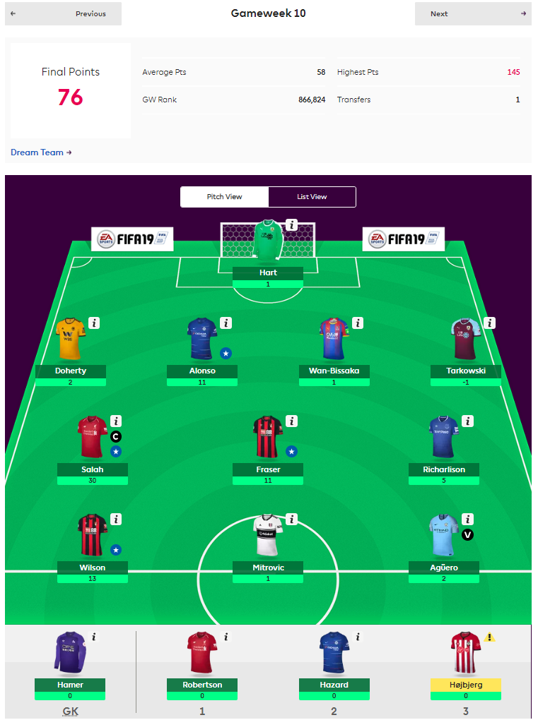 GW points: 76
GW average: 58
GW rank: 866,824
Overall rank: 332,998 (▲)

We always had faith.
Even during the dark days of Gameweek 4 when we were ranked 1.1m overall and had 22 points sitting on the bench (which still stings to this day)...

Even when we chose to bench Matt Doherty in Gameweek 8...

And even when Rob started making decisions...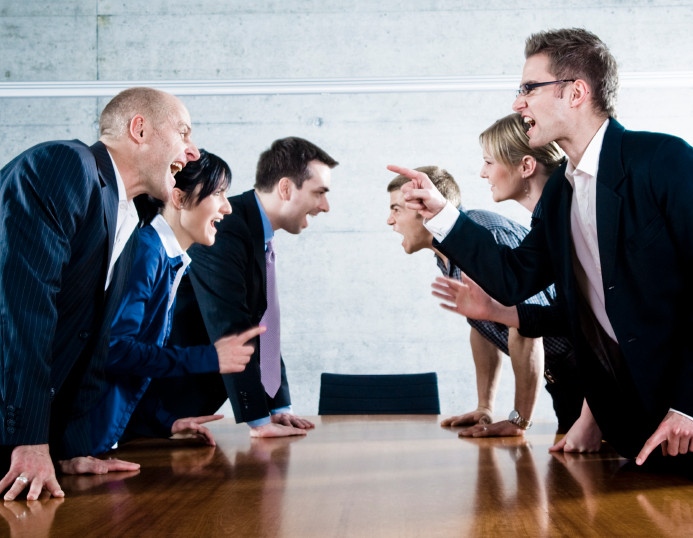 We're now at a season's best overall rank of 332,998 and heading in the right direction. Although, having bragged about being ahead of Fantasy Football Scout Hall of Fame #1 Jay Egersdorff last week, that is no longer the case. There's probably a reason we're not invited for interviews and he is, though:
A brief summary of GW10, then. Salah wore the 'Team TSZ' armband with pride and provided us with a pleasing 30 points, while we couldn't be prouder of our two Bournemouth assets - Fraser and Wilson - who hauled a combined 24 points. Alonso and Richarlison also chipped in to give us a decent overall score of 76 points. Happy days.

Before I move on, I suppose I have to mention the gaffe I made last week:
I say 'I' in the sense that I pulled the trigger.
If truth be told though, I was a mere pen-pusher, a pawn unceremoniously used in Rob and Tim's nefarious FPL schemes, an unwilling particip...okay, I'm lying. I thought it was a solid move, too. Nobody saw Robertson getting benched, and it's not like Trippier punished us, after all. It could all work out in the long run, and there'll be no need for finger pointing.

(It was their fault).
Gameweek 11 Team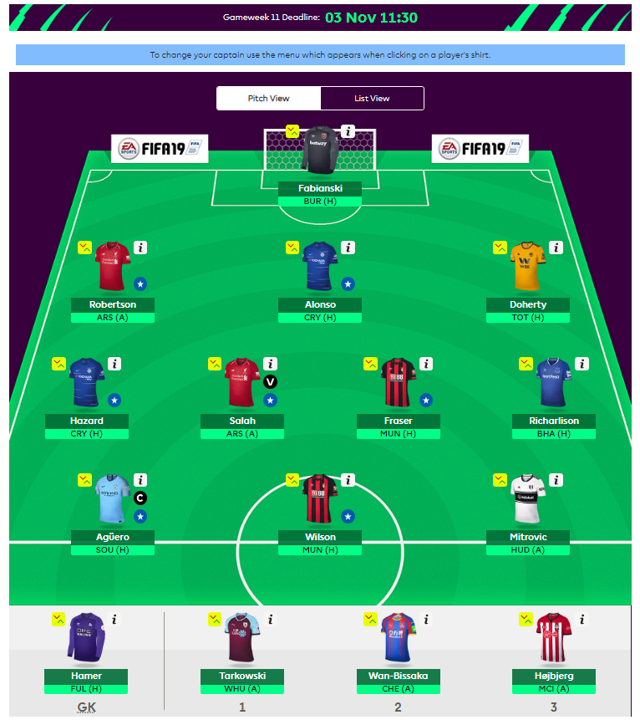 Formation: 3-4-3
Captain: Aguero
Vice-captain: Salah
Transfers made: 1 (Hart > Fabianski)
Point deductions: 0
Substitutions made: 0
We had a long discussion about being patient, taking stock, and rolling our transfer, as ideally we want to be armed with two freebies heading into the international break (yes, ANOTHER one) on the horizon.
But then we looked at Joe Hart, and it all become clear. Burnley - despite Rob insisting that Dyche's men will "shut up shop" and start "getting back to basics" any day now - are leaking goals like a sieve (that's a quote from 'Kevin Keegan's Player Manager' on the SNES for anyone who isn't as cool as me). Although the Clarets' fixtures get a little easier from GW11 onwards, they simply aren't as enticing as West Ham's run of games through to the new year: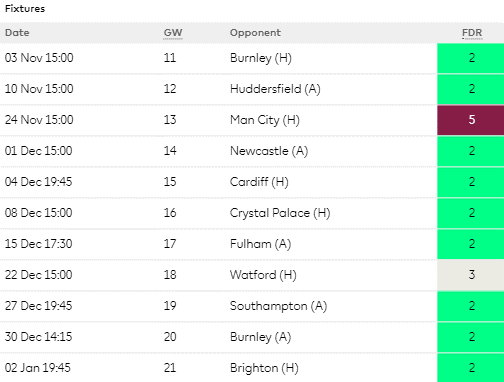 Fabianski looks an excellent prospect to be our "set-and-forget" keeper (one of those irritating FPL phrases that I was admittedly guilty of using about 12 times during our Skype call).
There was no debate whatsoever to be had about our captain. Sarri had some discouraging words to say about Hazard's condition in his press conference, so Aguero - averaging over nine points per game at home this season - is the obvious choice.
Other discussions centred around Fraser and Wilson's status in our team given Bournemouth's tough run of games, the need to snap up Mendy and Arnautovic at some point, and whether going Aguero-less is a legitimate strategy, but those decisions can be made in the future.
For the rest of our Gameweek 11 content, visit the links below:

Captain Picks - https://www.thestatszone.com/f...
Projections - https://www.thestatszone.com/f...
Fixtures - https://www.thestatszone.com/f...
Team News & Predicted Line-ups - https://www.thestatszone.com/f...