Whilst most of the top leagues around Europe will be enjoying a relatively light fixture load over the next month, the English Premier League, as always, will be going into turbo drive as the festive period approaches. Players who have been in the English game for some time probably can't remember what a normal Christmas feels like, but for fans, and in particular those fantasy football fanatics among us, it is a time of great excitement.
The approaching Gameweek 14 is the first of six in December, so this is a perfect time to play the FPL long game. Those looking for a carefully considered Christmas time strategy may be interested in our analyses…whether you take heed or not is entirely up to you!
Each club will play three home and three away fixtures over the course of gameweeks 14 – 19. Each fixture has been assigned a Fixture Difficulty Rank (FDR) with a scale of 1 to 5 (1 = low difficulty, 5 = high difficulty). This is taken from the official Fantasy Premier League website, who define FDR as follows:
'The Fixture Difficulty Rank (FDR) is based on a complex algorithm developed by Fantasy Premier League experts. A set of formulas process key Opta data variables, along with each team's home and away form (past six matches), in order to generate a rank for the perceived difficulty of each Gameweek opponent. The FDR is designed to help FPL managers plan their transfer and team selection strategy and is reviewed on a weekly basis.'
If we average out the FDR scores for each Premier League club's six December fixtures, we get the following results, from lowest to highest: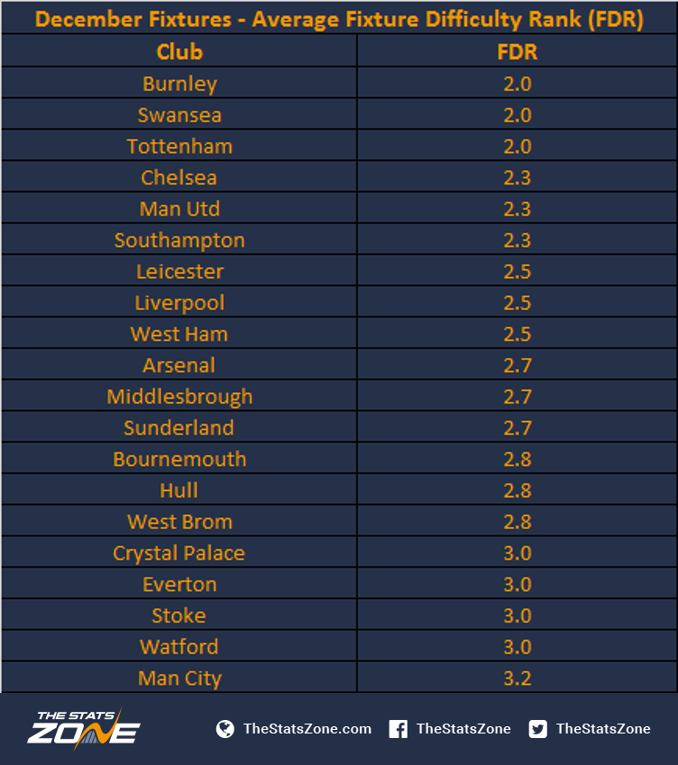 Favourable Fixtures
FDR claims that Burnley, Swansea and Tottenham have the 'easiest' set of fixtures in December, so let's take a closer look: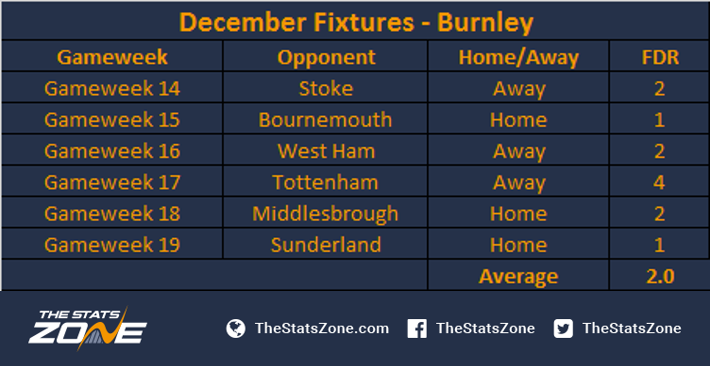 With the exception of an away trip to Tottenham in Gameweek 16, Burnley will look at the rest of these fixtures as potentially winnable games. Fantasy owners of Tom Heaton (4.8m), the stand-out performer for Burnley, will be ill-advised to dispose of his services following his absence from the team sheet in Gameweek 13; his injury is not thought to be serious so it's likely he will be back between the sticks this weekend. Those on the lookout for a cheap differential could do worse than Sam Vokes (6.2m) as a third striker, with the Welshman having bagged three goals and an assist in his last six outings.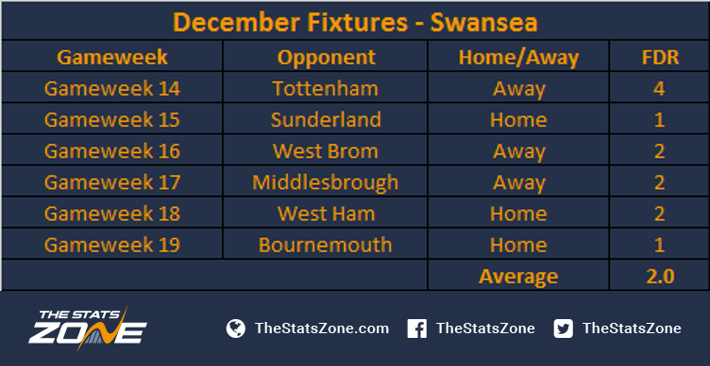 The epic 5-4 win over Crystal Palace – the Swans' first victory since the opening weekend of the season – should give Bob Bradley some hope that brighter times are to come. They have a tough trip to White Hart Lane approaching but their fixtures then become more appealing. This makes in-form fantasy favourite Gylfi Sigurdsson (7.3m) a real tempter, and let's not forget the budget choice in Leroy Fer (5.0m), who reminded us of his value for money with his two goals against Palace, taking his tally to six for the season.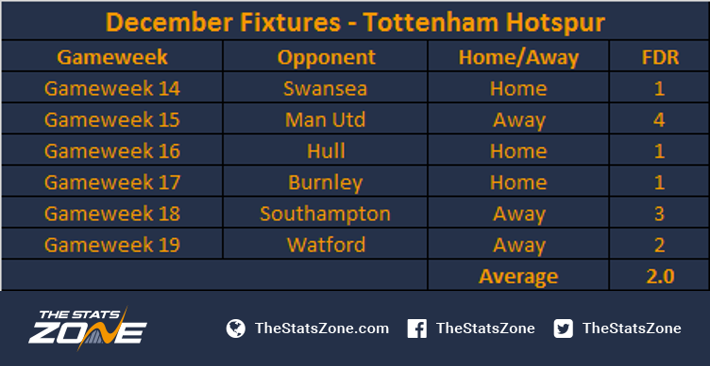 With three (all of which are at home) of the six fixtures given an FDR rank of 1, Spurs players should certainly be in the reckoning for a place in your team this coming month. The toughest of the lot appears to be a trip to Old Trafford, but with Mourinho's men hardly firing on all cylinders an FDR rank of 4 perhaps doesn't tell the full story. Pochettino's side have been leaking goals lately, but the returning Toby Alderweireld (6.3m) should tighten things up at the back; the Belgian is always a threat from set pieces and it shouldn't be forgotten that he scored four goals last season – an excellent return for a defender. Speaking of goals, a certain Harry Kane (10.9m) has been on the scoresheet recently, with the Englishman finding the net three times in as many games since his return from injury. With the similarly priced Diego Costa just one booking away from a suspension, Kane represents an excellent alternative given Spurs' attractive fixtures.
A little further down the list – but still with decidedly favourable fixtures – are Chelsea, Man Utd and Southampton, who all share an FDR average of 2.3: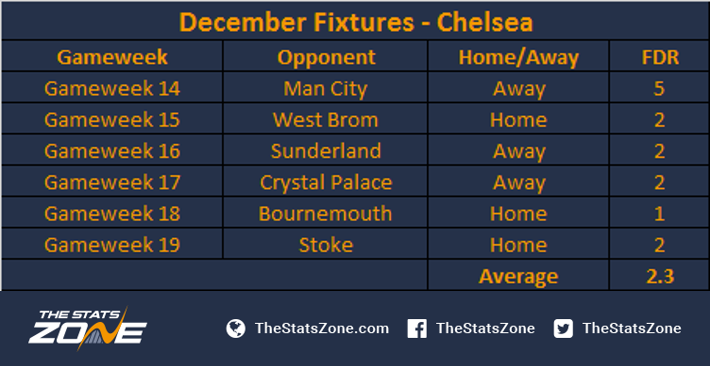 The crunch match with City this weekend is followed by five games where – considering current form – Chelsea will go in as huge favourites. Conte's side have been virtually impregnable at the back since the switch to a three-man defence, making the likes of Cesar Azpilicueta (6.2m) difficult to ignore. With a raft of clean sheets recently, it looks like more could be on the way with upcoming fixtures against West Brom, Sunderland, Crystal Palace and Bournemouth in December. Further up the pitch, Eden Hazard (10.3m) could be set for a profitable month given this run of games, as could the significantly cheaper Pedro (7.3m), who is thriving in Conte's system. Of course, we can't forget the most consistent player in FPL this season – Diego Costa (10.6m); we've already alluded to the disciplinary issue hanging over the striker, but in truth he has been stuck on four yellow cards for some time now, and when you're scoring as often as he is, it could serve you well to ignore those concerns. The fact Conte has named an unchanged side during this run of form helps the decision making somewhat.
Let's be honest, Man Utd aren't exactly flying at the moment – as five draws in seven games can testify – but they may feel better about things if they take a look at their December fixtures. Once again, we'll need to take Spurs out of the equation here but in general, these games fall into the 'favourable' bracket. If Mourinho can finally sort out his defence then Antonio Valencia (5.4m) could come back into the reckoning given his attacking potential, although David de Gea (5.4m) remains the standout option here. There's only one other man in the Man Utd team we can make a case for at the moment, and that is of course Zlatan Ibrahimovic (11.1), who seems to have rediscovered his scoring boots following an uncharacteristic slump; we fancy the Swede to have a profitable December.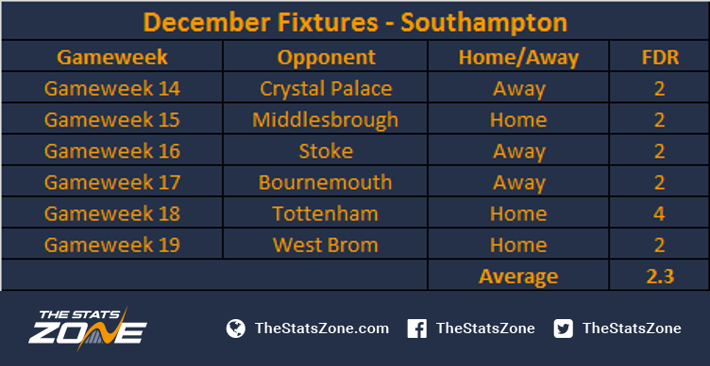 Once again, Spurs spoil the party, but given that Southampton have achieved good results against other top teams this season, they certainly won't go into that clash as pushovers. Two clean sheets on the bounce have shone the spotlight on the Saints defence, with Fraser Forster (5.0m) always worth considering in goal and Jose Fonte (5.4m) being a magnet for bonus points. Charlie Austin's (6.8m) recent form has gotten FPL managers all nostalgic about the 2014/15 season, when he was a must-have in the QPR attack. Now that he appears to be a mainstay in the starting eleven, he's surely worth considering as a mid-range striker. The only fear with Southampton is if they are forced to rotate even more than usual in such a busy month to juggle their Europa League fixtures.
Unfavourable Fixtures
At the opposite end of the spectrum we have the teams with the most unfavourable run of games in December, but we feel it's worth discussing this because, in the FPL word, form can often trump fixture: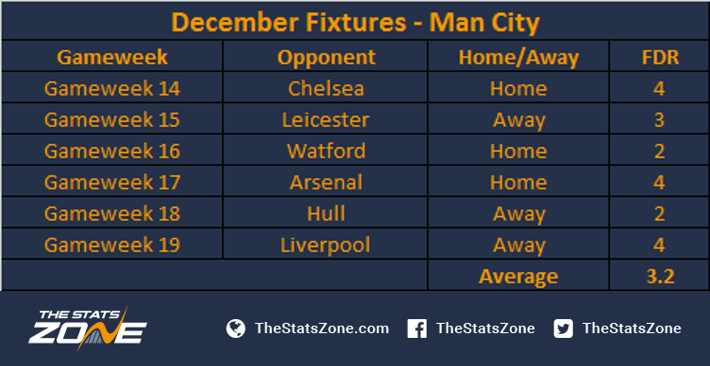 This is a tough run of games by anyone's standards, so an FDR average of 3.2 (the highest in the league) seems justified. Therefore, fantasy players should be cautious about Man City coverage, particularly in defence where John Stones (5.0m) has been a colossal disappointment for the many who put their faith in him. In midfield, the early form of Raheem Sterling (7.9m) and Nolito (8.6m) has died away and only a brave manager would consider them as viable options. However, there are certain players we would deem as 'fixture proof' and Sergio Aguero (13.1m) is undoubtedly in that bracket on account of his stellar FPL pedigree. To a lesser extent, Kevin De Bruyne (10.8m) and even the returning Yaya Toure (7.7m) have the potential to turn any game, but beware the Guardiola rotation policy for those two.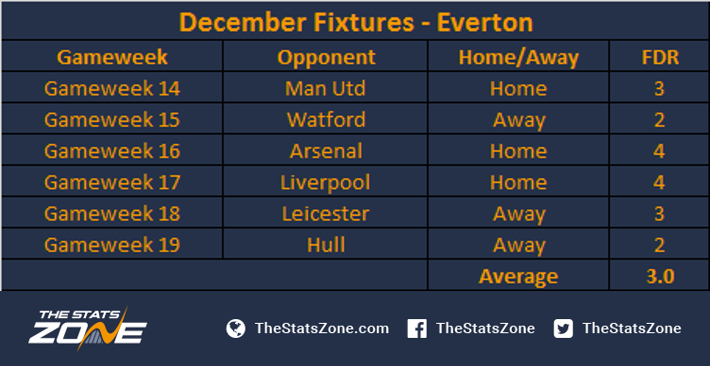 We feel it was prudent to highlight the difficulties facing Everton over the next month, which won't make good reading for Toffees fans who have seen their team struggle of late. The three games at Goodison Park in particular stand out, with Man Utd and Arsenal coming to town and Liverpool crossing Stanley Park for the Merseyside derby. Many fantasy players will have already shipped out Romelu Lukaku (9.6m) following a run of three games without a goal, whilst owners of Yannick Bolasie (6.1m) should consider searching for a replacement for the time being.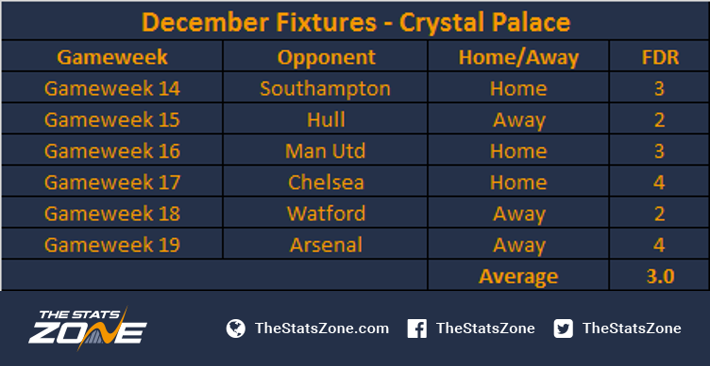 It's a strange quirk of fantasy football that certain players can be worth owning even though their team is performing badly. Wilfred Zaha (5.4m) and Christian Benteke (7.5m) are two such players, with Zaha in particular performing well with a goal and five assists in his last five games. The pair will struggle to maintain this form in December though, with the Christmas period in particular throwing up some tough games. Will Pardew last until the new year?
Of course, there are a bunch of clubs who fall somewhere in the middle of the FDR index, namely Liverpool and Arsenal – hugely popular teams for fantasy players so the likes of Roberto Firmino (8.8m), Sadio Mane (9.2m), Alexis Sanchez (11.3m) and Theo Walcott (7.9m) remain top-end options for your squad. Ultimately, it's about using the fixtures to your advantage but not letting them dominate your selections. If you can strike the right balance, then you could be heading into the new year with the edge over your mates in those all-important mini-leagues.