The 2016/17 Premier League has now entered its final month with half of the league having just three fixtures left to play. However, at this crucial part of the season and with Fantasy Premier League (FPL) points still up for grabs, it is important to note that the other half of teams will have a double gameweek (DGW) (or two as is the case with Southampton and Arsenal).
It's always a frantic time in terms of FPL with everyone still having something to play for. Are you challenging for honours in your league and need to find a way to come out on top? Or are you trying to salvage some pride from a poor season and avoid finishing bottom? Whichever category you fall into, we'll do our best to give you some useful tips and insight into the final month of the season.
Because of so many sides having a DGW in gameweek 37, we're going to use this month's preview to focus on the majority of those teams. To begin with, we've put together a table to show the Fixture Difficulty Rating (FDR) which will help to decide which teams have the easier set of fixtures on paper.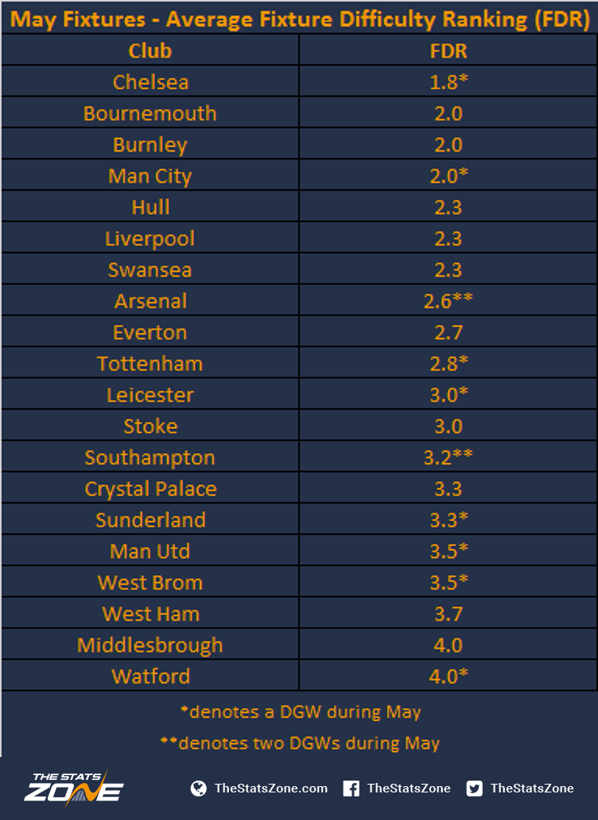 As the above confirms, Arsenal and Southampton have two DGWs in the final month of the season so they will be our first port of call.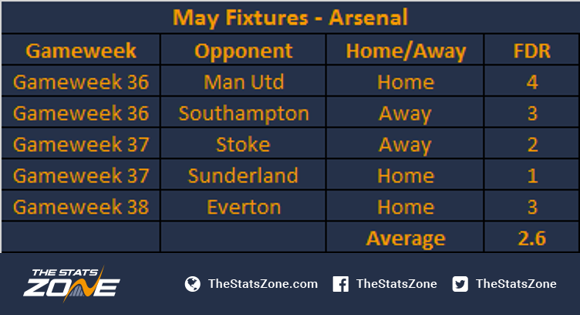 Arsenal are a tough team to justify selecting their players in your FPL line-ups. Their form throughout 2017 has been patchy at best and they're coming off a defeat against North London rivals Tottenham. That result will see the Gunners finish below Spurs for the first time in 22 years which in itself is a bitter pill to swallow, but worse could be yet to come if Arsenal fail to finish in the top four and reach the Champions League. However, with that target still in mind and the fact that they have two DGWs, it may be worth chancing an Arsenal player or two.
They have an FDR of 2.6 which is a middle of the road score for the month. Although Arsène Wenger's change in formation didn't work against Spurs, it has shown to suit some of his players over recent games. It is difficult to know what side Wenger will select game-to-game but if there are any indications that he'll start, Danny Welbeck (£7.3m) could be a shrewd choice up front. He is only selected by 0.3% of teams at the time of writing but may be the one to lead the line for the final few games. Alexis Sánchez (£11.5m) has become an expensive commodity of late with just a single goal to his name in his last six PL games, a drought which has been compounded by failing to assist any of his teammates either. It's difficult to justify his price tag at the moment and it may be worth ditching him if you don't fancy him to rediscover his early-season form. If you do fancy him to end the season well, he has enough games in May to add a decent number to his current tally of 214 points.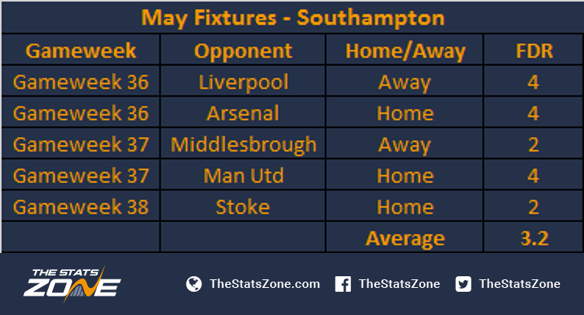 Unfortunately for FPL managers, the other side with two DGWs in May is Southampton who have looked like they just want their season to end over the last few weeks. Two heavy defeats against Man City and Chelsea were followed with an uninspiring performance against Hull at St. Mary's last week.
Their FDR comes in at 3.2, which on paper is even more difficult than Arsenal's run-in. Their first DGW in gameweek 36 sees them face a trip to Anfield before hosting the Gunners. Despite both fixtures looking tricky, if they go into the games with the right mind-set then they should be able to pose some problems. Since returning from injury, Manolo Gabbiadini (£6.5m) has failed to score, with his last goal coming on 4th March against Watford. He's also failed to finish a match in his three appearances since returning to the side, however he is still likely to get the starting gig over Shane Long (£6.1m), but it's difficult to really fancy either on current form. A better way to go may be to look at attack-minded full-back Ryan Bertrand (£5.5m), who has 113 points to his name so far this season. Southampton managed to keep a clean sheet against Hull and may be able to do the same in a few of their remaining games.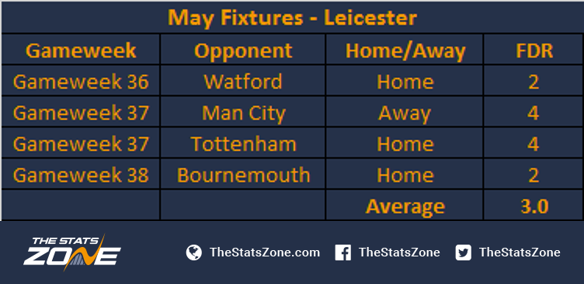 The first two teams we looked at maybe didn't inspire much confidence despite having a game more than the rest of the league, but it isn't all doom and gloom as champions-elect Chelsea could fire your side to a great haul of points in May.
Chelsea have four fixtures as well as a DGW in gameweek 37 but also have the lowest FDR of any side (1.8). The fact they're a side in form also makes it easier to suggest their players, although there may not be too many surprises here. Eden Hazard (£10.5m) has been in great form recently with four goals in his last five Premier League games. He's currently selected by 33% of FPL teams so a differential choice may be Pedro (£6.8m), fresh from his superb goal against Everton at the weekend. He's a relatively low price but more importantly, is only selected by 7% of teams at the time of writing. Marcos Alonso (£6.8m) is the most expensive defender on the game after his superb season and is worth every penny if you can squeeze him into your team at this late stage of the season. With Chelsea having such a nice run of fixtures to end the season with three games at Stamford Bridge, plenty of goals may be on the horizon, with Diego Costa (£10.4m) the man who is going to be highly sought-after.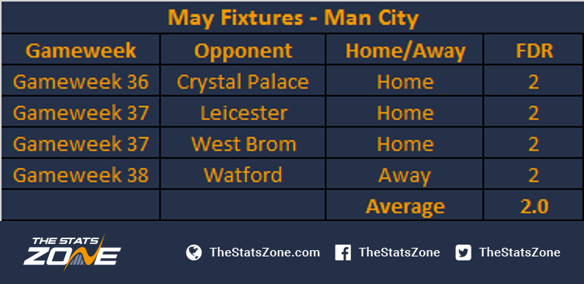 Man City haven't had the best of times recently, with them succumbing to Arsenal in their FA Cup semi-final as well as drawing with Man Utd and Middlesbrough in their previous two Premier League games. They are still fancied to finish the season in the top four but Pep Guardiola's first season in charge will be deemed a huge failure if his side do not qualify for the Champions League. Their quest will be aided by a run of three home games on the trot including two games at the Etihad in their DGW.
Their FDR of 2.0 is the joint-second lowest of the month but is more appealing than Bournemouth and Burnley due to having an additional fixture. Sergio Agüero (£12.8m) needs no introduction but his fitness is a worry and that may pave the way for Gabriel Jesus (£8.7m) to take over up front. The pair lined up for Man City away at Middlesbrough and both found the back of the net with Guardiola determined to fit the two into his side. They could be a lethal pairing should they get the chance to build a partnership up front but Agüero's fitness must be monitored closely as he is too expensive a commodity to be missing games at this stage of the season in FPL terms. Leroy Sané (£7.7m) didn't start at the weekend but may come back into the starting XI for the game with Crystal Palace and he should relish linking up with the front two.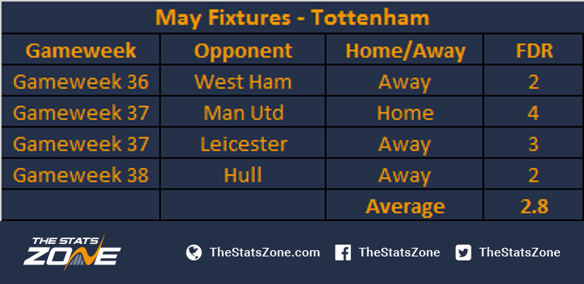 Tottenham are the form side of the competition and it's a shame there's a limit on how many can be selected per team as plenty of their players could be feasibly recommended for a place in FPL teams.
Harry Kane (£11.7m) is only selected by 18.5% of teams which is a surprising figure considering he has two goals and two assists in his three starts since returning from injury. He will be the man to lead Spurs' cause as they look to place as much pressure on Chelsea as possible as they attempt to challenge for the title. Christian Eriksen (£8.9m) is ending the season in superb fashion and has contributed either a goal or an assist in six of his last seven Premier League games. Dele Alli (£9.2m) continues to improve and his PFA Young Player of the Season award was well deserved. He too is in great form and has contributed a goal or assist in eight of his last nine league games. Spurs have kept four consecutive clean sheets in the Premier League which makes Jan Vertonghen (£5.7m) an appealing option. He is the cheapest of the defenders who would be guaranteed to start plus he is only selected by 6.5% of teams at the time of writing. Banking on Spurs to end your season on a high could be the way to go with their FDR of 2.8 right bang in the middle of all of the teams this month, but with their own form and performances making them the team that nobody wants to face.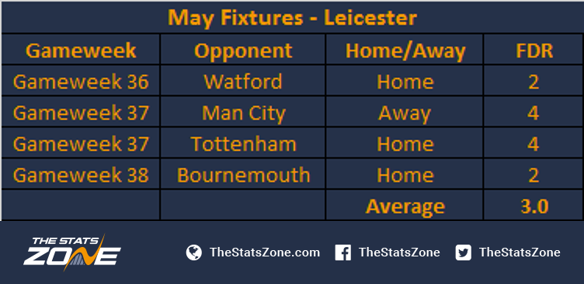 Leicester have an FDR of 3.0 and look the best of the remaining teams with a DGW. They have managed to get themselves clear of danger and will be looking to finish the season on a high. One man who could help them do that is Jamie Vardy (£9.9m), who has continued his upturn in form since the sacking of former boss Claudio Ranieri and has bagged seven goals in his last nine games. Leicester have a tough DGW with a trip to the Etihad before hosting Tottenham so it might be best to side with just Vardy rather than banking on them to score FPL points by keeping clean sheets. Their other attack-minded players have been too inconsistent all season, nor has anybody stood out recently to justify recommendation.
Other Points of Interest
Watford, West Brom, Man Utd and Sunderland are the other sides with a DGW in week 37 but for various reasons, it's difficult to really justify highlighting any of their players. Sunderland have only really had Jermain Defoe (£7.5m) as a relevant FPL player this season and his goalscoring drought has now stretched to ten games, making him extremely unappealing, especially in light of Sunderland's relegation. Watford and West Brom have both struggled for form recently and look like they want the season to draw to an immediate close.
Man Utd's congested fixture list has been compounded by their ever-growing injury list. It's conceivable that José Mourinho will push Man Utd's focus towards trying to win the Europa League which would lead to a Champions League spot next season. To do this, he may sacrifice his side's attempts to finish in the top four by rotating his side. With so many players carrying knocks it's very difficult to know who will take to the field but Marcus Rashford (£6.6m) and Anthony Martial (£9.2m) may see more game-time as a result, with David de Gea (£5.5m) likely to retain the gloves domestically.
Whilst this preview has had a huge focus on DGW teams, there is one player who may be worth drafting in despite him only having three games to play. Bournemouth have an FDR of 2.0 which does make them appealing on paper and Joshua King (£6.2m) could be worth signing. King has played in a more advanced role as the season has progressed, and has managed to find the back of the net 11 times in his last 12 games. He's classed as a midfielder too so he becomes even more appealing.
Although drastic, it could pay to rid your teams of players with just three games left and to fill your teams with those players who have a DGW. A good way to justify this is to use your Bench Boost chip, if you still possess it. Using this in gameweek 37 would be a shrewd move as this will allow you to add the points from your bench players to your total for that week. If you have players with a DGW, you could in effect be boosting your total with the equivalent of eight extra games.
Finally, the TSZ mini-league is still precariously poised at this stage of the season and could go down to the wire. Trystan (Mastermind FC) leads Ash (Rafalution) by just a single point at the top of the table. Allister (Zola-Powered) is only three behind top spot with Rob (Los Toffeemen) still hanging in there but will need results to go his way as he sits five points behind the leader.