This season, we've pooled our (self-proclaimed) collective genius together to form 'Team TSZ', a fearsome squad of fantasy point machines who will gun for glory in our very own FPL mini-league.

Decisions will be made collectively after polite discussion. 'Team TSZ' consists of:
Rob Esteva – Managing Director
Trystan Pugh – Sports Content Manager
Tim Blackwell – Chief Sports Data Scientist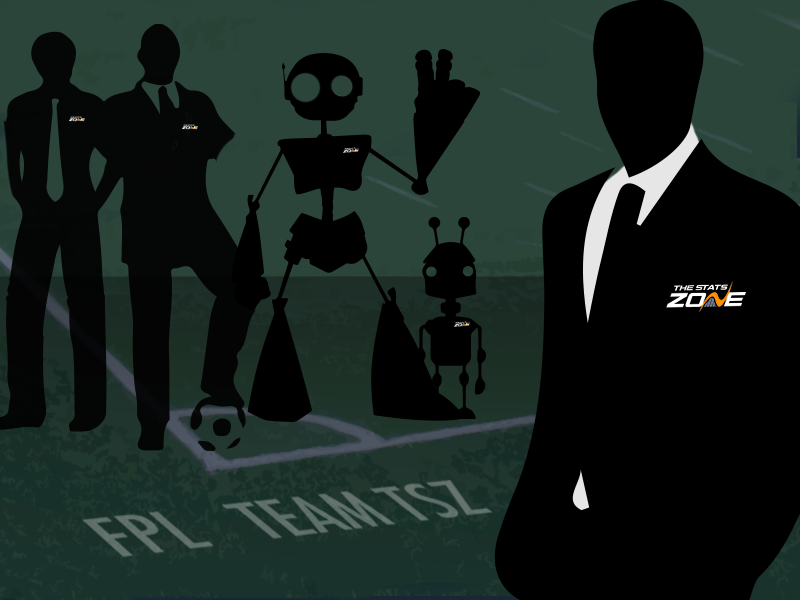 So how did we get on in Gameweek 30?
Last Gameweek's Points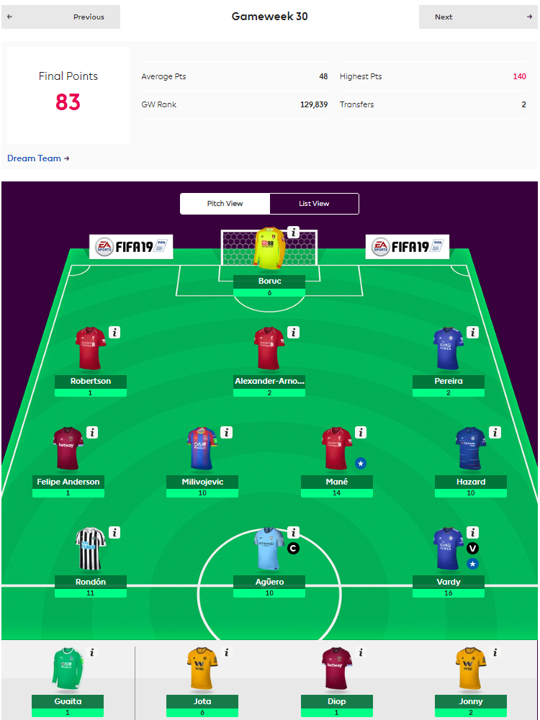 GW points: 83
GW average: 48
GW rank: 129,839
Overall rank: 16,332 (▲)
Team TSZ's meteoric rise to the top shows no sign of stopping after 83 points scored in Gameweek 30 left us 16,332nd in the FPL rankings and, most importantly, joint-second in our mini-league. Joint-second with, of all people, founding member and resident caution-taker Trystan, who must surely now be struck-off from all crucial decision making as we enter this pivotal phase of the season. Our success has come, oddly enough, almost completely in tandem with the birth of our FPL Weekly podcast. Two of our highlighted captains scored ten or more points, while our weekly championing of a Jamie Vardy liberated under Brendan Rodgers has proved valuable advice indeed. Granted, we also said Liverpool's defence would be worth doubling-up on over their attack for the match against Burnley, but we're not miracle workers.

*Adam departs, muttering something about needing to catch a train*
Blank Gameweek 31 Team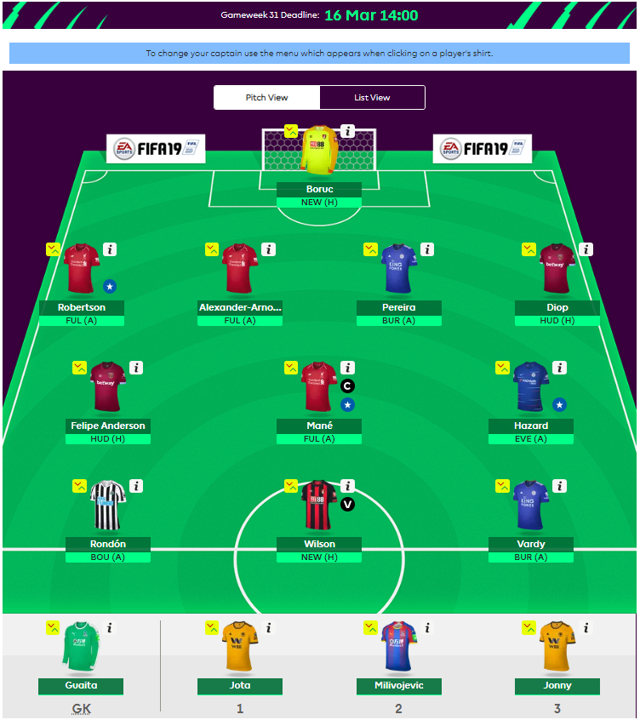 Formation: 4-3-3
Captain: Mane
Vice-captain: Wilson
Transfers made: 1 (Aguero > Wilson)
Point deductions: 0
*Trystan steps in to the hot seat*
Thanks to Adam for summarising our Gameweek 30 performance and continued late-season success, but I think it's only fair that I use this opportunity to clear my name as it's been dragged through the mud of late. To the accusation that a conflict of interest now exists because of 'Team TSZ' and my very own 'Mastermind FC' boasting identical scores...

...let us consider where my two Team TSZ colleagues currently lie in our mini-league...
Respectable from Tim, but nothing to write home about...

You read it right.
The natural conclusion is that I have single-handedly dragged Team TSZ from the doldrums. Think Ronaldo midweek against Atletico. To give more credence to my argument, this week's summit saw Rob suggest bringing in Firmino as our BGW31 transfer, despite us already owning three Liverpool players. THIS IS WHAT I AM WORKING WITH PEOPLE.
Okay, enough faux bragging and mocking. We are where we are due to our natural synergy and combined hard work. There's no 'I' in team and the efforts of all three members should be commended yada yada. It's just not as fun to write that way though, is it?
On to the blank then, which has been on the minds of every FPL manager for what seems like an eternity, and we had a relatively straightforward transfer decision to make. When we wildcarded in Gameweek 27, our strategy was to ensure a full XI could be fielded in 31 and 33 and so we find ourselves in good shape. There really was very little debate over what to do here - Firmino gaff aside - and so we quite swiftly switched Aguero for fit-and-firing Callum Wilson.
Being a cautious (some may call dull) manager, I could see no other captaincy candidate than in-form Sadio Mane, who faces a defensively atrocious Fulham on Sunday. Tim was of a similar opinion, but Rob considered handing our new Bournemouth recruit the armband. Given that the Cherries host a Newcastle side depleted in defence, this wasn't an altogether outlandish suggestion from our CEO, which is something we've come to expect from a man who's personal team languishes in the company of FPL teams that gave up in Gameweek 4. However, the pull of Mane was too strong and so the Senegalese 'midfielder' leads our troops into BGW31.
As is the prevailing strategy amongst the FPL community, our plan is to Free Hit in DGW32. Before that though, we'll take a well-deserved rest over the international break, hopefully with another green arrow to brag about!

For the rest of our Blank Gameweek 31 content, visit the links below:
Captain Picks - https://www.thestatszone.com/f...

Projections - https://www.thestatszone.com/f...
Fixture Analysis - https://www.thestatszone.com/f...
FPL Podcast - https://www.thestatszone.com/f...
Team News & Predicted Line-ups - https://www.thestatszone.com/f...