Following a frustrating FPL spell that culminated in the infamous Gameweek 29, last weekend was generally less hateable. Granted, all that Mohamed Salah (£13.4m) and Sergio Aguero (£11.9m) could provide their 2.9 million captainers was an assist each but it was a productive weekend for big-hitters Sadio Mane (£9.9m), Eden Hazard (£10.9m) and Raheem Sterling (£11.5m). The latter scored a 15-minute hat-trick against Watford and his 21 points (42 for many) made him the week's top FPL scorer for the third time this season.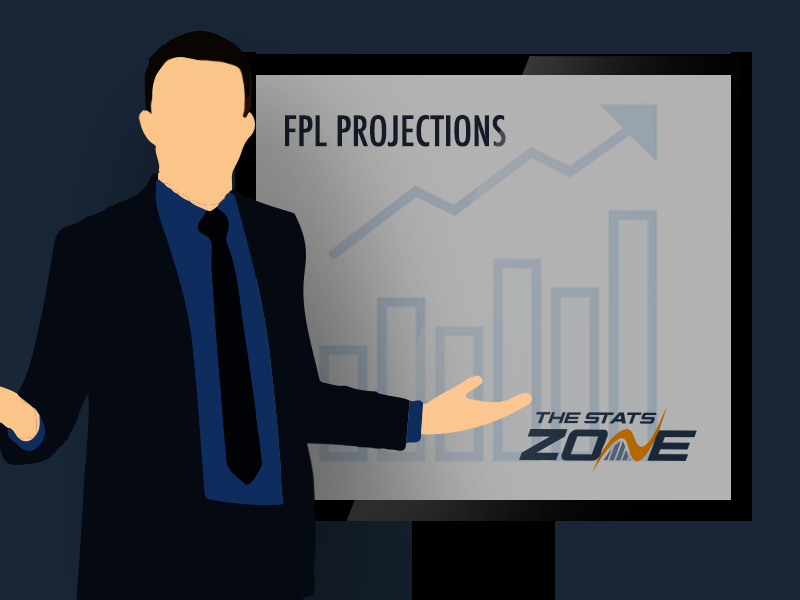 However, some casual managers have transferred in Sterling and been caught unaware by Blank Gameweek 31. He won't be playing, just like the players from ten Premier League teams. Only five games are taking place, with chip strategy about to control the rest of this season. The most popular tactics for those who still have the Free Hit chip are to either use it this week or next, with many Wildcard, Bench Boost and Triple Captain cards still to be played.
OPTIMUM SQUAD
Yet last week's optimum squad only scored 33 points, after doubling-up on three defences which failed to keep a clean sheet. Not only that, but Trent Alexander-Arnold (£5.6m) was given the captaincy. The right-back was substituted before Burnley scored their second though, so it could have been worse! Kieran Trippier (£6.0m) didn't play, Son Heung-Min (£8.7m) only played 18 minutes from the bench and Felipe Anderson (£7.2m) was hauled off at half-time. Mane's 14 was the only saving grace.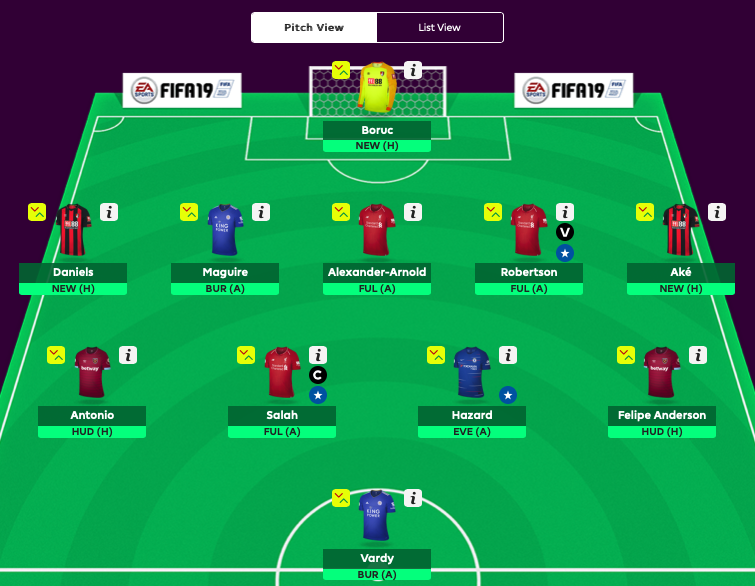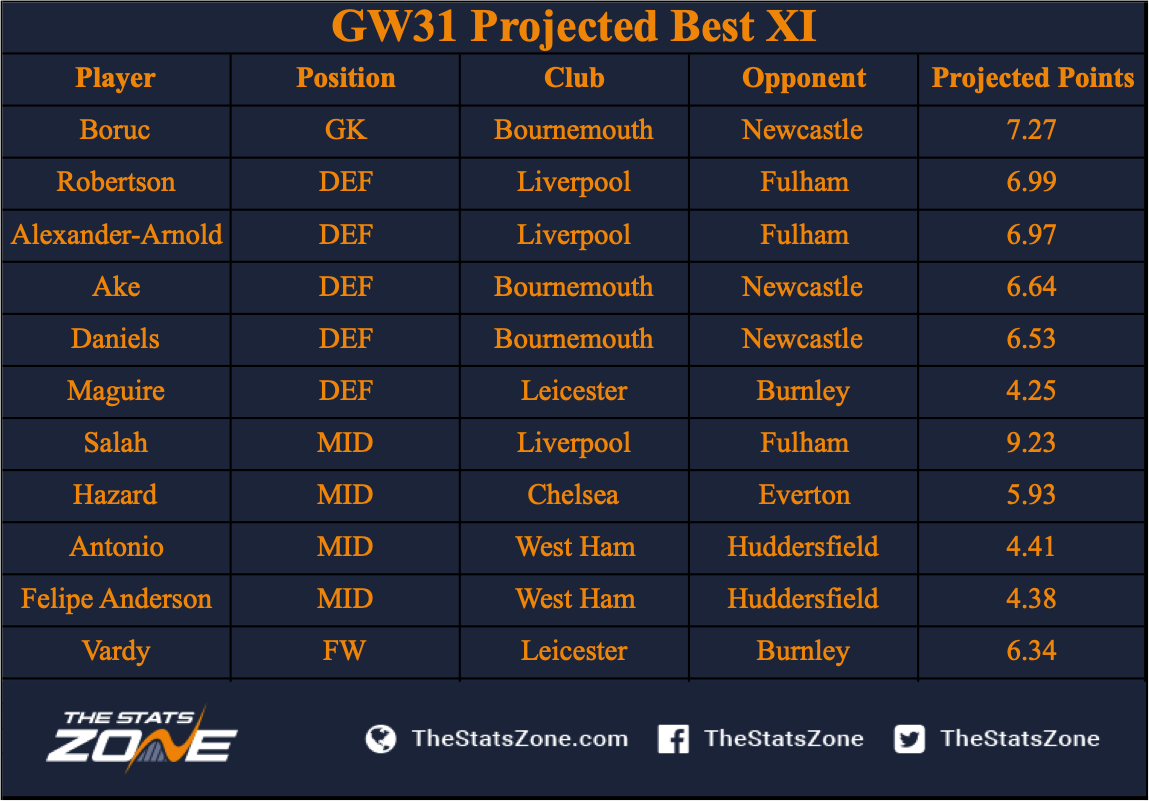 Not only are so few teams playing, even fewer have enticing opponents. Whilst Burnley v Leicester, Bournemouth v Newcastle and Everton v Chelsea pair off some evenly-matched, unpredictable sides, only West Ham and Liverpool have heavily-appetising fixtures. Unpredictable themselves, the former host 20th-placed Huddersfield after their limp defeat at Cardiff. Liverpool, meanwhile, travel to leaky Fulham.
The algorithm opts for a 5-3-2 formation that triples-up on Bournemouth's defence. Artur Boruc (£4.1m) took over goalkeeping duties from Asmir Begovic (£4.3m) in Gameweek 23 and has impressed, where three games produced clean sheets and three contained at least six saves. The only other cheap goalkeeper who is getting minutes is Crystal Palace's Vicente Guaita (£4.2m) and he's got a blank gameweek. So he's the perfect enabler for those using a Free Hit or Wildcard.
Bournemouth's eight clean sheets have only been bettered by six teams but they're against a Newcastle side who travel well and who have failed to score only twice in nine games. With five wins from eight games, it's perhaps a surprise to heavily-back their hosts, as Nathan Ake (£5.1m) and Charlie Daniels (£4.1m) earn spots in the 11. However, they do offer attacking threat, with Ake scoring three times this season and Daniels coming with an FPL legacy, even if he has started to dim.
Harry Maguire (£5.4m) also makes the grade, hoping to recreate the 0-0 from Leicester's November meeting with Burnley. From there, the big debate is whether to go heavy on Liverpool's attack or defence. In an ideal world, there'd be the ability to select five or six of Jurgen Klopp's side ahead of their trip to Fulham. For budgetary reasons, the algorithm has proceeded with both Alexander-Arnold and Andrew Robertson (£6.9m). They've provided 15 assists between them – including all from the recent 5-0 win over Watford – and form a watertight defence. Against them is a team who seem destined for relegation, led by Aleksandar Mitrovic (£6.4m), who has just three goals from 17 league games.
Captaining the optimum squad is Salah, who has hit a major dry spell. What's frustrating is that he's still playing well. He's getting chances, he's heavily involved in their goals and generally putting in star performances – yet his one goal from seven games is being outshone by Mane. His underlying stats remain dominant, having had the most penalty box touches (59) and second-highest shots (23) of any midfielder in the past six matches. His Expected Goals (xG) from this period is 2.03, suggesting that a regression to the mean is imminent.
Hazard's last-minute equaliser against Wolves rescued his 25.9% ownership and he's a wise choice for those who won't use a chip for the blanks of weeks 31 and 33, with Chelsea one of the sides who play in both. This time he's against Everton – a side who drew 0-0 at Stamford Bridge and recently pulled off the same score against Liverpool – so it won't be easy. But the Belgian is fixture-proof and on penalties, with a potential double gameweek in 32 followed by an appealing home fixture against West Ham in 33. He's one of four players this season who have double figures for goals and assists.
The Hammers provide Michail Antonio (£6.8m) and Felipe Anderson. Antonio has scored in two of their last three home games, although recent minutes have been limited since the return of Manuel Lanzini (£6.4m). Anderson is in absolutely diabolical form and his only saving grace for FPL owners is simply having a match this week, a promising one too. He has one assist from 11 games, stretching back to 2018.
Jamie Vardy (£9.0m) has reacted well to Brendan Rodgers' arrival, scoring twice against Fulham alongside one assist. That's now 31 FPL points from three games, ahead of the trip to Burnley. With the highly productive James Maddison (£6.7m) playing behind him, expect more from Vardy for future meetings with Bournemouth, Huddersfield, Newcastle and West Ham before a tough end to the season.
THE REST – GOALKEEPERS/DEFENDERS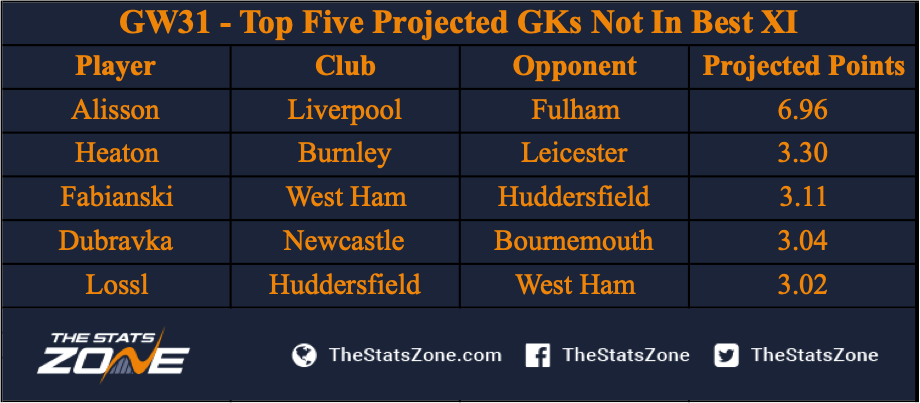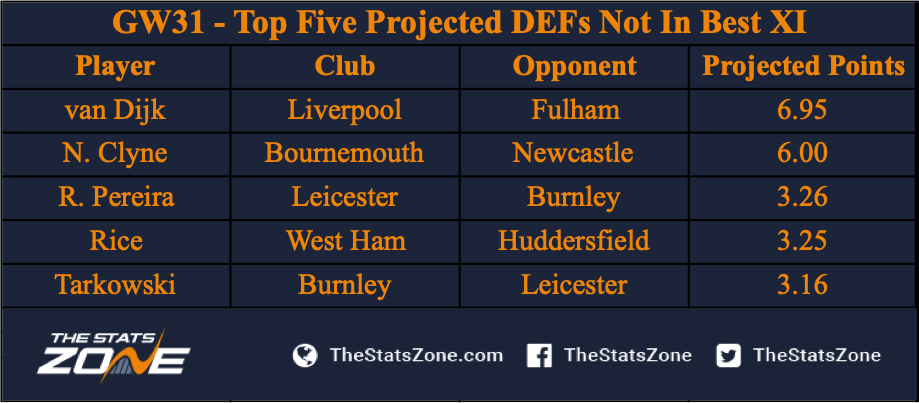 Lukasz Fabianski (£4.8m) continued his run of accruing save points last weekend, making it 13 returns from 14. Whether Huddersfield muster enough shots to continue that is another matter but Jonas Lossl (£4.4m) will expect a busier time in the other goal. Ricardo Pereira (£5.4m) has been a huge disappointment for new owners, only delivering ten points from eight games. Rodgers seems to want Pereira at right-back, rather than his intermittent spells in midfield, which therefore limits his attacking potential. Then again, Virgil van Dijk (£6.6m) and James Tarkowski (£4.7m) provide proof that it is possible to contribute from the back-line, with both scoring three goals this season.
THE REST – MIDFIELDERS/FORWARDS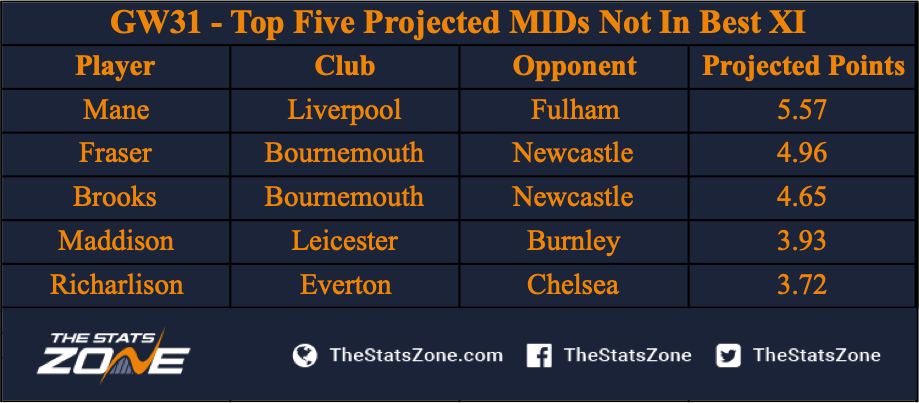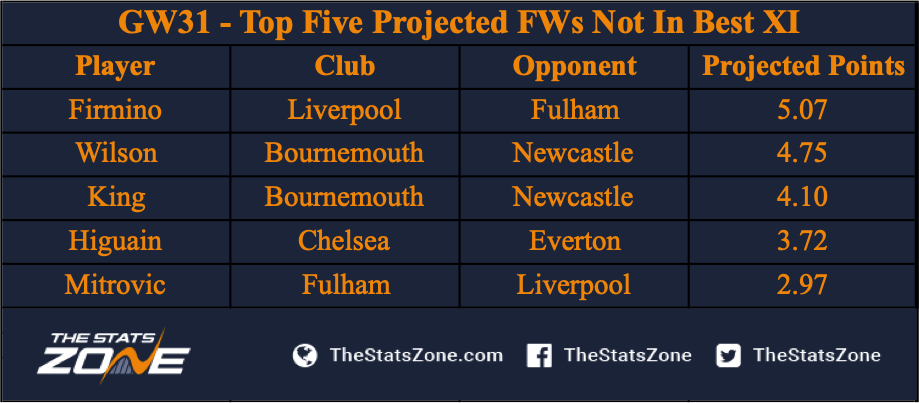 Mane only misses out because of the aforementioned budgetary issue but he's covering Salah's poor form with his own phenomenal returns. A lot of managers had given up on Richarlison (£6.5m), although those who reluctantly had to keep him were treated to a goal at Newcastle. Those who may need a maverick choice or two may look towards Roberto Firmino (£9.2m) – the afterthought of Liverpool's front three but someone who has still scored 11 goals, two of which came against Burnley on Sunday. Finally, one of the weekend's most interesting events was the return of Callum Wilson (£6.4m). He marked his return from injury with a goal and assist versus Huddersfield, which seems set to make the Bournemouth man the most transferred-in player of Gameweek 31. His wonderful link-ups with Ryan Fraser (£6.2m) swiftly resumed service, to the relief of many.