This season, we've pooled our (self-proclaimed) collective genius together to form 'Team TSZ', a fearsome squad of fantasy point machines who will gun for glory in our very own FPL mini-league.

Decisions will be made collectively after polite discussion. 'Team TSZ' consists of:
Rob Esteva – Managing Director
Trystan Pugh – Sports Content Manager
Tim Blackwell – Chief Sports Data Scientist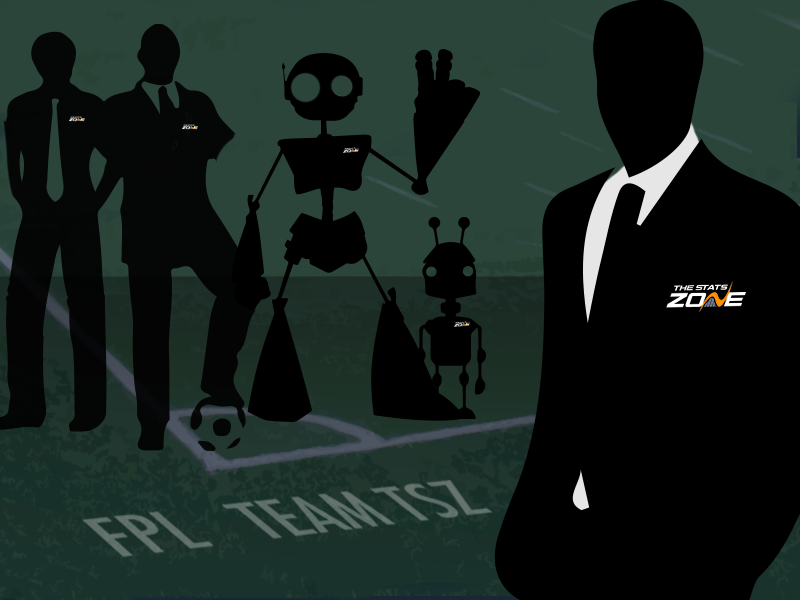 So how did we get on in Gameweek 26?
Last Gameweek's Points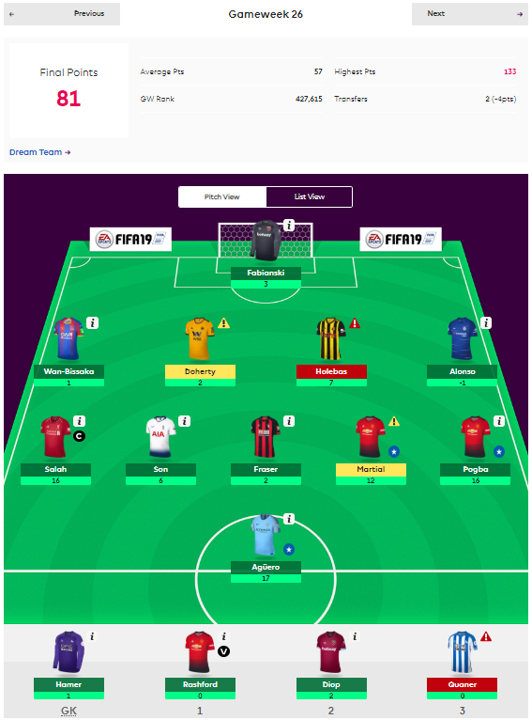 GW points: 81
GW average: 57
GW rank: 427,615
Overall rank: 125,732 (▲)

Our best week since the heady heights of Gameweek 15 sees us rise by almost 30,000 places to still-not-where-we'd-like 125,732nd, but we are getting closer again to a number we can actually say in conversation. We see this as a corner turned. However, no spoilers, but the wildcard could beckon no longer. So we've likely undone all our good work for the benefit of a weird gameweek (31) in the future where the most exciting game on offer looks like West Ham 1-0 Huddersfield.
If you, like me, cannot get your head around all these double/blank gameweeks, I point you towards our podcast where we discuss various chip strategies. We also debate our favourite new January signings, and Oumar Niasse. You can find it at the top of this page. Please do give us a follow, if you like following things.
Before I talk you through our tinkering, a warning. Readers, if you did not know before, this article has the power to create great change. Essentially, any player I target for mockery immediately has an excellent game. Anthony Martial made short work of the Dour Midfield, completely ruining its credibility, as he contributed 12 points to a total of 52 scored by our midfielders. It took me ages to figure out how to italicise those definitions. I do not know why I bother.
This week, I have decided to make fun of Sadio Mane, the captain of my personal team. Couldn't even score a quite hard overhead kick in the midweek against German champions Bayern Munich! How bad is that? He's only scored in four consecutive Premier League games. Rubbish. I bet he can't score three at United. You watch.

Blank Gameweek 27 Team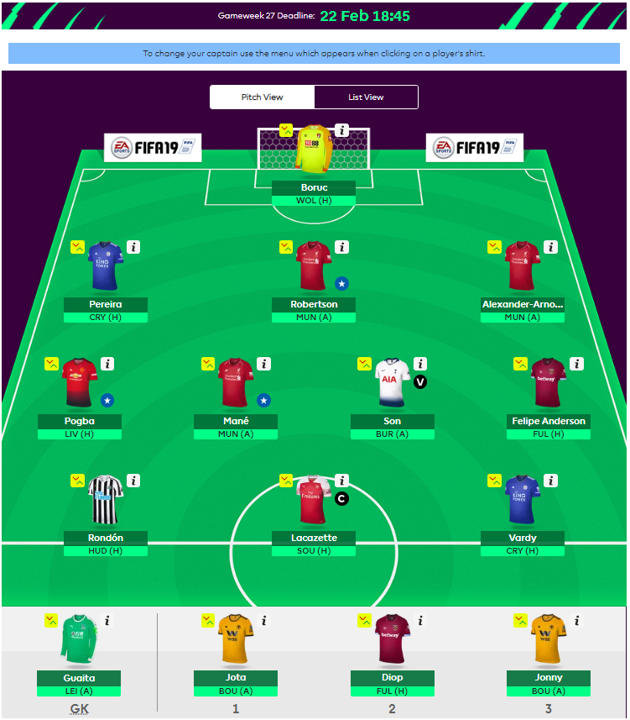 Formation: 3-4-3
Captain: Lacazette
Vice-captain: Son
Transfers made: Wildcard
Point deductions: 0
WILDCARD ACTIVATED
Usually I'd spend this section here lambasting Team TSZ's decisions: Rob's random differential (who isn't selected by anyone for a reason), Tim's plight for more City players, less Matt Doherty, and Trystan's caution (and genuine pained expression when Tim suggests transferring Doherty). However, I think they've done a good job. Which is the last thing they'd want me to write. This team is very well thought-out, and I'm certain Team TSZ will have a second-wind for the close of the season. Ultimately, we had so many non-starters in BGW27 that a wildcard was inevitable.
To business:
There are five fixtures in Gameweek 31, which means 10 Premier League sides won't play. For further information, and because I really do not get it, I refer you again to our FPL Weekly. With this incoming boring Match of The Day in mind, TSZ have brought in Artur Boruc, Andy Robertson, Trent Alexander-Arnold, the aforementioned Mane, Felipe Anderson, Salomon Rondon and Jamie Vardy. That's eight players staying with us until the 16th of March, unless they get injured, or in the case of the forwards, continue to be painfully average.
Other notable changes: Doherty is gone. I do not know how Trystan feels about this, but I assure you the Irish full-back will never leave his personal team. In his place, here's Jonny. Also, Diogo Jota. They warm the bench this week, but I'm sure they are ready to be underwhelming in weeks to come.
Somehow, even post-wildcard, Issa Diop is still sitting on our bench. The team have decided, though, that Colin Quaner is unlikely to aid them in any meaningful way from the bottom of the Championship table with Ipswich.
Finally, Manchester City don't play in the league as they face Chelsea in the League Cup final, and so we have Alexandre Lacazette staying with us for the week. We hear he's very clean, and makes an excellent Martini. Sergio Aguero will slot straight back in from next week to continue scoring three goals all of the time forever.

For the rest of our Blank Gameweek 27 content, visit the links below:
Captain Picks - https://www.thestatszone.com/f...
Fixtures - https://www.thestatszone.com/f...
Projections - https://www.thestatszone.com/f...
Team News & Predicted Line-ups - https://www.thestatszone.com/f...