THE FACTS

When does qualifying begin for the China Grand Prix? Saturday 13th April, 07:00 (UK)
When does the race begin for the China Grand Prix? Sunday 14th April, 07:10 (UK)
What is the expected weather for the weekend? Pleasant temperatures ranging between 21-23c on Saturday with minimal chance of rain. Slightly cooler temperatures expected on Sunday of 17c but even less chance of rain and no cloud.
What channel is the China Grand Prix on in the UK? Both the qualifying and race will be televised live on Sky Sport F1
Where can I stream the China Grand Prix in the UK? Sky Sports subscribers can stream the qualifying and race live on Sky Go
Where can I get tickets for the China Grand Prix? https://tickets.formula1.com/en/3182-china-fom/
Who won the 2018 China Grand Prix on? Daniel Ricciardo (Red Bull)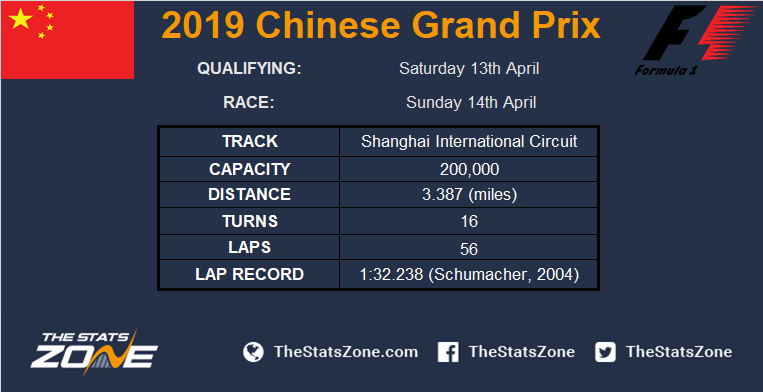 FIVE KEY FACTORS

The 2019 Chinese Grand Prix will be the 1,000th Formula 1 Championship race, so expect something big planned in Shanghai to celebrate the historic milestone.
Sebastian Vettel's spin in Bahrain while battling Lewis Hamilton has been lambasted by the Italian media, who posited that choking under pressure was reminiscent of similar incidents that wrecked his 2018 season. However, Bahrain brought the added shame of being out-paced by his new team-mate. How Vettel will react to the harsh criticism remains to be seen in China.
Ferrari's 21 year-old Charles Leclerc dominated Bahrain before his Ferrari's power ended his dream of taking his maiden Grand Prix win and his victory snatched by Lewis Hamilton. Leclerc will be wanting to put the agony of Bahrain behind him this weekend.
Lewis Hamilton's gifted win in Bahrain was due to Ferrari's reliability problems but you cannot ignore Hamilton's talent for grabbing opportunities. The reigning world champion will be concerned about the Ferrari speed in a straight line in China, but Hamilton's ability to win races against the grain is the sign of a true champion.
Can the return of Patrick Head really rescue Williams? The British team will be hoping Head can use his experience to help understand how they have ended up with such an un-competitive car.
THE PREDICTION
The 1000th Grand Prix looks set to be a close fight between Mercedes and Ferrari. The Shanghai International Circuit is dominated by the pit straight, one of the longest on the F1 calendar, this should play to Ferrari's power advantage in a straight line. However, there are many overtaking opportunities, especially into the never-ending turn one, which Hamilton will exploit.
Sebastian Vettel will be keen to answer his critics and Charles Leclerc will be intending to put the torment of Bahrain behind him with another commanding performance. The youngster could well seal his first F1 victory this weekend. He has the motivation, pace and controlled aggression.