This weekend, Formula One leaves Europe and heads for Singapore and the glamorous Marina Bay circuit.
Singapore is a unique race on the calendar and takes place at night. When the lights come on, the whole event instantly has a really special atmosphere. The Marina Bay circuit is characterised for being a tight and twisting track; a bumpy street circuit, which is the longest race on the calendar, and boasts the highest number of corners (23) in Formula One.
AT A GLANCE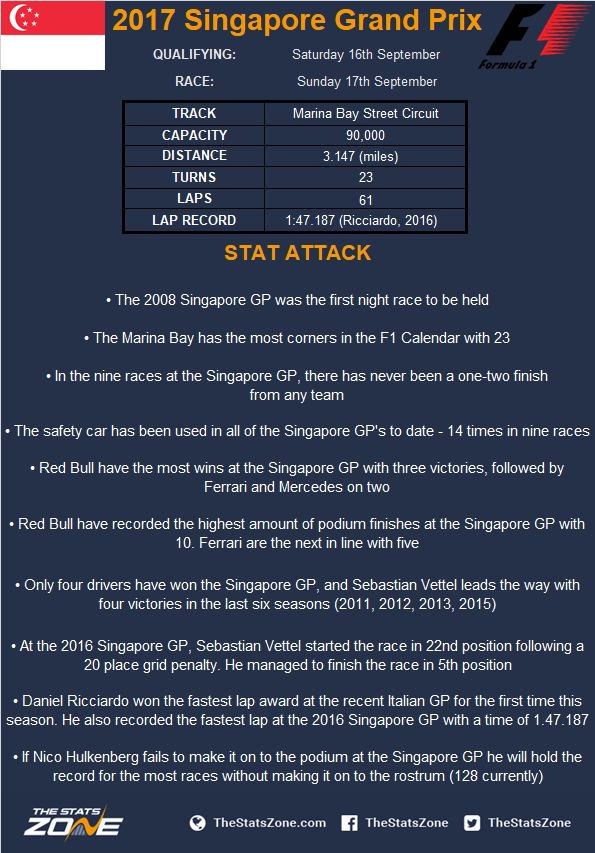 IN FOCUS





OUR SAY
Marina Bay is one of the slowest tracks. Singapore has a tropical climate, where the temperatures within the cockpit can reach a sweltering 60°C. It is a gruelling test for the drivers, where the biggest challenge is coping with the oppressive humidity, making it arguably one of the toughest races in Formula One. Marina Bay is infamous for the controversial Nelson Piquet Jr. incident, where he was ordered to crash on purpose to give his then Renault team-mate, and eventual winner Alonso, a tactical advantage.
Singapore is a destination where the Silver Arrows have traditionally struggled, and they have made little secret of the fact that this is their bogey circuit. Despite winning in 2014 and 2016, the German team have never really extracted their full potential around Marina Bay. So, Mercedes head into this weekend appearing to be in damage limitation mode.
Both Ferrari and Red Bull will therefore fancy their chances this weekend, but after being totally humiliated on home soil in Italy, Ferrari really must win in Singapore; they simply cannot afford to leave Singapore with Vettel not leading the drivers' championship.

On paper, Singapore is actually Ferrari's strongest circuit of the entire calendar. They have particularly excelled on high-downforce circuits like Hungary and Monaco, and the fabled Italian team head to Singapore as favourites and wanting to make amends for such a dismal showing at their home Grand Prix. Given the high-downforce characteristics of Singapore, and after leading Ferrari one-twos at both Monaco and Hungary this year, Vettel will be confident of reclaiming the championship lead at the first attempt this weekend.

Marina Bay is all about high downforce, but mechanical grip also plays a vital role given the number of slow speed corners. A good car balance is needed, giving the drivers confidence to push and attack the maximum width of the track, including right up to the walls. Good traction and strong drive-ability is needed, specifically from rear-aero.
Singapore offers two potential and fascinating scenarios. Firstly, it is a track where Red Bull are expected to do well and challenge for the win. The Red Bulls could conceivably finish between the Ferrari's and Mercedes'. If this happens, Ferrari could use that to its advantage; if they can win and have Ricciardo and/or Verstappen finish ahead of the Silver Arrows and behind them. Secondly, we have seen this season that when the Mercedes package is not suited to a specific track, particularly at tight, slow and twisty circuits like Russia and Monaco, Hamilton has clearly struggled and Bottas has had the edge over him. Hamilton could feasibly find himself racing behind Bottas this weekend under similar circumstances. Under this scenario, it will be interesting to see whether the German team impose orders or continue to be fair to both drivers.

So, as the F1 circus arrives in Singapore, most of the talking points have centred on McLaren's impending bitter divorce from Honda, with the team on the verge of confirming the break and naming a new partnership with Renault, which would see Honda now supplying engines for Toro Rosso from 2018. Whether this move proves enough to satisfy and secure Alonso to stay at McLaren remains to be seen, but indications are that the Spaniard will stay with McLaren, albeit on a significantly reduced salary, now Honda are no longer bankrolling him. Speaking of bitter divorces, Renault, according to sources, have told Red Bull they no longer want to supply them with engines after next season. Red Bull will then be forced to use Honda engines with both of its teams in 2019.

Singapore can be long and processional but given the glamorous setting it is always a real spectacle. With all the bumps and close walls, there is always a high chance of a safety car, which can throw in unexpected curve balls, and make or break a driver's race. One thing for certain is that the drama of the 2017 season is set to continue.

PREDICTION
After being completely humiliated in Monza, Ferrari will want to immediately strike back at their strongest high-downforce circuit. With Mercedes appearing to be on the back foot, this really is a must-win race for Vettel and Ferrari.
Pole position for Ferrari will be critical. Singapore is a slow track, so Ferrari genuinely have a good chance of grabbing pole, but do not rule out the Red Bulls as Singapore is one of their best chances to secure a race win, especially when considering Ricciardo became the surprise winner at the Azerbaijan Grand Prix.

The prediction is for Ferrari and Vettel to win in Singapore, though.