AT A GLANCE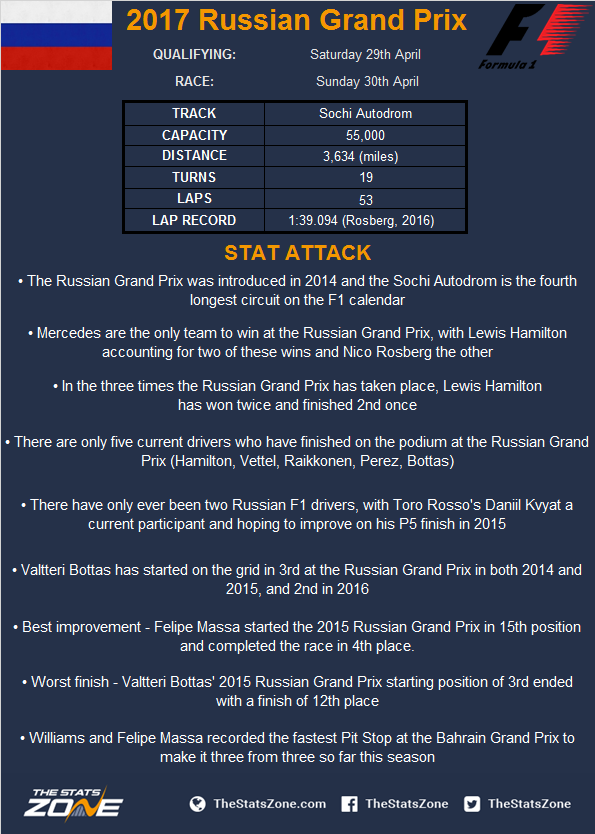 IN FOCUS





OUR SAY
Formula One returns to Europe this weekend and heads to Sochi's Olympic Park for the Russian Grand Prix.

Mercedes have conquered all three of the races held at Sochi, and are the only team to have led every single lap here. After the scorching desert heat of Bahrain, there will be much cooler temperatures this weekend in Russia, which will definitely favour Mercedes. The more durable 2017 Pirelli rubber and Sochi's incredibly smooth track surface being less abrasive on tyres should mean a one-stop strategy - factors which really suit Mercedes, so no one would be surprised to see their Russian winning streak continuing this weekend.

However, this year in Russia, Mercedes might not necessarily have it all their own way.

This year we have the resurgent Ferrari back on form and the competition is a lot tighter. Mercedes' advantage over the rest of the field is much less. Their main weakness this season has been maximising performance from the ultra-soft and super-soft tyre compounds; both of which should be most team's tyre choices this weekend. The narrative of 2017 so far has been the two-horse race between Hamilton and Vettel, and Mercedes will no doubt face stiff competition from Ferrari and Vettel again in Russia.

In all previous Russian Grand Prix's, the racing has been somewhat boring and processional. However, in 2017, the Silver Arrows really do have a fight on their hands if they are going to keep their impressive Sochi showing going. Ferrari's tyre advantage will be much less apparent and with only one-pit stop, their strategic options for an under-cut will be limited, but expect the action to be much closer this time around.

In addition to hopefully a tense battle between Hamilton and Vettel, there are other things to look forward to this weekend. Will Alonso finally finish a race? McLaren had a surprisingly good test in Bahrain, with Vandoorne able to complete 81 laps. Finishing a race distance without any reliability issue would be an important step forward for the Woking-based British team, but although Sochi isn't particularly hard on cars mechanically, it does have high fuel consumption, and the Honda is a very thirsty engine!

In Bahrain, Renault were able to score their first points of the season, with their upgraded engine scoring points on merit. The French team did well in Russia last year and should and could score decent points once more in Sochi. Can Kimi Raikkonen finally managed to step onto the podium in 2017?
PREDICTION
The latest instalment of Mercedes vs Ferrari will see a one-stop strategy, a circuit much kinder on tyres and cooler track temperatures which all suit Mercedes and particularly Hamilton.

The prediction for this weekend is for Hamilton to take both pole and the chequered flag, with Vettel chasing closely from behind and Bottas taking third place on the podium.

It could well be a processional race but much closer and tighter than in previous years.