After a thrilling race in Austin, Texas, at the Circuit of the Americas, Formula One crosses the border into Mexico to the Autodromo Hermanos Rodriguez for the Mexican Grand Prix, where Hamilton is on the brink of becoming a world champion for the fourth time and securing his place amongst the greats. He could also become the fourth driver in the history of the sport to win the title in Mexico this weekend.
AT A GLANCE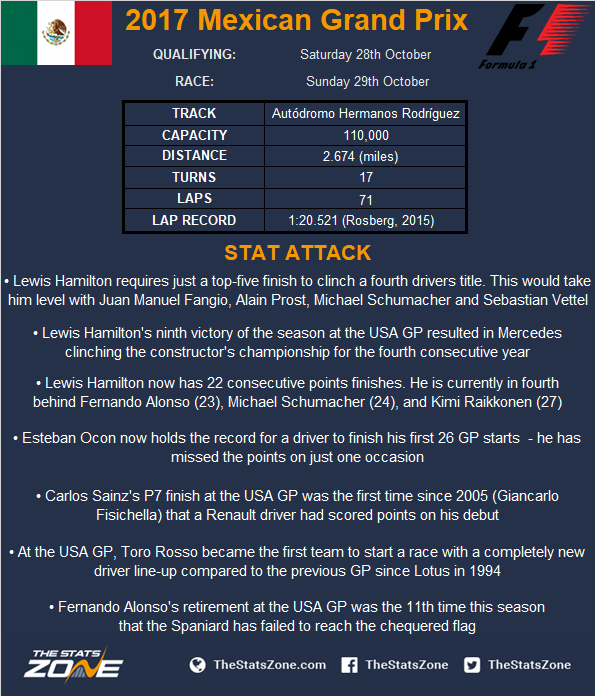 IN FOCUS




OUR SAY
After his controlled win in Austin, Hamilton is now 66 points ahead of nearest rival Vettel in the championship. Unless the British ace suffers a reliability issue, crash or the race is beset by freak weather, then Hamilton should be crowned champion this Sunday.

To stop him, Vettel needs to outscore Hamilton by 17 points or more in Mexico if the German is to keep the title race alive. Mexico is a Ferrari circuit and they are expected to do well. However, even if Vettel wins this weekend, Hamilton could finish as low as fifth and still be champion.

Vettel will have been bitterly disappointed to not have won in Austin, especially after making the better start and passing Hamilton at the first corner. His Ferrari could only hold Hamilton back for six laps, after which Hamilton was able to comfortably cruise to the chequered flag.

The 2017 USA Grand Prix will also be remembered for the furious backlash following Verstappen's five-second penalty for overtaking Raikkonen whilst outside of the track limits. Verstappen had an amazing race, working his way through the pack and made a daring move in the final corners of the last lap. There was a sense of injustice amongst many fans and pundits. The controversy has intensified the call for greater consistency in stewards enforcing track limits. A simple but unlikely solution would be to bring back high kerbs and gravel traps around all the corners and force drivers to keep within the track limits.

Hamilton took his final permitted engine back in August at the Belgian Grand Prix, so will be on high mileage. Nonetheless, the Silver Arrows have the performance advantage and bullet-proof reliability, so Vettel can hope but Hamilton should still take the crown.

PREDICTION
Despite three straight-line sections, two of which are linked by high-speed sweeps, which on paper favour Mercedes, the Mexican Grand Prix is a Ferrari, and arguably, a Red Bull circuit. This is mainly because of the altitude where the circuit is situated, which makes the air thinner and the engines work harder. This altitude creates Monaco-levels of high downforce - track characteristics where Mercedes have typically struggled. Primarily for this reason, the prediction is for a Vettel win this weekend.