Following the spectacular first-lap crash in Singapore that resulted in Raikkonen, Verstappen and championship contender Vettel all retiring, Formula One heads to Sepang for round 15 and the last Malaysian Grand Prix.
The last race in Singapore could be a defining moment in the championship. It was a strong reminder that sport always has the power to surprise and defy all predictions. Vettel was expected to re-take the driver's championship lead at a circuit on which Ferrari had an advantage over Mercedes. Instead, Hamilton left Singapore with his 60th Grand Prix victory, a points lead of 28, and only six races remaining. Mercedes went into the Singapore race thinking about damage limitation but were gifted a miracle when pole-sitter Vettel and team-mate Raikkonen were eliminated at the start after a clash with Red Bull's Verstappen.
Singapore was one of Hamilton's most impressive drives. He drove a superb race to victory, starting fifth after struggling in qualifying, and now firmly clutches a stranglehold on the title. As the Formula One circus heads to the heat and humidity of Malaysia this weekend, Hamilton is now the big favourite to go on to win the 2017 Championship.

AT A GLANCE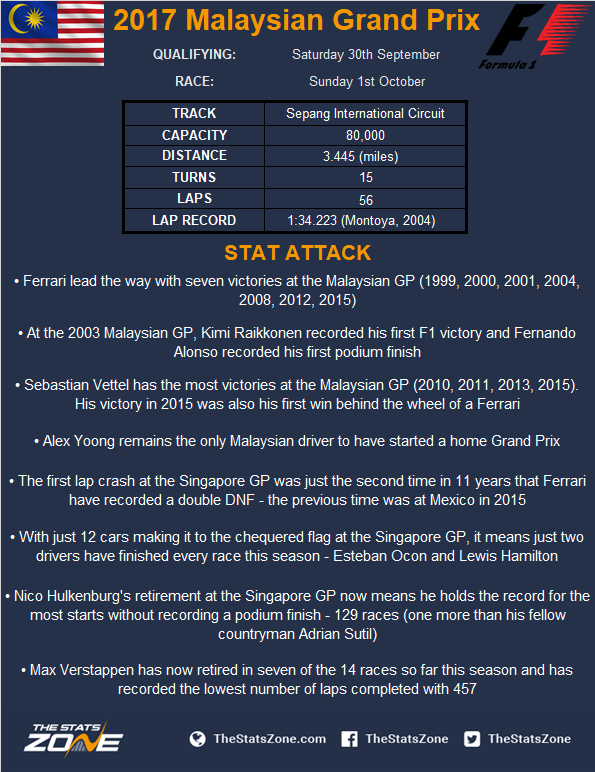 IN FOCUS




OUR SAY
For the remainder of the season, there are no low-speed tracks, like Hungary or Monaco, to worry Hamilton, where Ferrari have consistently scored better. Vettel's deficit to Hamilton is now more than a clear race win. Four weeks ago, Vettel arrived at Spa for the Belgium Grand Prix with a comfortable 14-point lead and was looking on course to deliver Ferrari's first title in 10 years. Since then, there has been a drastic 42-point swing in favour of Hamilton, who has won all of the last three races.

Singapore was an absolute disaster for Ferrari, and Vettel faces a mammoth task now. What we do not yet know is whether it is a decisive blow. Vettel has gone from slight favourite to rank outsider. Just how much the German will come to regret the aggressive defensive move that contributed to the collision that took him out of the Singapore Grand Prix, we may never know.
Many will have their own fervent views on that first corner crash in Singapore. The only thing that can be agreed upon, is that it ruined what should have been a tense and thrilling battle. It also wrecked Alonso's and Raikkonen's race, after both made fantastic starts.

Over the course of his Formula One career, Vettel has demonstrated his great mental strength. How well and how quickly he can recover from his Singapore nightmare will give an insight about his character, but more importantly about his chances of leaving the season finale with a fifth world title. If Vettel is to mount a comeback, he needs to do so immediately in Malaysia - a race he has won four times, with the most recent in 2015 - his first win as a Ferrari driver.
Malaysia is a track which has not been a happy hunting ground for Hamilton, though, as he has only won once here in 10 attempts. The Malaysian Grand Prix was also the venue which effectively lost Hamilton the 2016 title to Rosberg. Hamilton had a nightmare at Sepang last year when he suffered an engine failure while leading the race from pole position. The 25 points that slipped through his fingers ultimately proved crucial at the end of the season, when he lost the championship by five points. He will therefore be hoping for better luck this weekend.
The Malaysian Grand Prix has been a permanent fixture in Formula One since 1999, and will, sadly, host its last race before leaving the calendar this weekend. The current contract at the Sepang circuit had been due to expire after next year's race but the Malaysian government and Formula One said in April that this year's edition would be the last.
The race itself is a real physical test for Formula One drivers. The Sepang International Circuit is a 5.543 km track, with ambient temperatures averaging more than 30°C and humidity typically around 70-80%. It is a punishing race. In Sepang, cockpit temperatures frequently hit numbers approaching 50°C and drivers also must combat extreme G-forces on their bodies - Sepang is a serious test of physical fitness. A driver's heart-rate can reach as high as 170 bpm, burning up to 1,500 calories and losing around three litres of body fluid in sweat, so hydration will be crucial. You will see this weekend many of the drivers wearing special cooling vests to battle the scorching heat.
Given their partnership with Malaysian oil giant, PETRONAS, Mercedes will want to do well this weekend. Sepang is characterised with its sweeping corners and long straights, and the Silver Arrows should be well-suited to this track. Set-up is always a compromise in Malaysia; drivers need a good car in the middle sector, but they also cannot afford to lose too much time on the long straights.
The biggest unknown is the weather. The latest weather forecast (27/09/17) indicates a high possibility of rain during each day of the Malaysian Grand Prix weekend, which means that after the Singapore Grand Prix we may very well see another race in wet conditions.
The things to look out for this weekend include; Ferrari's resolve to pull out an unlikely result to bounce back from its Singapore nightmare. Pierre Gasly is poised to make his Formula 1 debut for Toro Rosso, with multiple sources indicating that the Italian team has decided to 'rest' Kvyat. Finally, will Alonso re-sign for McLaren on a one-year deal now it has Renault engines for 2018? With Alonso frequently saying from the beginning of the season he wanted to have his 2018 plans sorted by September, he will need to make an announcement before race day in Malaysia.

PREDICTION
Title rivals Mercedes and Ferrari have chosen different tyre strategies for the Malaysian Grand Prix. Sepang has many characteristics similar to Spa where Ferrari and Mercedes were evenly matched, but ultimately Mercedes still had the power advantage. It is expected to be a similar race in Malaysia.
The prediction is for Hamilton to take pole and the win in a closely fought battle with Vettel, but don't be surprised if Ferrari do bounce back. Weather could really mix things up this weekend.