The Malaysian Grand Prix, with its wide track and sweeping layout along with unpredictable weather has produced many surprises over the last 18 years, and (sadly for the last time) Sepang provided the backdrop for yet another action-packed race.
There were so many talking points. Malaysia was a spectacular own goal for Ferrari, and incredibly the second in two weeks. In both Singapore and Malaysia, Ferrari had the car to win and the potential to finish at both circuits with a Ferrari 1-2. Had Vettel and Ferrari won the last two grand prix's, then the championship battle would have been completely turned around. Instead, Hamilton's quest for a fourth world championship title took another step closer with his second place in Sepang, extending his lead over arch rival, Vettel, to 34 points.
Ferrari have only themselves to blame for gifting Mercedes two miracle races. The two hugely costly power unit failures in Malaysia destroyed Ferrari's race. Starting from the back, Vettel recovered to fourth, and with Hamilton finishing only second, the German limited the damage to his title aspirations with a brilliant recovery, keeping him in the title hunt. The pace that Vettel showed throughout the race would have easily had him in the mix for the win, had he started at the front.

AT A GLANCE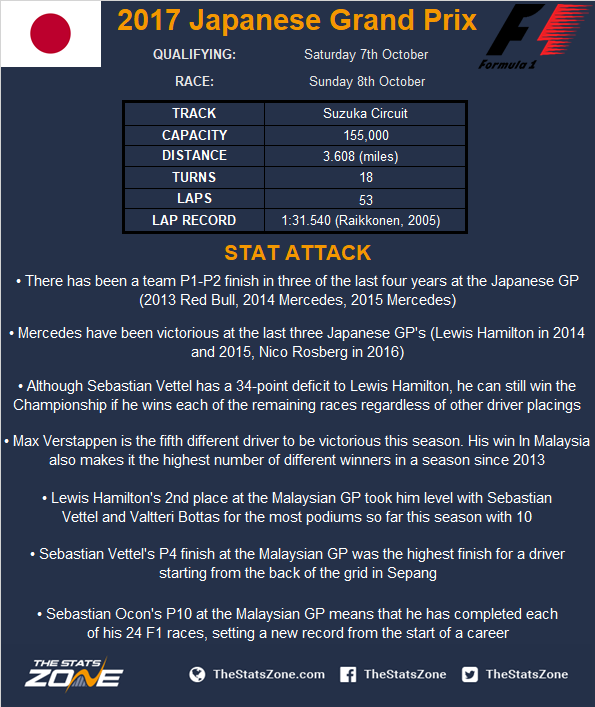 IN FOCUS





OUR SAY
With five races to go, Vettel still has a chance to steal the title, as he has done before – he simply has to win every single race! Regardless of Ferrari's reliability issues, the Italian team have the race pace at the moment, so perhaps winning the remaining events is within the realms of possibilities. Undeniably, Hamilton and Mercedes will have something to say about it. Hopefully, Ferrari will sort their issues out, as all Formula One fans want a straight fight to the final showdown.

Vettel's fight back gives Ferrari hope that all is not yet lost. Despite the strong recovery drive from Vettel, his bizarre slow-down lap collision with Williams driver, Stroll, was peculiar and most unusual. Ferrari and Vettel fans will hope there is no damage or five-place grid penalty for a new gearbox in Suzuka. At the time of writing (4th October), Vettel's gearbox appears fine for Suzuka, but it has to do three practice sessions, qualifying and a full race distance. There will be some nerves on the Ferrari pitwall this weekend.
Singapore and Malaysia arguably gave a false impression over Mercedes' dominance, as Hamilton is fearful of Ferrari's pace. Even starting from pole in Malaysia, Mercedes struggled in the race; Bottas was quickly overtaken by Ricciardo in the Red Bull, and eventually by Vettel, and Hamilton looked powerless to stop a stampeding Verstappen coming through and quickly disappearing. The worrying thing for all Hamilton and Mercedes fans, is that the 'diva-like' issues of the 2017 Mercedes car, which have beset the Silver Arrows all season, offer no obvious quick fix. Mercedes left Sepang scratching their heads as to why they could not extract the performance from their cars. There will be no straightforward solution for Japan and the upgrades Mercedes brought to Malaysia appeared to make the situation worse. Tyre temperatures seem to be their main problem.
From the championship perspective, with a strong Ferrari, it is still possible Raikkonen can take points away from Hamilton, and with Bottas struggling during the recent races, he is looking less likely to take points off Vettel. If Mercedes are struggling for race pace, then the title race could still be blown wide open. There is the tantalising prospect that Mercedes could now be battling both Ferrari and a resurgent Red Bull for the remainder of the season – everything is definitely still to play for.
Speaking of Red Bull, Verstappen finally had a good weekend in Sepang. With Raikkonen's power unit failure, the 20 year-old Dutchman was effectively gifted second place on the grid, and Verstappen took full advantage of it. He quickly and easily overhauled Hamilton and simply cruised off into the distance and dominated proceedings. It was a controlled and mature performance from the young Red Bull driver and a fully deserving victory.
Ferrari and Vettel head to Suzuka as favourites, despite Mercedes having won the last three races in Japan. Suzuka presents a different challenge from Malaysia, with more high-speed corners and high levels of tyre wear and degradation to be expected. Suzuka is characterised by the unusual figure-of-eight layout; it is a high downforce circuit with a mix of corners with sweeping changes of direction. The venue is owned by Honda and has a coastal location, so weather conditions can change quickly.
After a nightmare couple of races, Vettel desperately needs to turn his championship fight around in Japan. Five years ago at Suzuka, Vettel headed into that race 29 points adrift of then championship leader Alonso. After Alonso went out on the first lap, Vettel took a massive 25-point bite out of his lead. Vettel knows he faces an even harder challenge this time. Suzuka is one of Vettel's favourite circuits and critically, it has not been the best of venues for Hamilton in the past. Given the unpredictability of the 2017 season, there may be yet another championship defining moment and twist in Japan.

PREDICTION
Vettel knows victory was possible at Sepang had he not suffered a turbo problem in qualifying. The Ferrari car had the pace over one lap - Raikkonen missed out on pole position by only 0.045s – so assuming no further reliability issues or penalties, the German is favourite for the win in Japan.
The Ferrari currently has the pace momentum and the set-up to better manage the tyres and crucially maintain the performance from the Pirelli rubber. Tyre degradation will be a factor this weekend, and issues may again hinder Mercedes. For these reasons, the prediction is for Vettel to take the chequered flag on Sunday.