Formula One moves from Spa to iconic Monza and the 'Temple of Speed' for the Italian Grand Prix. Monza is regarded by many as the embodiment of Formula One – a track that combines speed with skill, and encapsulates the heart and soul of motor racing.
It is a circuit that rewards skill and bravery and punishes hesitation. Monza is a very special race, steeped in so much history; a track which has witnessed historic moments, legendary victories and horrifying crashes. Nowhere else on the calendar will you find a circuit with as much devotion to a single team: Ferrari - where the passion for the prancing horse evokes high emotion.
It is one of the most magical places that Formula One travels to. The Italians call it 'La Pista Magica', the magic track, a description few would dispute.

AT A GLANCE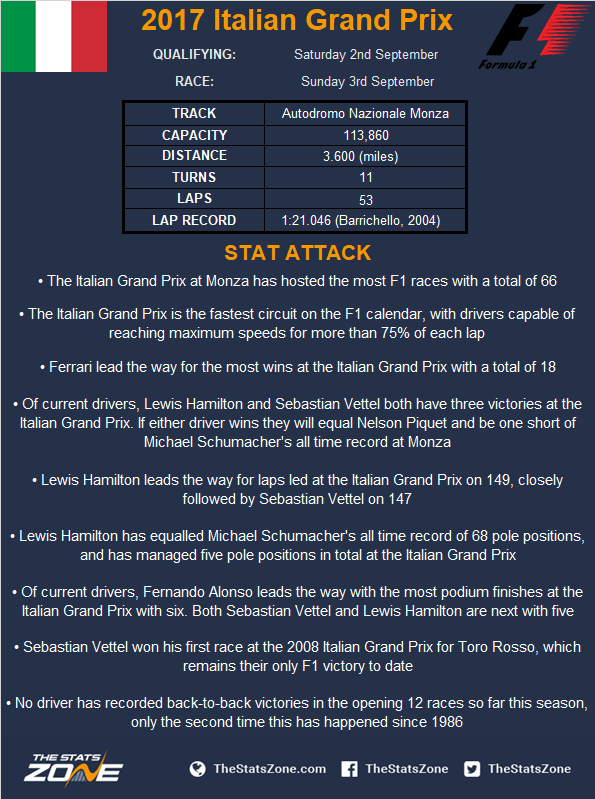 IN FOCUS





OUR SAY
Monza is characterised by long straights and tricky chicanes and is set within a splendid royal park. Monza really is high-speed, with the drivers spending the majority of time with their foot firmly planted on the pedal. Low downforce and straight-line speed are essential but equally having a car that accelerates out of the corners and is comfortable mounting and riding the kerbs at the chicanes.
Monza has numerous heavy braking zones and having a car stable under braking is important for overall lap-time. The combination of Monza's fast corners, long straights and immense braking areas will provide ample overtaking opportunities. It is a short race where the European leg of the season comes to end. Strategy-wise, Monza is very low on tyre-wear and should be a very straightforward one-stopper.

Of course, the Italian Grand Prix will be the one race more than any other that Ferrari will be firmly determined to win. The weight of expectation upon Vettel and Raikkonen to deliver this weekend will be massive. Not since 2010, when Alonso won at Monza, have the adoring Tifosi had reason to celebrate. Ferrari will be encouraged by their high-speed race performance in Spa and Vettel's fastest lap. Despite finishing behind Hamilton, Vettel was all over the back of the British driver's Mercedes. Had overtaking been easier, it is arguable Vettel would have got past.
As things stand, Vettel returns from the Belgian Grand Prix with his lead cut in half to just seven-points. Can Mercedes cause an upset at Ferrari's home race? With the higher downforce and wider 2017 cars, it has proven difficult to overtake throughout this season. To win in Monza, Ferrari must out-qualify Mercedes on Saturday. So far, Mercedes have grabbed eight pole positions to Ferrari's three. Can Ferrari begin to show greater pace in qualifying on Italian home soil?
Going into this weekend, Vettel is sounding confident, boldly stating that Ferrari have 'no circuit to fear' for the remainder of the season. The main question will be whether the Ferrari can actually beat the raw power and engine grunt of the Mercedes at Monza. Where Ferrari may have an advantage is through the slow speed corners which intersperse with the long-straights.

Hamilton's win in Belgium could attest to be one of his most pivotal and hard-fought to date. Spa demonstrated the British driver's statement of intent for the remainder of the season – a tantalising prospect for all the fans. Monza will undoubtedly be another titanic battle between Hamilton and Vettel - A battle royale around an Italian royal park.
Some other talking points from Spa centred on an evidently frustrated Verstappen, losing faith in Red Bull with yet another reliability issue and his sixth retirement of the season – second only to the increasingly exasperated Alonso.
Speaking of Alonso, has he finally given up? He retired for the eighth time this year, radioing a problem with his McLaren. Sadly, this predicament is not unusual, yet Honda reportedly found no issues with his power unit. With Alonso set to announce the decision on his future in the next few weeks, and rumoured Honda/McLaren divorce talks happening during the Monza weekend, Alonso has made clear that it is him or Honda for McLaren. Yet such a bitter parting of engine supplier is not so simple. Will Renault supply McLaren with an engine for 2018 if Honda switches to Toro Rosso? This seems the only way that the Spaniard will remain with the Woking team. Alonso claims he has several drive options for 2018, but with the door firmly closed at Ferrari and looking equally shut at Mercedes and Red Bull, rumours suggest Williams may be Alonso's only viable option. However, after Williams' poor showing at Spa, will Alonso really want to jump there, even with a Mercedes engine? Either that or a year sabbatical to Indy-racing and see what 2019 Formula One drive options are available.
PREDICTION
Ferrari will be doing their utmost this weekend to win the Italian Grand Prix but will their recent gains at high-speed Spa be enough to counter the Mercedes power and qualifying advantage? Most commentators' hearts will say Ferrari but heads will still favour the Silver Arrows.
The expected one-stopper provides less strategic ways to undercut and tyre wear is low. Reliability will be key, especially on the engine and brakes. The prediction is that the trend of 2017 continues where no driver has won back-to-back races, and with it being the Italian Grand Prix, the prediction has to be for Vettel and Ferrari in Italy.