Ahead of the summer break and as we cross the half-way point of the season, Formula One heads to the mountains of Central Europe to the Hungaroring for the Hungarian Grand Prix.

After the thrilling events of Silverstone, Ferrari were left deflated, whereas Mercedes' confidence was further boosted. By winning the British Grand Prix in such supreme and dominant fashion, Hamilton is now just one point away from Vettel in the drivers' standings. In contrast, Vettel had a disastrous British Grand Prix, suffering a late puncture in the dying moments of the race, which cost him his twenty-point lead.
After Silverstone, Mercedes are also pulling ahead in the Constructors' Championship, 55-points clear of Ferrari, with Mercedes reclaiming their reputation as the 'team to beat'.
AT A GLANCE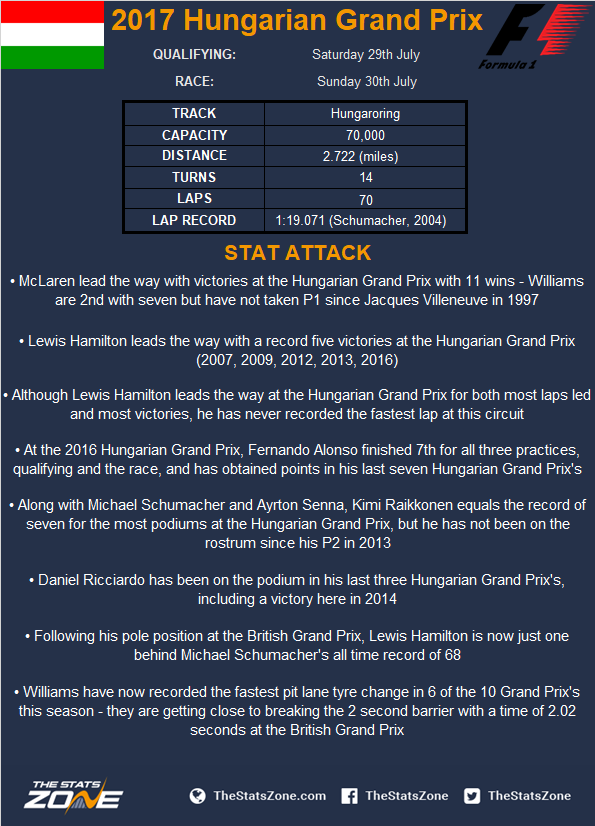 IN FOCUS





OUR SAY
Both Hamilton and Vettel head into this weekend fighting for the championship lead and the result of the Hungarian Grand Prix could set the tone for the second part of the season. With 250 points still to be won in the Drivers' Championship, it's still all to play for.
From Hamilton's perspective, if all goes to plan in Hungary, he will equal the great Michael Schumacher's 68 pole positions, claim his 58th career win and his sixth win at the Hungaroring circuit. If he wins, and assuming Vettel finishes second, then Hamilton will head into the four-week summer break with a least a six-point advantage over Vettel, and build added momentum for the final part of the season.

Ferrari's Vettel, who has led or jointly matched the championship standings all season, needs a big result this weekend. Hungary presents an opportunity to rebuild his points advantage at a circuit in 2015 he won after Hamilton started on pole.
The circuit itself has a reputation for producing some dull and processional races, as overtaking is incredibly difficult, and the track is a real physical challenge for the drivers. Yet, throughout its 30-year history as a Formula One destination, the Hungaroring has produced some magical and memorable races. It is a 70-lap race with 14 corners and is hard on the tyres, with a configuration producing high degradation.
It is a drivers' circuit, requiring big commitment. It's tricky and complex, with many tight and twisty turns, with a short pit straight. There are lots of heavy braking zones, but in contrast to Silverstone, it is not a power circuit. Look out for Haas and Renault - teams who may struggle with heavy brake wear.
The weather this weekend is expected to be cloudy, but a very hot and dry race is in the offing, which could be critical for the tyres. More heat means more tyre degradation and more blistering, which will influence strategy. Looking at the tyre compounds for this weekend, Pirelli are bringing the super-softs, softs and mediums. Teams will be using the super-softs for the majority of the sessions. In the race, expect most to be running a two-stop strategy, but if the weather is too hot and tyre blistering becomes a problem, some teams may opt to go long and one-stop on a set of the mediums.
The main talking point heading into the Hungarian Grand Prix centres on Robert Kubica, who returns from life-changing injuries he suffered after a horrific crash in 2011. Kubica will be doing a two-day test and it's the first time he has been in a 2017 Formula One car. His challenge will be not having full mobility in one hand and how he will fair with the complexities of the latest generation of Formula One
If Kubica does well, he could be driving the Renault in 2017 and Palmer could be out. Palmer has had some terrible luck, but after a poor season in 2016 and more of the same in 2017, he desperately needs a good result in Hungary. He is getting a new floor this weekend, but if Kubica does well in his test, then sadly Palmer's days in Formula One look numbered.
Look out for Bottas this weekend, in what for Finnish drivers is their nearest home Grand Prix, with many native fans travelling to support both Bottas and Raikkonen. Bottas has shown impressive form, with a worthy second place in Baku, a controlled and dominant win in Austria and a strong second place display at Silverstone. The Finn is very much in contention for the championship and definitely one to watch this weekend.
Finally, look out for more drivers voicing their concern and discontent at the new Halo protective device, which the FIA have officially announced will be fitted to cars next year.

PREDICTION
Mercedes' advantage in Hungary will be the balance of the car and its ability to change direction smoothly. Our prediction for the Hungarian Grand Prix is therefore for Hamilton to equal the illustrious Michael Schumacher and take his 68th pole position, and then on race-day, take his sixth victory and take the championship lead, with Vettel finishing second and Ricciardo or Bottas finishing on the final podium step.
However, Hungary for Ferrari is a crucial race, and they must regain the momentum. It is a circuit which has a smooth flow and requires consistency in performance and good tyre management, which may suit the Ferrari package.