AT A GLANCE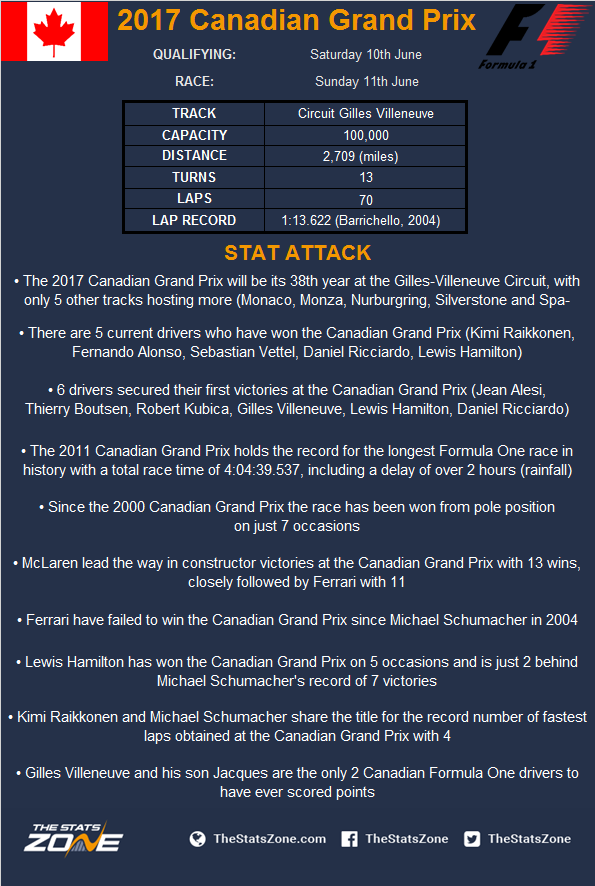 IN FOCUS





OUR SAY
Formula One travels to Montreal for the Canadian Grand Prix. Ferrari will be wanting to extend their lead in both championships and Mercedes will be hoping they have solved their tyre issues, as Hamilton and Vettel battle head-to-head this weekend.
Set at the Circuit Gilles Villeneuve since 1978, the Canadian Grand Prix has been on the racing calendar since 1967, making this year's race the event's fiftieth anniversary. The circuit is part public road and purpose-built race track, mixing long straights with several low-speed and low-grip corners. The race normally produces a chaotic and thrilling spectacle, and is all about straight-line speed and power. It's a fast race through a tight track with close-in perimeter walls and high kerbs. Cars can reach speeds in excess of 300kph and overtaking is definitely possible. The Canadian Grand Prix is famous for its final corner - the 'Wall of Champions' - after a number of former world champions abruptly collided with the concrete wall that encompasses the last section.
Having a strong Ferrari and Vettel has certainly ignited the 2017 championship. After a dominant one-two display in Monaco, Ferrari have regained the lead in the constructors' championship and Vettel has a comfortable 25-point lead in the drivers' standings. In Monaco, Mercedes, and particularly, Hamilton, struggled with the softer tyres, leaving the Brit way down in seventh place. The main talking point in Monaco was Ferrari's pit strategy, and the decision to pit Raikkonen early, which appeared to cost the Finn victory. During the stop, Vettel was able to put in some quick laps in clear air to snatch the victory from his team-mate. It will be interesting to see how Raikkonen responds in Canada.
The other conclusion following Monaco is that Ferrari have a car capable of winning everywhere, in all types of circuits, temperatures and across all tyre compounds. Vettel has finished in the top two all season and has been consistent. He can now afford one DNF (Did Not Finish), and even if Hamilton wins the next few races, it will take time for him to close the gap to Vettel.
However, Ferrari have not won in Canada since 2004, and Hamilton will be targeting his sixth win here, but to do so, Mercedes urgently need to fix their tyre issues – particularly on the ultra-softs. Canada has always been a happy hunting ground for Hamilton and Mercedes do need a good showing here this weekend. Mercedes still have a tiny edge in qualifying but in race trim there is little difference between Ferrari and Mercedes' power. Montreal is known for its big braking zones, and for rewarding drivers who brake hard and late for the tight chicanes and can get on the power early. No one brakes later than Hamilton, and although he will be disadvantaged by the ultra-soft tyres, his driving style could make the difference.
In Canada, we also welcome back Fernando Alonso to Formula One, who returns to the day job after his tilt at the Indianapolis 500.
For the first time in 11 years, we have a Canadian racer in Williams driver Lance Stroll for local spectators to cheer on.

PREDICTION
This weekend will be another close battle between the two leading protagonists in the 2017 championship. Pirelli are bringing the softer tyre compounds again, which must advantage Ferrari. The prediction is for a close race but Vettel emerging victorious. If Ferrari do win this weekend they will surpass McLaren for Canadian victories on 14. Just don't discount Hamilton - he loves racing in Canada, and certainly don't believe Toto Wolff that Mercedes are "underdogs".