AT A GLANCE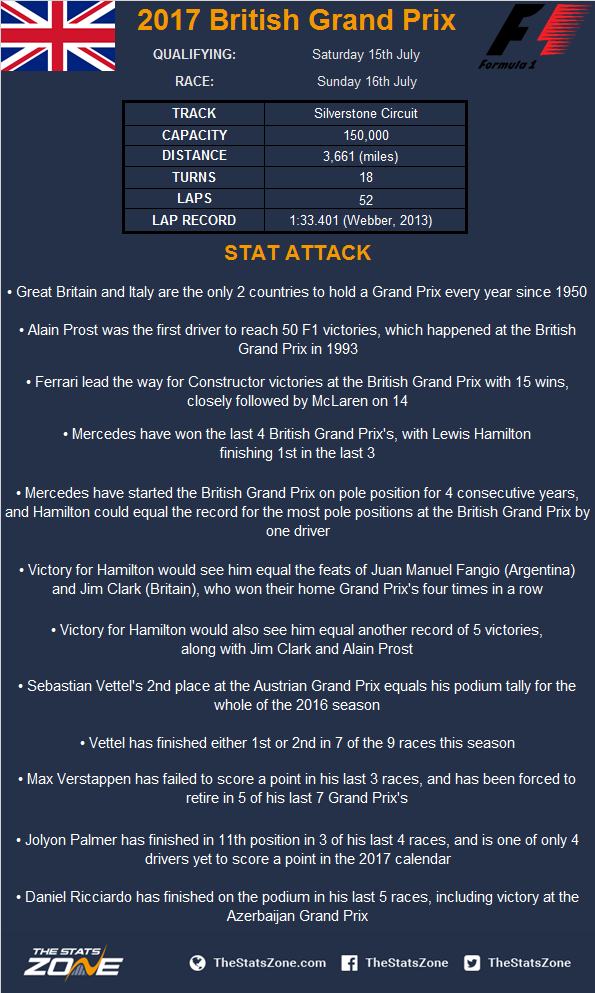 IN FOCUS





OUR SAY
A highly controversial race in Azerbaijan was sadly followed by a forgettable outing to Austria. However, the tantalising prospect that did emerge last week is an enticing three-horse race for the title. Following Bottas' controlled victory at the Red Bull Ring, the championship battle is even tighter. Formula One's latest flying Finn is definitely now a contender; a nightmare scenario for Hamilton, who now fights a war on two-fronts between his team-mate and his chief rival at Ferrari. Had Bottas not had a DNF in Spain, he could now be tied with Hamilton on points. Paradoxically, adding Bottas into the mix could actually help Vettel clinch the 2017 crown.

As we reach the half-way point in the season, Formula One arrives at Silverstone for the British Grand Prix, and hopes are high that the Northamptonshire circuit, famed for its fearsome high-speed corners, produces another classic race. Yet, heading into the British Grand Prix, a dark shadow has been cast over the future of the British race, and indeed Silverstone as a venue. The circuit owners - the British Racing Drivers' Club - have triggered a break-clause in their contract, meaning the 2019 race could be its last. Most commentators believe this is an attempt to negotiate a better deal with Liberty Media, but with the possibility of a London Grand Prix literally being staged this week, fans can rest assured there will always be a British Grand Prix. The question centres on whether it will remain at the fabled Silverstone circuit.
Hamilton will be seeking a fourth consecutive win in front of his home crowd this weekend, but has angered many fans by snubbing a special British Grand Prix preview event in central London, choosing instead to holiday in Greece. He clearly left Austria looking frustrated and despondent, with the last two races having been difficult for the British hero. A headrest issue in Baku and a gearbox penalty in Austria have been both unfortunate and costly, and combined with his obvious frustration regarding Vettel's lack of further penalty for that contentious hit in Baku, Hamilton has appeared a forlorn man in the paddock.
Despite recent races where the Silver Arrows have clearly had the faster car, Vettel has actually extended his championship lead to 20 points, and is looking masterfully in control of the Drivers' Standings. Once again, Mercedes will be favourites this weekend, but Silverstone will be much better hunting ground for Ferrari than Baku and the Red Bull Ring. Expect another tight battle between the two top teams this weekend.
Silverstone is a special circuit and has a special place in the heart of Formula One, as it hosted the first World Championship race back in 1950. Silverstone is high-speed and high-grip, fast and sweeping, and normally produces close and competitive racing. However, it is a long lap and has high tyre wear. Around some of the most iconic corners in the history of the sport, coupled with being one of the fastest tracks on the calendar, Silverstone should showcase how thrilling the new era of high-downforce cars are. Turns 1 and 2 run straight through Abbey and the sequence through Maggots, Becketts and into Chapel is mind-boggling. The DRS surge down the Wellington straight into Brooklands produces overtaking opportunities, as does the quick switch of the long Luffield curve.
The talking points heading into the British Grand Prix focus on whether Bottas can continue to gatecrash the title race. Vettel will be eager to win again since his last victory in Monaco six weeks ago, and with the Ferrari being kinder on tyres, he might just have a chance. Following Baku, what kind of reception will the British crowd give Vettel? Can 'laggard' Raikkonen regain some form?
Red Bull will be boosted by a strong showing in Austria, with Ricciardo finishing just six seconds behind race-winner Bottas and grabbing a fifth successive podium. However, Max Verstappen will be hoping for much needed reliability.
PREDICTION
In recent years, Hamilton has frequently responded well to setbacks, and he has certainly always performed well at Silverstone. This is a power circuit, making Mercedes clear favourites, and their engine mapping boost should help secure pole and take the victory. The prediction is that Hamilton takes the win, but after such a superb and controlled race in Austria - and that super-human start - watch out for Bottas spoiling the party once more.