Lewis Hamilton is now a four-time world champion and the only British driver to have achieved such an accolade. He has now equalled Vettel in the number of championships and has secured his place amongst the legends of the sport. Hamilton has done so with two different teams, McLaren and Mercedes, whereas Vettel's titles were all with Red Bull.

AT A GLANCE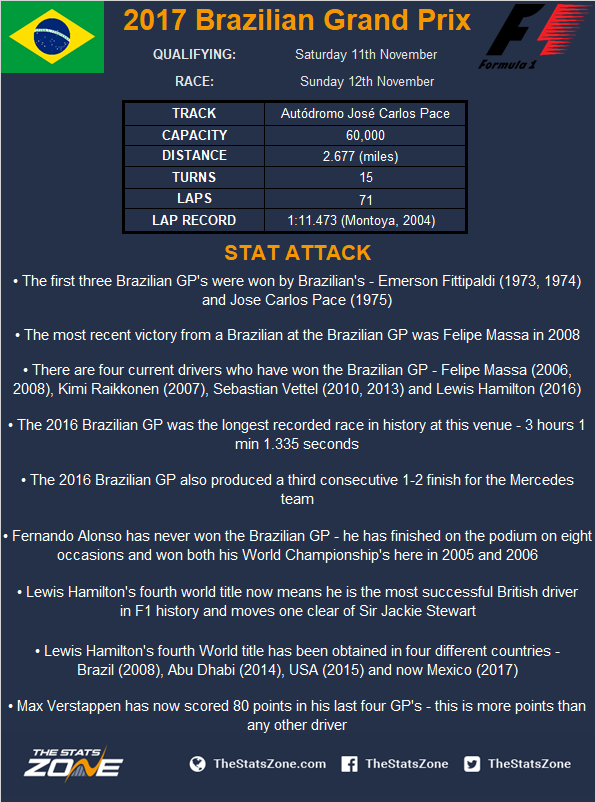 IN FOCUS





OUR SAY
Vettel was an early contender in the first part of the season. Since the summer break, however, and specifically the Asian-leg of the season, the top spot slipped further and further from the German's reach and eventually became unattainable in Mexico.

Hamilton was the worthy of the two title contenders. He was peerless in qualifying for most of the season, dominant in many of the races, and capitalised when Ferrari's title charge derailed in Singapore, Malaysia and Japan. At the start of the season it was Hamilton chasing Vettel but the combination of Mercedes' reliability and the special talent of Hamilton proved decisive.
The title may have been decided but there are still some interesting battles to be settled in the remaining two races and still plenty of pride to play for. Second place in the drivers' standing is very much up for grabs. Vettel leads Bottas by only 15 points, and this weekend is a real opportunity for Bottas to prove that he is not just a backup driver at Mercedes for Hamilton. Bottas' performances this season have been too inconsistent and securing second in the championship is a good way to finish his first year at Mercedes.
After losing the championship in such disastrous fashion, Vettel has nothing to lose now and now that the shackles of a title fight have been removed, Vettel will be all out to win the next two races. Expect a determined showing from Vettel in Brazil.
Recent poor performances and retirements from Red Bull's Ricciardo in Austin and Mexico have allowed Ferrari's Raikkonen to close to within 14 points of the Aussie driver. Now that Raikkonen is no longer supporting Vettel in the championship battle, the Finn will be fighting for pride and beating Ricciardo in Brazil will be his focus.
Ferrari have made a big leap this season and the gap to the Silver Arrows is now much closer, especially in race pace. Equally, a late-season development rush from Red Bull has seen them challenge closely at the front-end and take impressive wins such as Mexico last time out. This bodes well for next season and closer competition and tighter racing.
So, what to expect in Brazil now the title is over? Mixed weather is forecast this weekend and at Interlagos the weather can be very unpredictable. The track can be very dangerous when it rains. Felipe Massa will say farewell to his home crowd for a second time this year. Whether he will receive quite the emotional farewell he did last year remains to be seen. Look out for many teams using the last two races of the season to test new ideas and parts for 2018 now that both titles have been decided, especially from the top three teams.

PREDICTION
Verstappen wants to dominate Formula One and having won so convincingly in Mexico he will be motivated for more of the same. The Red Bull is now much better in a straight line and the power unit of the Renault has made improvements in terms of pace although maybe not reliability. The prediction is for Verstappen to take another win in a close battle with Vettel's Ferrari, but never rule out Hamilton.