AT A GLANCE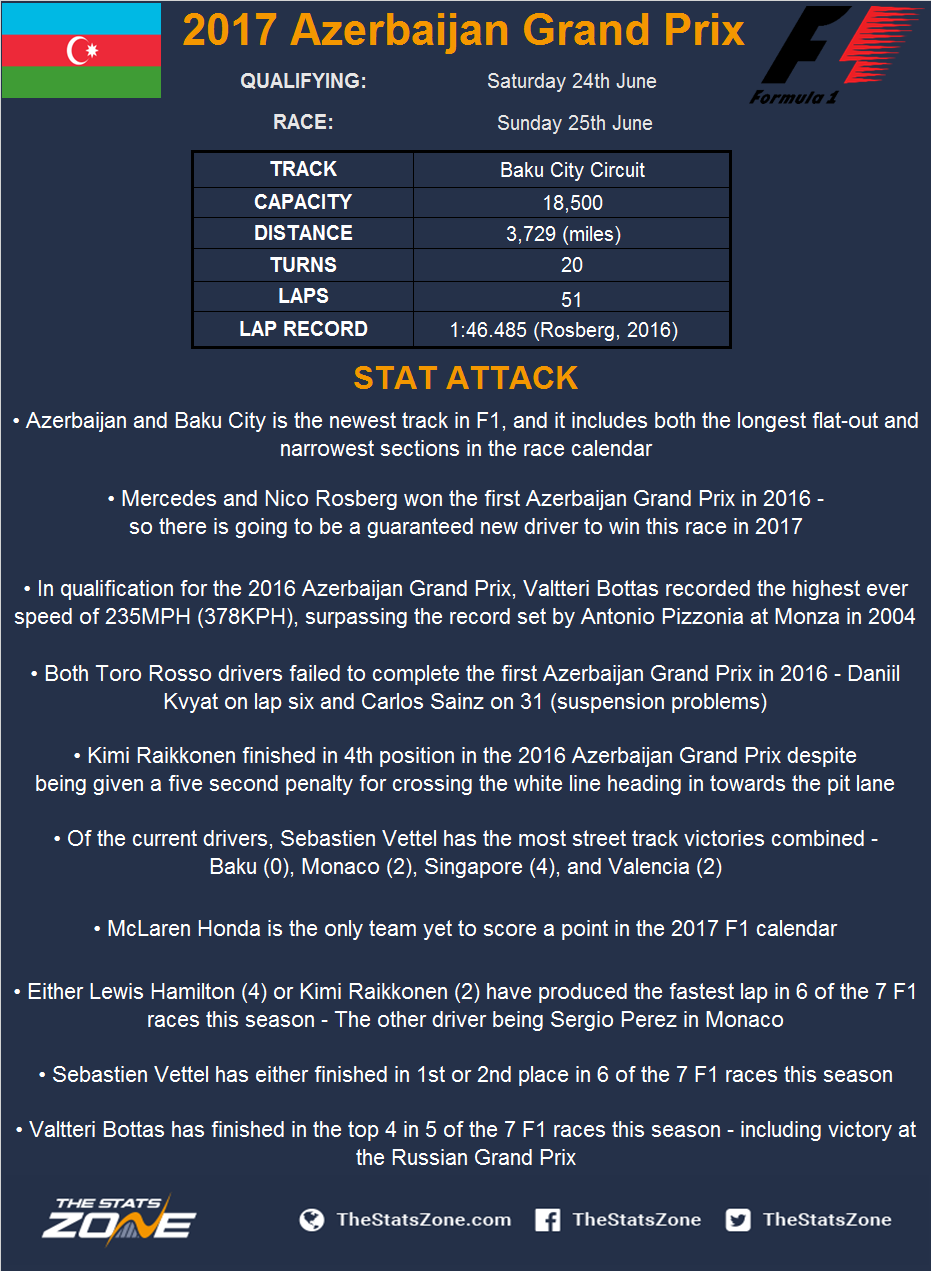 IN FOCUS




OUR SAY
After the excitement of Canada, Formula One heads to Baku for round eight and the Azerbaijan Grand Prix. Baku heralds the return to an all-out power circuit, where engine muscle will determine how successful teams will be. The pendulum has swung back to Mercedes after their dominant one-two display in Montreal, and they will be heading to Azerbaijan beaming with confidence. Can main rivals Ferrari regain momentum or have the Silver Arrows finally managed to tame their 'diva' car, and from here, grasp a stronghold on both championships?
Having won in Canada, Hamilton has cut Vettel's lead at the top of the drivers' championship to 12-points. Of all the circuits on the 2017 calendar, Azerbaijan is the only current Grand Prix which Hamilton has not won, and after his disastrous qualifying and race in Baku last year, the Brit will be more determined than ever for a good performance this weekend.
Although only finishing fourth in Canada, Vettel experienced an action-packed and eventful race. It was a champion-like drive, fighting back from eighteenth place after having to change his front wing early in the race. The Ferrari pace was impressive, and a podium-finish was thwarted only by the remarkable Force India duo's showing. However, after Vettel's early damage, you cannot help feeling we were denied the titanic battle from the two leading protagonists in Canada.
Anticipation is high that this weekend we will see this colossal encounter resume. Baku has similar characteristics to Russia and Monaco - tracks where Hamilton clearly struggled. Ferrari did well in Baku last year, with Vettel finishing second and Raikkonen fourth. This year, the Ferrari is a resurgent and much improved beast, so the Tifosi will be hopeful.
Baku is the fastest street circuit on the calendar; a combination of old meets oil-rich new. It is also reminiscent of two other circuits, as it has the tight and tricky street sections of Monaco, combined with the flat-out, power blasts of Monza. 49% of the circuit is full throttle, and although not hard on tyres, it is a real test of brakes.
Baku is a unique track, with a configuration which resembles a key. If drivers are to unlock the full potential of the circuit, then they must get a clean exit out of turn 16 - a 90-degree turn, followed by a series of little twists into the long start/finish straight, where cars fly past the main grandstand at an astonishing 235mph. Most of the overtaking should happen in the speed-blast straights between turns 2 and 3. Then we have the narrow passage through turns 8,9 and 10, where cars snake through the Maiden Tower, which is only 7.6 metres wide. Drivers have little room for error in this follow-the-leader section of the circuit, and with the cars and tyres wider in 2017, this narrow passage will be fascinating.
Other talking points heading into this weekend are whether Palmer can save and kick-start his season. The British driver has yet to score any points and has only managed to break Q1 twice, whilst team-mate Hulkenburg has amassed 18 points and constantly outperformed him all season.
Can McLaren finally finish in the points after Alonso was so bitterly denied in the closing laps of Canada by his Honda engine yet again? A third consecutive podium for Ricciardo indicates Red Bull are gradually improving, but with Baku being all about power, and their Renault supplied engine down on grunt, can their recent good showings continue in Azerbaijan?
Are Sauber in crisis, after CEO, Monisha Kaltenborn, parted company with the Swiss team with immediate effect ahead of the Azerbaijan Grand Prix? Finally, will the records for tops speeds by F1 cars be beaten once more? Look out for some mind-blowing pace.

PREDICTION
Baku was not kind to Hamilton last year, but he will arrive confident in the power of his Mercedes engine. If the German team have managed to solve their tyre management issues, then the favourite for this weekend must be Hamilton, who knows that when the W08 is handling right, his Mercedes is still quicker than the Ferrari. Never dismiss the famous Italian team, though. If they can box clever on the streets of Baku, then Vettel will be a tricky opponent once more.