AT A GLANCE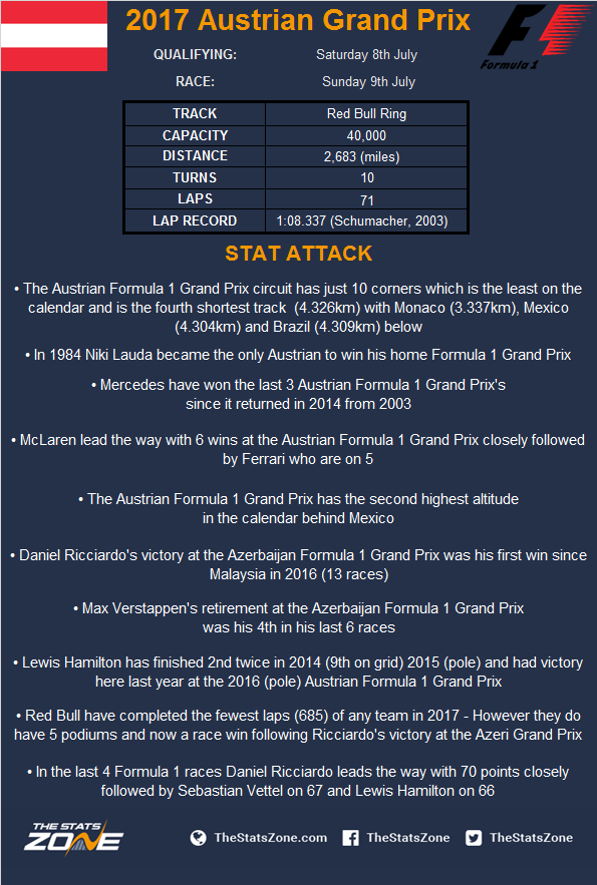 IN FOCUS




OUR SAY

Following the collision and controversy of Azerbaijan, the fallout from the Baku 'road rage' still lingers. The rivalry and animosity between Hamilton and Vettel has been ignited. No more nice guys, mutual respect and bromance-like hugging and praising. Baku signalled an end to the season-long pleasantries, the gloves are now off and it's war in the fight for the title.

This week there was further controversy, as Vettel escaped any further punishment for swiping into Hamilton by publicly apologising and taking full responsibility. The FIA appear confident the matter is resolved. Both Hamilton and Vettel say they want to move on. The reality is that the title battle has shifted into a new phase, and following the highly-controversial Azerbaijan Grand Prix, all eyes will be on both. It will be fascinating to see how each responds and how things play out in Austria following Baku.

As Formula One heads to the picturesque mountain-setting of the Red Bull Ring for the Austrian Grand Prix, Vettel, will need to be on best behaviour. He is only three super-licence penalty points away from a one-race ban. Hamilton, beset by a loose headrest in Baku, has lost some momentum, as Vettel, extended his title lead to 14-points, so will be eager to immediately bounce back.

The Austrian Grand Prix may act as Red Bull's home race but it is Mercedes which have dominated here since 2014. The track itself historically only has nine corners but this year it has been modified to ten. It a short and simple configuration that normally produces good racing. There are plenty of overtaking opportunities with long straights preceded by slow corners. The emphasis is on traction and straight-line speed. It is also arguably, the prettiest circuit, with the Styria Mountains providing a dramatic backdrop.

Apart from whether the Hamilton and Vettel head-to-head will rumble on, the main talking points this weekend are centred on Red Bull and whether they can win at home?

Has Ricciardo's Baku victory in Baku marked a turn in fortunes? Certainly they have made progress in recent races but clearly Mercedes and Ferrari are still the teams to beat. Will Verstappen have better luck and finish a race after his fourth non-finish in six races?

Williams are confident they can hunt down Force India after Stroll's stunning podium in Baku. Can the young Canadian build on his momentum? Baku silenced many of the sceptics and critics.

The growing rivalry between Perez and Ocon at Force India in both Canada and Azerbaijan is proving costly in terms of lost points. Is it really last chance saloon for Palmer at Renault? After finally scoring points in Azerbaijan, will Austria be a reality check for McLaren and Alonso?

PREDICTION

Scattered thunderstorms are forecast for Sunday, so rain could spice and mix things up. Vettel has had two retirements and a fourth-place finish at Austria, so doesn't have the best track record heading into this weekend. However, Austria, is a Mercedes happy hunting ground. The prediction is weekend is that Hamilton takes pole and the win.