The curtain falls on Formula One 2017 this weekend with the season-ending Abu Dhabi Grand Prix.
The high-tech and modern Yas Marina Circuit is not hosting the championship decider fans had hoped for. Both the drivers and the team's titles have already been won, and even the top four places in the constructors' have all been settled - however, there is still much to play for - not least, bragging rights, momentum going into 2018, and much needed prize-money for some mid-field teams up for grabs.

AT A GLANCE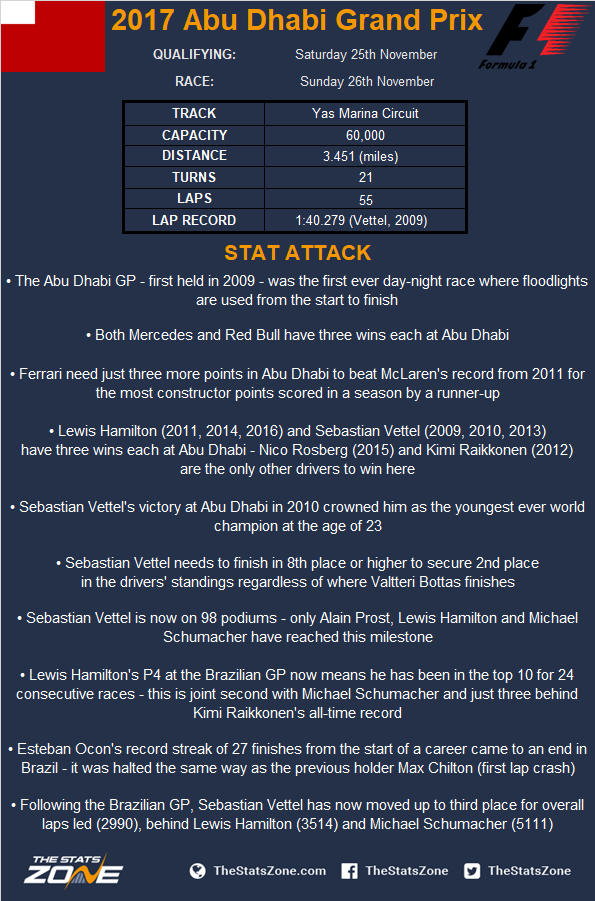 IN FOCUS





OUR SAY
Various championship sub-plots will come to a conclusion on Sunday but, realistically, the only real battle left is for fourth place. Ferrari's Raikkonen is just seven points behind Red Bull's Ricciardo for that spot in the drivers' standings. If Raikkonen can extend his current run of three consecutive third-place finishes, Ricciardo will need to finish inside the top six. Vettel is 22 points ahead of Bottas and is highly likely to secure second place.
Hamilton and his Ferrari rival Vettel can go head-to-head with nothing much to lose this weekend. Hamilton will undoubtedly want to finish his fourth title-winning year in style with a win. Vettel will be fighting for a second straight victory and end Ferrari's disappointing title charge on a high.
Mercedes are expected to have the edge over Ferrari this weekend, as since the introduction of the V6 hybrid era in 2014, Mercedes has gone unbeaten in Abu Dhabi. Ferrari have contested the Abu Dhabi Grand Prix on all eight previous occasions, and each time they have failed to win the race. Vettel,will therefore be targeting a first Ferrari win at the Yas Marina Circuit. He has won this race three times for Red Bull.
Aside from the racing, this weekend Hamilton will hold talks with Mercedes team bosses to rubberstamp the new deal. The British driver's current contract expires at the end of next season but he is expected to agree to a new three-year extension. Vettel has been the best paid driver for the past two years but Hamilton will join him by taking home a staggering £40m a year.
Abu Dhabi will mark the final Grand Prix with full open-cockpit Formula 1 racing. To many fans, this is an unwelcome development but safety precautions have dictated this change. Since its beginning, Formula One has been pure open-cockpit racing. Even though the cockpits won't be completely closed, the addition of the 'Halo' safety device will be a change that will take some getting used to for both drivers and fans alike in 2018. Even Hamilton has spoken out against the new Halo feature, claiming it will make Formula One cars feel like buses and Niki Lauda has described it as treating Formula One drivers like 'babies'.
PREDICTION
The track at Yas Marina has a surface that is often very kind to tyres, which often allows drivers to push harder and for longer than they would usually be able to. All this falls in Mercedes' advantage. The prediction is a for a Hamilton pole and victory on race day, although it should be a tight battle between the two leading teams.