Is Lionel Messi still king of the continent?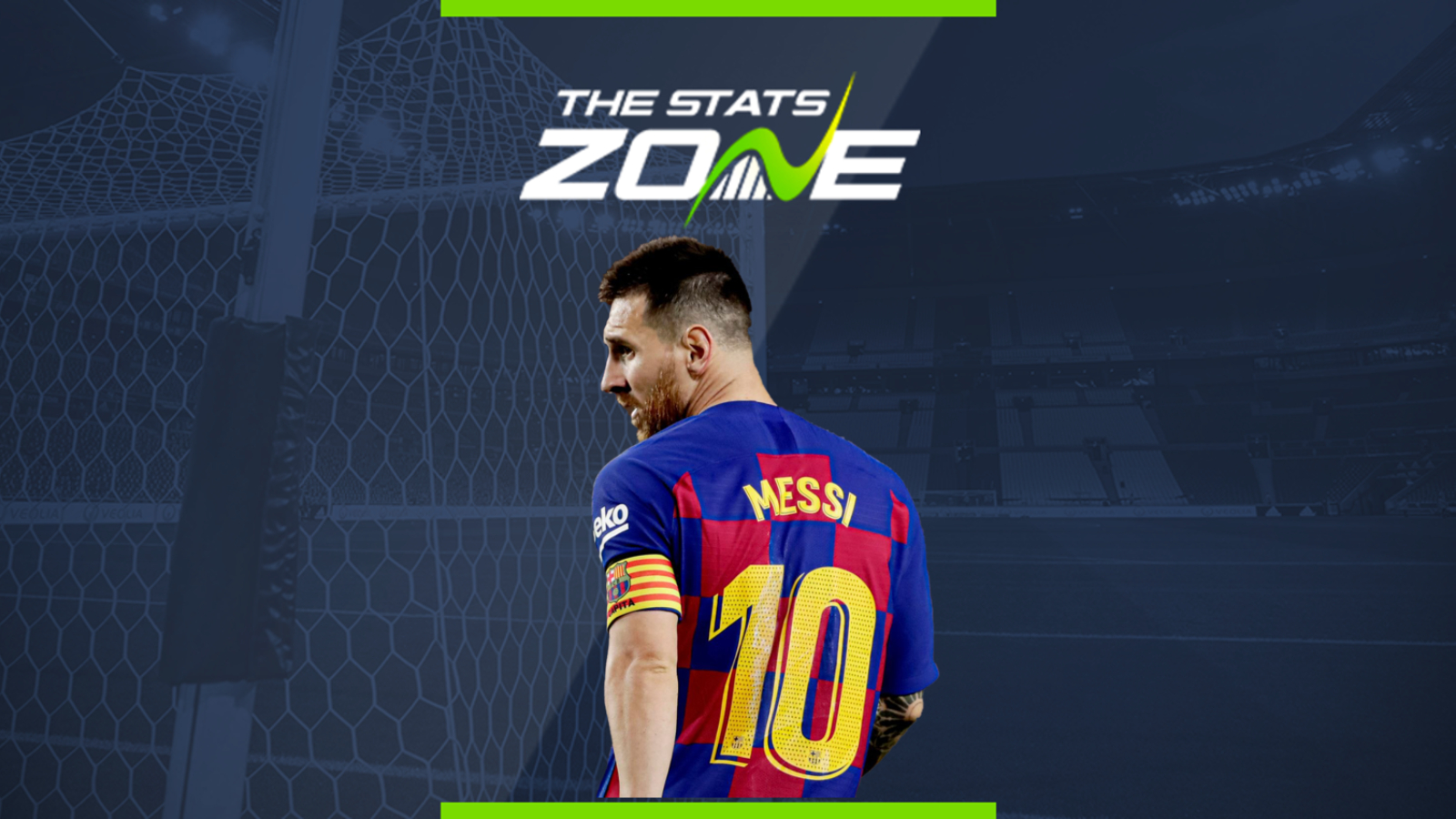 The most successful teams out there will never be over-reliant on one man to yield glory. Even so, they would be far weaker without their own talisman, and any player who can enjoy a long reign as the 'face' of his club will only boost their global presence. In terms of 'faces', they hardly get any bigger than Barcelona's Lionel Messi, who has looked as unstoppable as ever over the past year:

Messi's quadruple against Eibar on February 22 marked his 47th career hat-trick for Barcelona.
Each of the other 'major' league champions from 2018-19 – Man City, Juventus, Bayern Munich and PSG – could also point to one man as the main catalyst towards continued league success. The players themselves need no introduction, and here we look at several key criteria to find the true king amongst them, and how Messi really compares.
DECISIVE WINNING GOALS
No player can truly consider himself a talisman without the ability to score winning goals with real consistency. Between August and March in 2019-20, the sheer volume of Messi's winning contributions almost single-handedly assured that his side stayed popular amongst bettors using offers of enhanced odds with reputable bookmakers. In 2018-19, meanwhile, Messi saw nearly a quarter (22.2%) of his 36 league goals prove decisive in victory: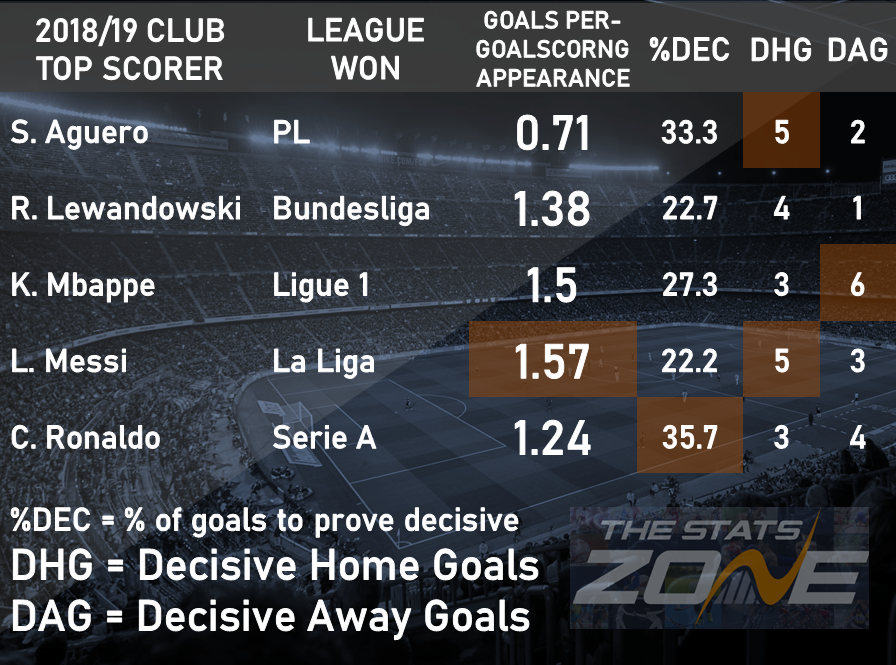 The above table shows Messi's peers across Europe everything they need to know. His rate of goals per-goalscoring league appearance for Barcelona outstripped all of the other title-winning club top scorers. Though the percentage of his 2018-19 league goals that were winners was decidedly lower than that of long-term Ballon d'Or rival Cristiano Ronaldo, his tally of decisive home league goals was joint-top with compatriot Sergio Aguero.

THE ESSENCE OF TIMING
A team's 'fear factor' within its own league is comprised of several facets, not just results or historic honours. Some teams have the propensity to score at key times of play in order to shorten any odds against them, leading opponents to drop deeper and play with fear.
Liverpool, for instance, have developed a reputation for flying out of the blocks, while others have more of an ability to strike late. A prime example of a team in the latter category would be Inter Milan. They entered March's postponed home match with Sampdoria having scored exactly two goals beyond the hour mark in three of their previous four Serie A home wins.
As the ultimate superstar in the eyes of many neutrals, Messi has shown the dual ability to make both a quickfire start and a 'Hollywood ending', though he has generally come to life only after the 15th minute mark.
That much is further indicated by his goals-per-game return beyond the 75th minute in league matches throughout his playing history: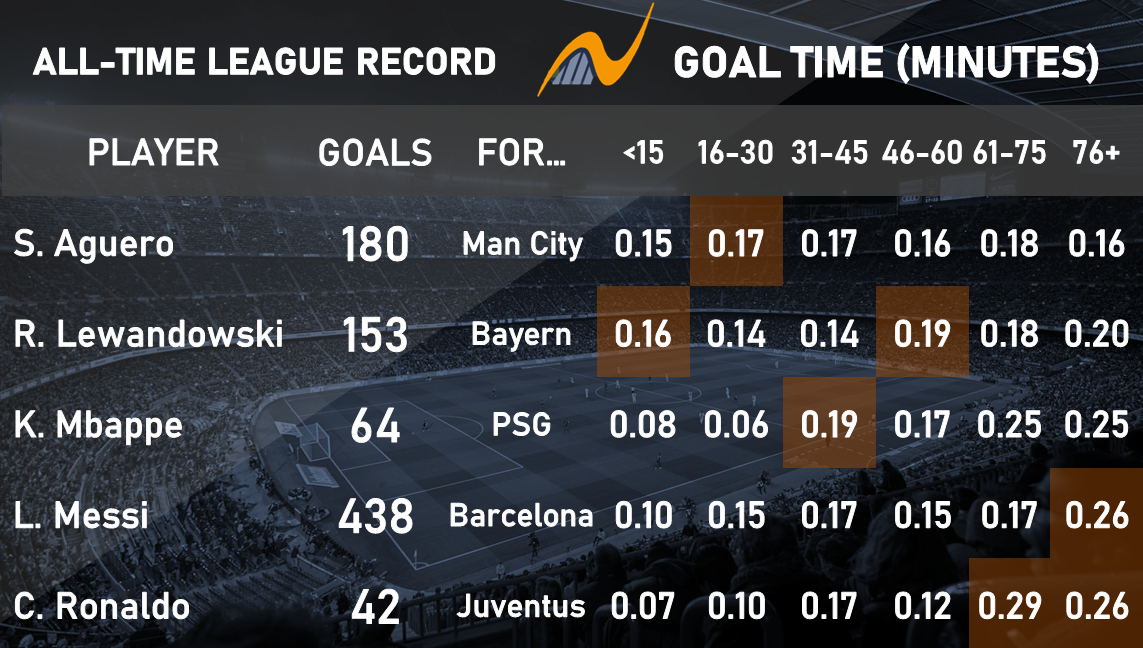 With goals in first and second-half stoppage time respectively included in the 31-45 and 76+ minute zones, this comparison makes for intriguing reading, and splitting these five kings of Europe into two distinct camps. Lewandowski and Agüero are seemingly clinical in any interval, while Mbappé, Messi and Ronaldo generally grow into games.

A BATTLEGROUND OF MISCELLANY

Such is the nature of football, only players that operate deep into opposition territory will ever really be appreciated, with the advent of a defender or goalkeeper being held with higher reverence than a striker or winger becoming an increasingly rare and quaint phenomenon. As such, a player will be judged in the long-term on their flexibility in the final third, with direct free-kicks, the frequent plundering of multi-goal hauls, and good efficiency in the new era of 'expected goals' (or xG).
Messi's prowess from set-pieces is self-evident, and of his 438 league goals for Barcelona to date, 55 have been penaltIES (19 decisive) with 35 coming via a direct free kick, 14 of which proved decisive. This is how those returns tally up against his fellow top scorers at a title-winning club of 2018-19: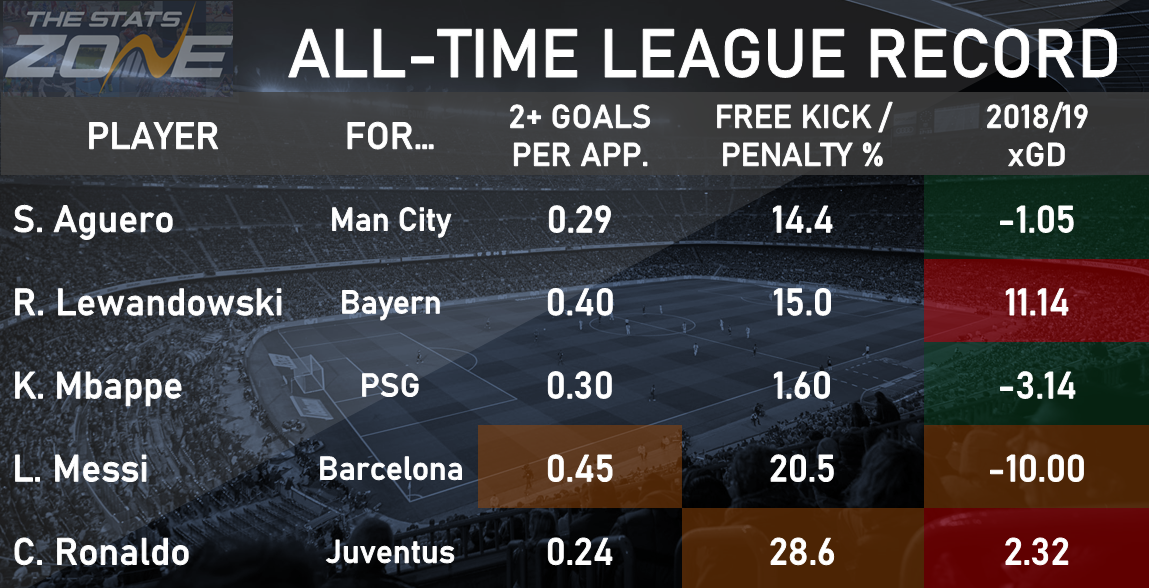 The findings are impressive for any fans of Messi. He locks out the entire board, particularly impressing in the xG department.

In practice, 2018-19 saw Messi score exactly ten goals more than he had a right to. Lewandowski, by contrast, showed far less of an ability to convert the more difficult chances. That said, his goals on the European scene have certainly earned praise, and his xG difference here also reflects a long-standing disparity between Bayern and most of the Bundesliga.
Ultimately, Messi has more than enough to claim his status as the best of the title-winning MVPs around, across both the 2018-19 domestic campaign and across the span of their respective careers.