A list of Lionel Messi's international goals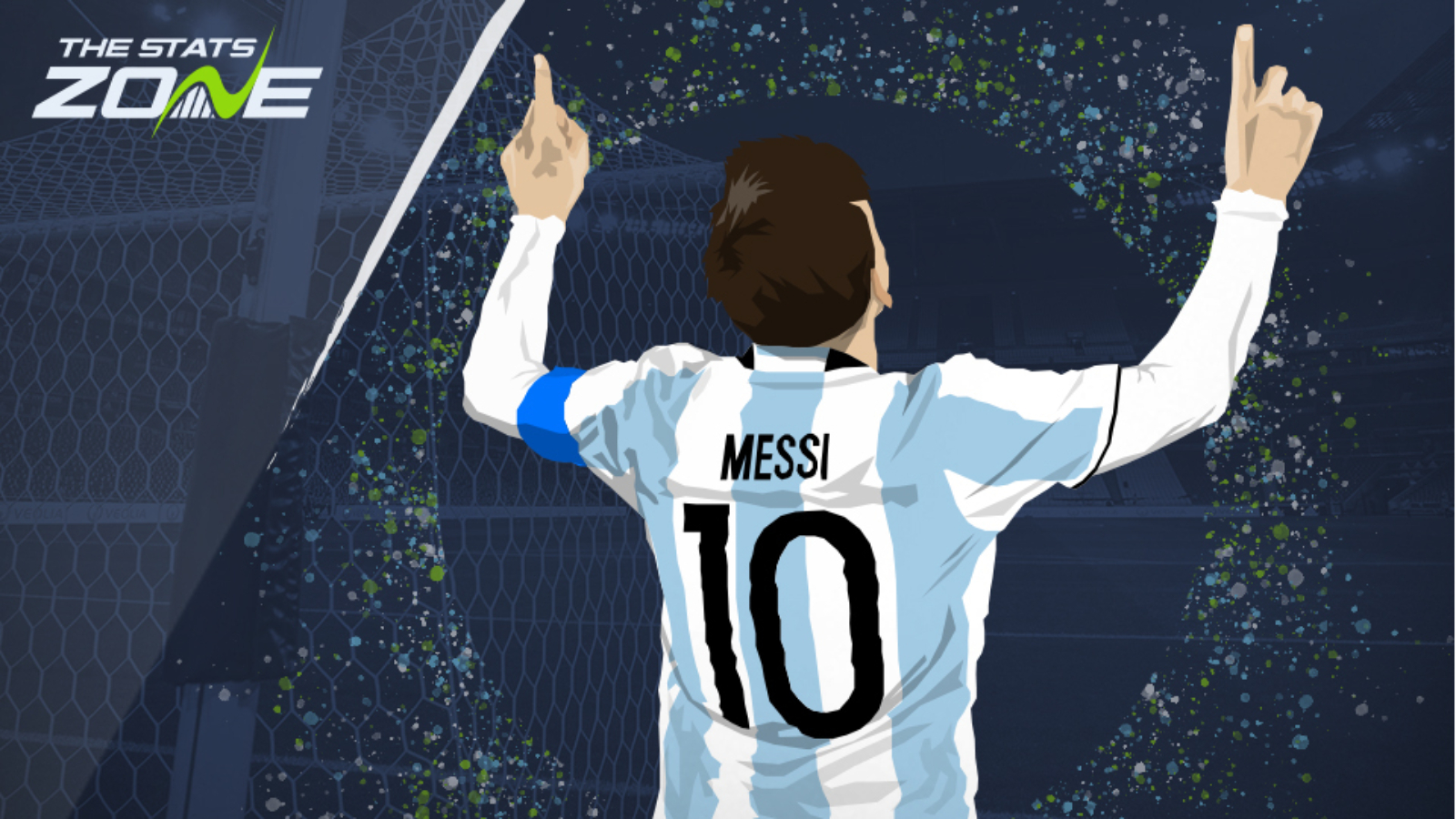 Lionel Messi is Argentina's all-time top goalscorer having scored for his country 68 times in 136 appearances - an average of a goal every two games. At the age of 32, the Barcelona star could still have a number of years scoring for the national team ahead of him.

Below is a comprehensive of Messi's 68 goals for Argentina:
Last updated after his goal against Paraguay in June 2019.

| | | | |
| --- | --- | --- | --- |
| GOAL NUMBER | DATE | COMPETITION | OPPONENT |
| 1 | 01/03/2006 | Friendly | Croatia |
| 2 | 16/06/2006 | World Cup | Serbia and Montenegro |
| 3 | 05/06/2007 | Friendly | Algeria |
| 4 | 05/06/2007 | Friendly | Algeria |
| 5 | 07/08/2007 | Copa America | Peru |
| 6 | 07/11/2007 | Copa America | Mexico |
| 7 | 16/10/2007 | World Cup Qualifying | Venezuela |
| 8 | 20/11/2007 | World Cup Qualifying | Colombia |
| 9 | 06/04/2008 | Friendly | Mexico |
| 10 | 10/11/2008 | World Cup Qualifying | Uruguay |
| 11 | 11/02/2009 | Friendly | France |
| 12 | 28/03/2009 | World Cup Qualifying | Venezuela |
| 13 | 14/11/2009 | Friendly | Spain |
| 14 | 09/07/2010 | Friendly | Spain |
| 15 | 17/10/2010 | Friendly | Brazil |
| 16 | 02/09/2011 | Friendly | Portugal |
| 17 | 20/06/2011 | Friendly | Albania |
| 18 | 07/10/2011 | World Cup Qualifying | Chile |
| 19 | 15/11/2011 | World Cup Qualifying | Colombia |
| 20 | 29/02/2012 | Friendly | Switzerland |
| 21 | 29/02/2012 | Friendly | Switzerland |
| 22 | 29/02/2012 | Friendly | Switzerland |
| 23 | 06/02/2012 | World Cup Qualifying | Ecuador |
| 24 | 09/06/2012 | Friendly | Brazil |
| 25 | 09/06/2012 | Friendly | Brazil |
| 26 | 09/06/2012 | Friendly | Brazil |
| 27 | 15/08/2012 | Friendly | Germany |
| 28 | 09/07/2012 | World Cup Qualifying | Paraguay |
| 29 | 10/12/2012 | World Cup Qualifying | Uruguay |
| 30 | 10/12/2012 | World Cup Qualifying | Uruguay |
| 31 | 16/10/2012 | World Cup Qualifying | Chile |
| 32 | 22/3/2013 | World Cup Qualifying | Venezuela |
| 33 | 14/06/2013 | Friendly | Guatemala |
| 34 | 14/06/2013 | Friendly | Guatemala |
| 35 | 14/06/2013 | Friendly | Guatemala |
| 36 | 09/10/2013 | World Cup Qualifying | Paraguay |
| 37 | 09/10/2013 | World Cup Qualifying | Paraguay |
| 38 | 06/07/2014 | Friendly | Slovenia |
| 39 | 15/06/2014 | World Cup | Bosnia and Herzegovina |
| 40 | 21/06/2014 | World Cup | Iran |
| 41 | 25/06/2014 | World Cup | Nigeria |
| 42 | 25/06/2014 | World Cup | Nigeria |
| 43 | 14/10/2014 | Friendly | Hong Kong |
| 44 | 14/10/2014 | Friendly | Hong Kong |
| 45 | 11/12/2014 | Friendly | Croatia |
| 46 | 13/06/2015 | Copa America | Paraguay |
| 47 | 04/09/2015 | Friendly | Bolivia |
| 48 | 04/09/2015 | Friendly | Bolivia |
| 49 | 09/08/2015 | Friendly | Mexico |
| 50 | 29/03/2016 | World Cup Qualifying | Bolivia |
| 51 | 06/10/2016 | Copa America | Panama |
| 52 | 06/10/2016 | Copa America | Panama |
| 53 | 06/10/2016 | Copa America | Panama |
| 54 | 18/06/2016 | Copa America | Venezuela |
| 55 | 21/06/2016 | Copa America | United States |
| 56 | 09/01/2016 | World Cup Qualifying | Uruguay |
| 57 | 15/11/2016 | World Cup Qualifying | Colombia |
| 58 | 23/3/2017 | World Cup Qualifying | Chile |
| 59 | 10/10/2017 | World Cup Qualifying | Ecuador |
| 60 | 10/10/2017 | World Cup Qualifying | Ecuador |
| 61 | 10/10/2017 | World Cup Qualifying | Ecuador |
| 62 | 29/05/2018 | Friendly | Haiti |
| 63 | 29/05/2018 | Friendly | Haiti |
| 64 | 29/05/2018 | Friendly | Haiti |
| 65 | 26/06/2018 | World Cup | Nigeria |
| 66 | 07/06/2019 | Friendly | Nicaragua |
| 67 | 07/06/2019 | Friendly | Nicaragua |
| 68 | 19/06/2019 | Copa America | Paraguay |
Click here to see a list of Cristiano Ronaldo's international goals