With copious amounts of talking from both parties and a lot of outright abuse, it's fair to say that there is no love-lost between David Haye and Tony Bellew. Boxing fans have questioned the integrity of the sport over the last few years when fights are built up as grudge matches with the promoters and fighters claiming they're not fond of each other, only for them to be all over each other post-fight.
The build-up between Haye and Bellew has seen plenty of insults traded and there does seem to be some genuine, mutual dislike between the pair, which has led to the needle we have seen as the build-up has intensified over the last couple of weeks. The duo have had to be kept apart during interviews, enter buildings through separate entrances at separate times and there has even been talk of a wall being erected to keep them apart on fight night.
Whilst that does seem a little far-fetched, the pair have already come to blows when Haye landed a punch when the pair came face-to-face in a press conference back in November. The animosity is certainly there and it has left us here at TSZ eagerly anticipating the bout. With the fight now almost upon us, we decided to take a look through the archives and we've put together a list of five of the best British boxing grudge fights.
Groves vs DeGale
At stake
BBBofC British Super Middleweight title
Commonwealth (British Empire) Super Middleweight title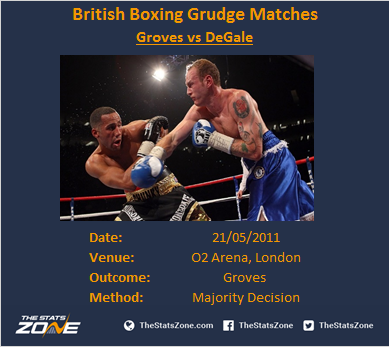 This may be a controversial choice in this list but there's good reasoning behind it. George Groves and James DeGale really don't get on, and their rivalry could be deepened in the not too distant future with a potential second fight between the pair mooted for later in 2017. Their rivalry goes back to their amateur days where they were clubmates, with DeGale publically admitting in the build-up to their 2011 fight that he had never liked Groves. Groves claimed a majority decision that day and the loss for DeGale remains the only one in his career to date. He will be looking to gain revenge should their paths cross again.
Kaylor vs Christie

At stake
Final Eliminator for BBBofC British Middleweight Title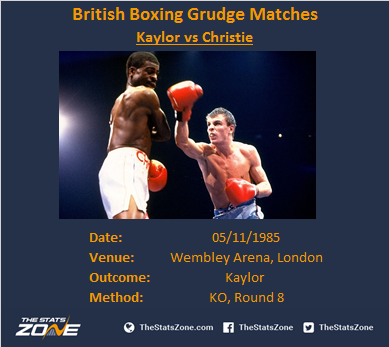 This rivalry dates back to 1985 when a claim of a racist insult by Mark Kaylor towards Errol Christie resulted in all hell breaking loose. They began brawling after Kaylor whispered in Christie's ear at a press conference and when that was broken up, they continued fighting in the car park afterwards in front of the press, who managed to get pictures of what unfolded. Kaylor came out victorious when they met in the ring with an eighth round stoppage.
Froch vs Groves
At stake (both fights)
IBF World Super Middleweight title
WBA World Super Middleweight title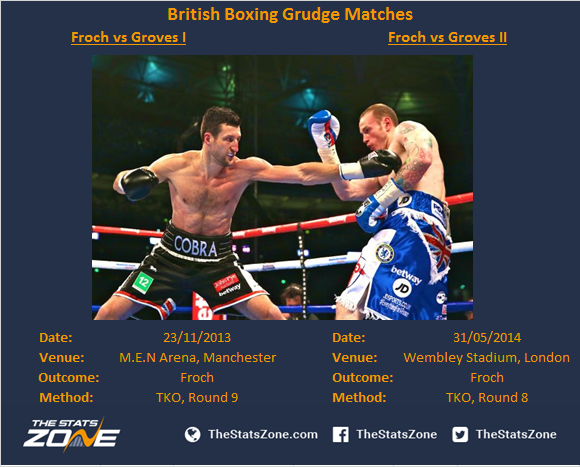 George Groves is mentioned for a second time in this list; is he just an unlikeable person?! His rivalry with Carl Froch is greater than his rivalry with James DeGale as things stand, simply because of the magnitude of how their feud turned out. They first fought in 2013 following lots of insults traded in the build-up, and despite Groves knocking Froch down for only the second time in his entire career, Froch rallied and caused a stoppage in the ninth round, although this was viewed as controversial in some corners. A rematch was ordered by the IBF and Wembley Stadium played host to Froch vs Groves II in front of the highest attended boxing event in Britain post World War II. Froch again came out on top with an eighth round stoppage in a much more convincing performance.
Lewis vs Bruno
At stake
WBC World Heavyweight title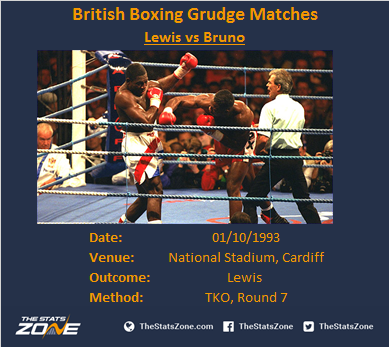 With Haye and Bellew meeting in a heavyweight contest, it's fitting that we are able to include a heavyweight grudge match in this list. Lennox Lewis and Frank Bruno came face-to-face in 1993 for the WBC heavyweight title, the first time in the modern era that two British-born boxers had fought for a world heavyweight crown. During the build-up, the animosity between the pair grew when Bruno stated that Lewis was 'not British' after the latter had previously represented Canada in the Olympics where he won a gold medal. This began a war-of-words throughout the build-up, with several more insults traded by both parties. However, it was Lewis that had the last word as he became the WBC world heavyweight champion after stopping Bruno in the seventh with some devastating power.
Benn vs Eubank
At stake
WBO World Middleweight title (first fight)

WBC World Super Middleweight title (second fight)
WBO World Super Middleweight title (second fight)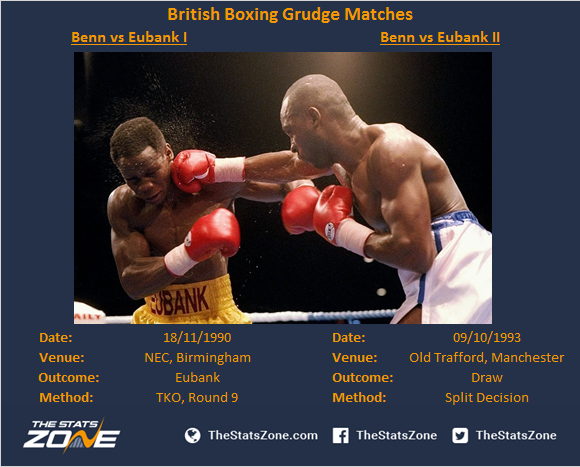 Probably the most iconic grudge in British boxing history came courtesy of Nigel Benn and Chris Eubank. These two just didn't like each other and still don't to this day. They were very different in numerous ways but not least their boxing styles. Their feelings were made known right from the off but following their first fight in 1990 for the WBO world middleweight title, their rivalry moved up a notch and continued to intensify. Eubank came out on top and it was three years until they met again with Old Trafford playing host. With the WBC and WBO world super middleweight titles on the line, Benn appeared to dominate the fight but it was controversially scored a draw which only served to escalate their rivalry further. It was a fight that caught the imagination of the British public and the rivalry is one that may take a long time to be beaten in terms of genuine disdain for one another.
Haye vs Bellew
All of the talk is nearly over between these two, who have both been happy to share their feelings about their opponent. Haye comes into this after winning two extremely low-key contests. His 2012 fight against Dereck Chisora seems a distant memory now but Haye will hope he can still perform at a similar level to that day. He comes into this bout as the favourite; if he is still the same fighter he was, he should have too much power, speed and class for Bellew. If he has lost some of his ability, the door may be open for Bellew, who is stepping up in weight for this fight.

It may just turn out to be nothing more than a bumper pay-day for Bellew, but if the pre-fight press conferences are anything to go by, we're in for fireworks on Saturday night. Either man could land a big blow for an early stoppage but Haye should have the upper hand if the bout finishes early on. If it goes into the latter rounds, Haye's heart to slug it out may come into question and Bellew might be able to outpoint his opponent. However, a Haye win by KO is surely the most likely outcome.