If you're as excited as we are here at TSZ about the start of the new Super League season, then you'll enjoy some of our analysis this season. We're kicking things off by reminding ourselves about last season, and how the teams performed. One of the perks about analysing and comparing data from last season to this season is the fact that it is exactly the same 12 teams participating so we can use a good sample size for analysis.
We've looked at the points difference between total points scored and conceded for all teams last season. Our first step looked at the 30 matches including the Super 8s. Note that the sum does not add to zero as the bottom 4 played in The Qualifiers Super8s involving the top four teams of the division below. The table below is sorted by the full set of matches.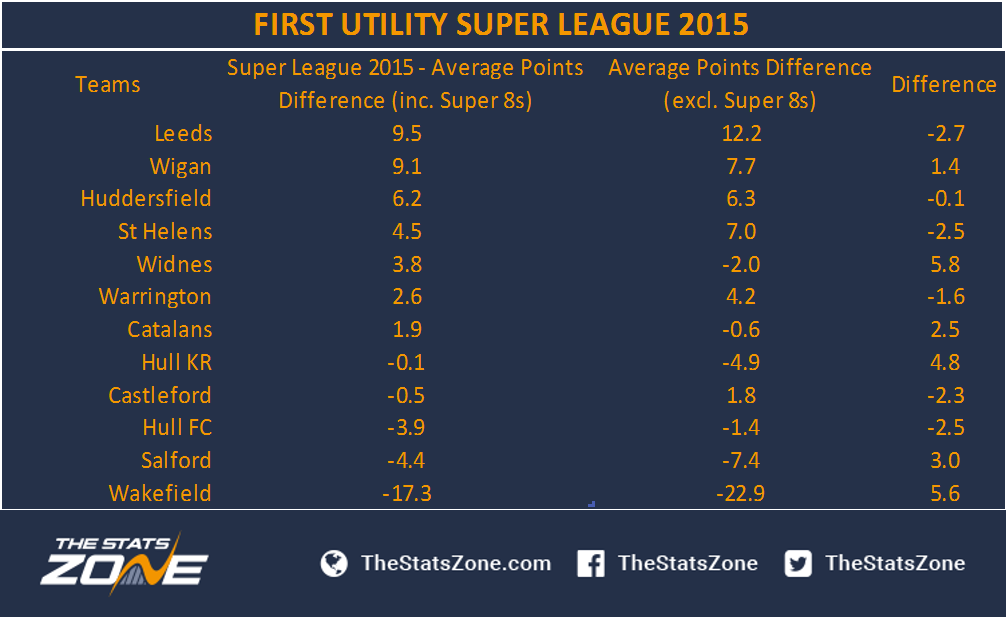 We were not entirely happy with that however, with the standout team Castleford essentially being 9th in that ranking behind Hull KR who finished 10th in the regular season but 8th in this table. Castleford were punished in the Super8s format by having to play against the best teams in the league one more time, while Hull KR won all their 7 matches in The Qualifiers Super8s. So we removed the Super8s and the ordering of the teams and the gap in data points look more likely to pass the sanity check.
However, excluding the Super8s had the adverse effect at the top. The gap between Leeds and the rest of the top four was far too big and not a fair reflection of the quality levels between the teams. Taking the Super8s into account, and the small gap between Leeds and Wigan looks far more plausible. As with football, these are some of the issues faced with modelling leagues and taking cup competitions or different formats into account.
So can we use these as ratings for 2016? Our initial hunch is that so much is being made of Sinfield and Peacock leaving Leeds (despite excellent replacements being brought in), that they may actually be underrated at times this season. We love the return of Sam Tomkins at Wigan despite his injury ruling him out for the first part of the season. St Helens have proactively made changes in their squad and given Cunningham more power and a new contract to show their faith in him. While the TSZ team will be keeping a close eye on Salford as potentially the surprise team. The signings suggest a notable increase in quality, even if it may take time early in the season to mesh them all together under the guidance of the talented Tim Sheens. Add a level of this type of analysis into account and the ratings as a guideline, and we don't think you will be too far wrong for 2016.