Have you struggled to keep up with your favourite FIFA eSports players and which club/organisation they represent? Or have you wondered whether the football club or eSports organisation that you support have a FIFA player on their books? Then we can help you.
Here at The Stats Zone, we've drawn up a comprehensive list of football clubs and eSports organisations with FIFA players on their rosters, and which FIFA player it is that represents them. We'll be regularly updating this page as we approach the FIFA eWorld Cup in the summer.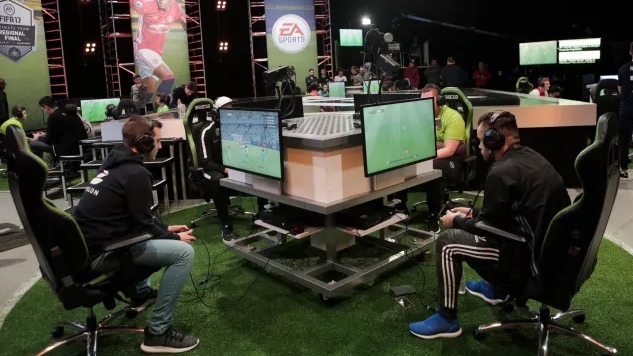 If you'd like to notify us of any changes that are not reflected here, feel free to email us on [email protected] or DM us on Twitter.

Last updated on 14/05/18
| | | |
| --- | --- | --- |
| PLAYER NAME | PLAYER ALIAS | CLUB REPRESENTED |
| Zachary May-Burgess | vDreamz-Shooter | Adelaide United |
| Jamie O'Doherty | FUTWIZJamie | Adelaide United |
| Dino Flocco | ol_Mate_ | Brisbane Roar |
| James Williams | iCripsy | Brisbane Roar |
| Kiran Gupta | KyrenFIFA | Central Coast Mariners |
| Matthew Camilleri | StrawHat Camels | Central Coast Mariners |
| Josh Wood | Joshingwood | Melbourne City |
| Marcus Gomes | SoccerStar00777 | Melbourne City |
| Mouad Zwed | MuadZwed | Melbourne Victory |
| Mitch Austin | ALCATRAZZ_2025 | Melbourne Victory |
| Bohdan Ling | BLfifa | Newcastle Jets |
| Dane Crow | Bossierhickory8 | Newcastle Jets |
| Peter Saisanas | Saisanas | Perth Glory |
| David Cook | HighFly357 | Perth Glory |
| Mark Brijeski | xMarkoHD | Sydney FC |
| Samer Elbadar | Samer96_ | Sydney FC |
| Christian Bartolilo | Fweshest | Wellington Phoenix |
| Justin Josevski | Justmanutd12 | Wellington Phoenix |
| Rick Tran | RDOUBLETTT | Western Sydney Wanderers |
| Joseph Nassar | OhNoAGoat | Western Sydney Wanderers |
| | | |
| --- | --- | --- |
| PLAYER NAME | PLAYER ALIAS | CLUB REPRESENTED |
| Cormac Dooley | Doolsta | Philadelphia Union |
| John Oliveira | JKO1707 | New England Revolution |
| Erfan Hosseini | Skill Shack | Vancouver Whitecaps |
| Memo Treviño | HOU Kid M3Mito | Houston Dynamo |
| Alan Avila | AlanAvi | FC Dallas |
| Connor Buckley | BuckArmy | Colorado Rapids |
| Edhem Jukovic | HekTic_JukeZ | Chicago Fire |
| Alex Betancourt | Alekzandur | Sporting Kansas City |
| Edgar Guerrero | x_thiago_silva_o | Portland Timbers |
| Jason Flick | Flickify | Seattle Sounders |
| Lyes Ould-Ramoul | LyesMTL | Montreal Impact |
| Graham Ellix | Skamzz | Columbus Crew SC |
| Abraham Valbuena | Valbuena | Orlando City SC |
| Phil Balke | PhilB94 | Toronto FC |
| Alan Ortega | CaliSCG | San Jose Earthquakes |
| Elias Baca | Pacify x | Minnesota United |
| Giuseppe Guastella | xGGGodfatherx | LA Galaxy |
| Mike LaBelle | | New York Red Bulls |
| Christopher Holly | NYC_Chris | NYCFC |
| | |
| --- | --- |
| PLAYER NAME | CLUB REPRESENTED |
| Mitchel Denkers | ADO Den Haag |
| Dani Hagebeuk | Ajax |
| Aristote Ndunu | AZ Alkmaar |
| Absalom Warkor | FC Groningen |
| Nick den Hamer | FC Groningen |
| Tony Kok | FC Twente |
| Emre Benli | FC Twente |
| Danny Hazebroek | FC Utrecht |
| Jaey Daalhuisen | Feyenoord |
| Bryan Hessing | Heracles Almelo |
| Menno Bouhuijzen | NAC Breda |
| Bob van Uden | PEC Zwolle |
| Stefan Vellinga | PEC Zwolle |
| Ali Riza Aygün | PSV |
| Tom Heijnen | Roda JC Kerkrade |
| Levy Frederique | SBV Excelsior |
| Niels Krist | SC Heerenveen |
| Frank van der Slot | Sparta Rotterdam |
| Lev Vinken | Sparta Rotterdam |
| Paskie Rokus | Vitesse |
| Sandro Cooiman | VVV-Venlo |
| Nick Cooiman | VVV-Venlo |
| Daniel Kuipers | Willem II |
| | | |
| --- | --- | --- |
| PLAYER NAME | PLAYER ALIAS | CLUB REPRESENTED |
| Corentin Chevrey | RocKy | Paris Saint-Germain |
| Gordon Thornsberry | Fiddle | Paris Saint-Germain |
| Lucas Cuillerier | DaXe | Paris Saint-Germain |
| Rafael Fortes | RAFIFA13 | Paris Saint-Germain |
| Ahmed Al-Meghessib | AaMeghessib | Paris Saint-Germain |
| Johann Simon | Maniika | Paris Saint-Germain |
| Fouad Fares | Rafsou | Olympique Lyonnais |
| Corentin Vicogne | CocoVBastos | Olympique Lyonnais |
| Corentin Thuillier | MaestroSquad | LOSC Lille |
| Nathan Nayagom | Sneaky | LOSC Lille |
| Florian Maridat | RayZiaaH | AS Monaco |
| Vincent Hoffmann | Vinch | AS Monaco |
| | | |
| --- | --- | --- |
| PLAYER NAME | PLAYER ALIAS | CLUB REPRESENTED |
| Cihan Yasarlar | CYasarlar | RB Leipzig |
| Timo Siep | Timox | VfL Wolfsburg |
| Benedikt Saltzer | SaLz0r | VfL Wolfsburg |
| David Bytheway | DaveBTW | VfL Wolfsburg |
| Tim Schwartmann | TimLatka | FC Schalke 04 |
| Lukas Schmandt | Idealz | FC Schalke 04 |
| Erhan Kayman | Dr.Erhano | VfB Stuttgart |
| Marcel Lutz | Marlut | VfB Stuttgart |
| Michael Bittner | MegaBit | VfL Bochum1848 |
| Daniel Fink | DaniFink | VfL Bochum1848 |
| Marvin Hintz | B04 M4RV | Bayer 04 Leverkusen |
| Daniel Butenko | BUBU | 1.FC Nurnberg |
| Kai Hense | Hensoo | 1.FC Nurnberg |
Other Football Clubs/Organisations
| | | |
| --- | --- | --- |
| PLAYER NAME | PLAYER ALIAS | CLUB/ORG REPRESENTED |
| Frederick Fredberg | Fredberg2013 | Brondby |
| Fatih Ustun | Ustun | Brondby |
| Florian Fritz Muller | CodyDerFinisher | FC Basel 1893 |
| Tim Katnawatos | FCB TheStrxngeR | FC Basel 1893 |
| Mosaad Aldossary | Msdossary | Team Falcons |
| Khalid Aloufi | The Royal | Team Falcons |
| Ty Walton | Ty | Team Vitality |
| Brian Savary | Brian | Team Vitality |
| Olivier Comont | Nino | Team Vitality |
| Aurelien Cheron | Moolzn | Team Vitality |
| Antonio Iside | Anthox | Team Vitality |
| Akima Byron | Fully | Epsilon eSports |
| Abdelhamid Fares | Mence | Epsilon eSports |
| Daniel Kristensen | Dingo | Epsilon eSports |
| Lasse Baekkelund | Baekkelund | Team Liquid |
| Gonzalo Villalba | nicolas99fc | Transfermarkt eSports |
| Mario Reubold | MMayo | Transfermarkt eSports |
| August Rosenmeier | Agge | Hashtag United |
| Ivan Lapanje | Boras | Hashtag United |
| Ryan Pessoa | Ryan | Hashtag United |
| Harry Hesketh | Harry | Hashtag United |
| Javier Munoz | Janoz | ARES eSport |
| Torin Page | Turin | Bundled eSports |
| Nawid Noorzai | GoalMachine21 | Bundled eSports |
| Gilles Bernard | Gilles_1996 | Bundled eSports |
| Markus Moilanen | MakezCR | Bundled eSports |
| Geoffrey Meghoe | Blake-Revenge | Bundled eSports |
| Ruoyu Yang | Wilson21Y | Bundled eSports |
| Tassal Rushan | Tass | FaZe Clan |
| Philipp Schermer | Eisvogel_7 | Team EnVy |
| Marvyn Robert | Aero | Team EnVy |
| Jas Singh | Jas1875 | Team EnVy |
| Donovan Hunt | Tekkz | The F2 |
| Zacharia Dinar | Zazou | Supremacy |
| Vincent Dubois | Vicente | Supremacy |
| Mirza Jahic | Mirza | SK Gaming |
| Timo Gruneisen | Praii | SK Gaming |
| Spencer Ealing | Gorilla | UNILAD |
| Shaun Springette | Shellz | UNILAD |
| Owen Venn | Venny | Method |
| Kamil Soszynski | Riptorek | Method |
| Damian Augustyniak | damie | Nordavind |
| Nicklas Stensgaard | Niller | Lightning Pandas |
| Sean Allen | Dragon | Lightning Pandas |
| Kai Wollin | deto | Manchester City |
| Marcus Jorgensen | ExpectSporting | Manchester City |
| Jamie Rigden | Jamboo | West Ham United |
| Jake Roberts | JR7 | Wolverhampton Wanderers |
| Joe Busby | Buzzer | Aerox eSports |
| Harry Read | Readinho_9x | Aerox eSports |
| Marco Paolicelli | TactualSine6747 | Aerox eSports |
| Adam Ryan | AdamRyan | Aerox eSports |
| Joey | Aerox Joey | Aerox eSports |
| Chris | Aerox Chris | Aerox eSports |
| Nathan Horton | Zelonius | Team FUTWIZ |
| Tom Leese | Tom | Team FUTWIZ |
| Harry Blackmore | Honey Badger | Team FUTWIZ |
| Steven Price | Pricey | Team FUTWIZ |
| Fabian De Cae | Dubzje | Team FUTWIZ |
| Jamie O'Doherty | Jamie | Team FUTWIZ |
| Quinten Van Der Most | QuintenX | Team FUTWIZ |
| Nathan Gil | Herozia | Millenium |
| Amine Boughanmi | Mino | Millenium |
| Samy Bakhti | Samylumine | Millenium |
| Subaru Sagano | SubaruMikey | BU e-sports |
| Shota Sato | Tsakt | BU e-sports |
| Brenner Silva | avfcbrenner | Arte Virtual FC |
| Paulo Freitas | PH Freitas | Arte Virtual FC |
| Reinhard Krause | Rein10 | Xolos de Tijuana |
| Rodrigo Ulibarri | UL1BARRI | Xolos de Tijuana |
| Shane Leonard | Shane | exceL eSports |
| Tom Painter | Painter | exceL eSports |
| Kevin Connolly | Kev96 | exceL eSports |
| Connor Naylor | Connor | exceL eSports |
| Conran Tobin | Rannerz | AS Roma Fnatic |
| Simon Nystedt | Zimme | AS Roma Fnatic |
| Nicolo Mirra | Insa | AS Roma Fnatic |