AT A GLANCE

When? October 26th-28th
Where? Paris Expo Exhibition Centre, Porte De Versailles, Paris, France.
Are tickets still available? https://www.parisgamesweek.com/fr/article/la-billetterie
What channel is it on? The PS4 Continental Cup finals will be televised live on Fox Sports 1 from 08.00 to 10.00 PT in the United States.
Where can I stream the tournament? The entire competition can be streamed on PlayStation's official Twitch and YouTube channels. The schedule is as follows:
Friday October 26th – 09:30 to 19:00 BST
Saturday October 27th – 09:30 to 19:00 BST
Sunday October 28th – 11:30 to 18:00 BST
Can I follow the tournament on Twitter? Updates will be provided on PlayStation Europe's official Twitter page. Also be sure to search the hashtags #PS4ContinentalCup, #PLAYSTATIONPGW and #FIFAeWorldCup. Don't forget to follow any players competing in the event along with their respective clubs/organisations, who are likely to provide real time updates on their progress.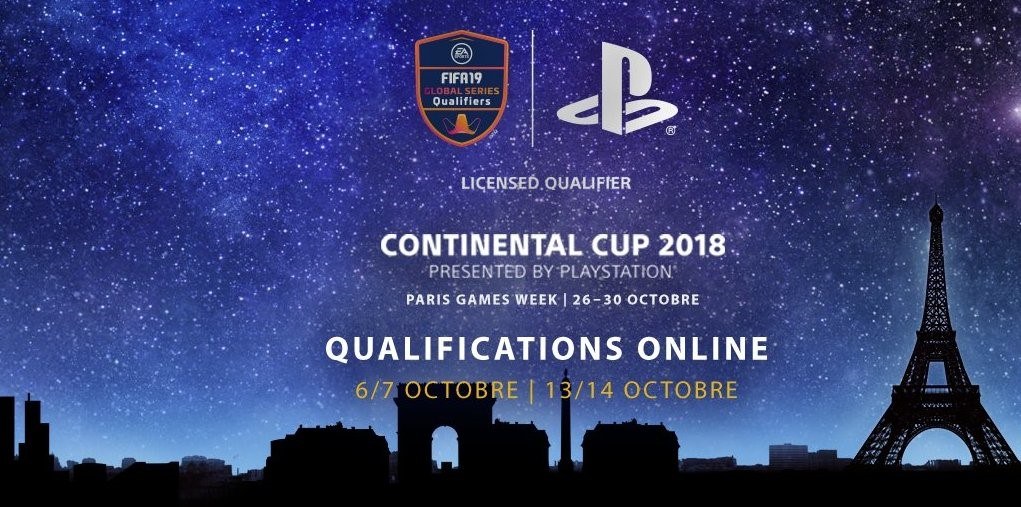 THE LOWDOWN
Tournament Format and Schedule
The FIFA 19 Continental Cup 2018 will be contested by 32 players who will compete in a group stage format that leads into a knockout bracket. Of the 32 players, half of them will progress from the group stages into the Round of 16, from which they will contest a single elimination bracket where the last two standing will compete in the Grand Final. The schedule of the tournament released by PlayStation is below.
Friday 26th October – Group Stages
Saturday 27th October – Round of 16 & Quarter-Finals
Sunday 28th October – Semi-Finals & Grand Final
Are there rules regarding what teams/players can be used for the tournament?
Each game will be played in the FIFA Ultimate Team mode, with each player free to use their own UT in the competition.
Who will be competing in the tournament?
A total of 32 PlayStation 4 players around the globe have qualified for the FIFA 19 Continental Cup through a series of regional online qualifiers hosted by popular eSports tournament provider ESL Play. Below is a graphic provided by ESL Play, which shows the amount of qualifying slots available for players of each region.

What prizes are up for grabs?
A cash pool of €50,000 is on offer at the PS4 Continental Cup as well two tickets to the 2018-19 UEFA Champions League final. However, the major prize that every single one of the 32 players wants to win most of all are those all important FIFA pro points, which will increase their chances of qualification for the EA Sports FIFA 19 Global Series Playoffs and the first step towards qualification for the 2019 FIFA eWorld Cup.
THE PLAYERS
A number of familiar FIFA eSports faces will be making the trip to Paris for the first major offline tournament of the FIFA 19 season. None perhaps more familiar than the 2014 FIFA eWorld Cup champion August "Agge" Rosenmeier. This will be his first live event since leaving Hashtag United for Team North, the Danish eSports organization founded by football club FC København. "Agge" will be desperate to start life at his new home in the strongest possible way as the veteran gears up for yet another long season of FIFA.

THE PREDICTION
The FIFA 19 Continental Cup on PlayStation 4 provides a wonderful opportunity for a FIFA eSports player to put a big trophy in the cabinet so early on in the season. With the game still so young and this being the first major tournament to be played offline, it is very difficult to predict an outcome. If ever there is going to be a big shock, it is likely to be early in the season while the well-known top FIFA eSports players are still adapting to the new game.
However, we're going to predict that experience will win out at this particular event. It's very difficult to look beyond the current form of "FUTWIZTom" along with the pedigree and winning mentality of veteran "Agge". Ultimately, though, we're going to tip FC Basel's "TheStrxngeR" to take victory in Paris. Katnawatos is coming off the back of a fantastic FIFA 18 season and looks to have taken that form into FIFA 19. He seems to have the right mix of online form and offline experience which could see him bring home the first major championship of the season this weekend.